Statewide Snapshot Day 2018 - Search for Aquatic Invasive Species in WI
Event Information
Location
Multiple Sites Across Wisconsin
WI
Description
Join the statewide search for non-native plants and animals threatening WI rivers and lakes.
This is a one-day search for aquatic invasive species across Wisconsin. You can help protect your local lakes and streams by showing up at a site near you. Working together we can prevent the spread of these invasive plants and animals before they choke out our waterways.
This event will get you out on Wisconsin's rivers and lakes at monitoring sites selected by a local coordinator – these vary from public parks to small trout streams; bridges to your local boat launch. At some sites, friendly waters will beg you to wade in to get a better look, while at others, you will monitor and gather specimens from the shore using binoculars and rakes. Whether you want to wade in or stay dry, there is a site for you.
No previous experience required–you will be given the training and tools you need that day. This is a free event. Family friendly. Recommended for ages 8 and up, minors must be accompanied by an adult.
Please register by August 3rd to recieve a free Snapshot Day tote bag with supplies.


Schedule:

8:30 am – 9:00 am: Arrive and check in
9:00 am – 9:45 am: Get your materials and brief training
9:45 am – 12:00 pm: Search for invasive species at nearby sites
12:00 pm – 1:00 pm: Return to rendezvous site and share your findings



Locations:
Select the site you want to help at when registering. This is a free event. You will be emailed with more site-specific details prior to the event.
Ashland
Barnes
Chilton
Cross Plains
Florence
Kingsford, MI
La Crosse
Lakewood
Menasha
Shawano
Sheboygan
St. Croix Falls
Sturgeon Bay
Waukesha
Waupaca
West Bend
White Lake
Winneconne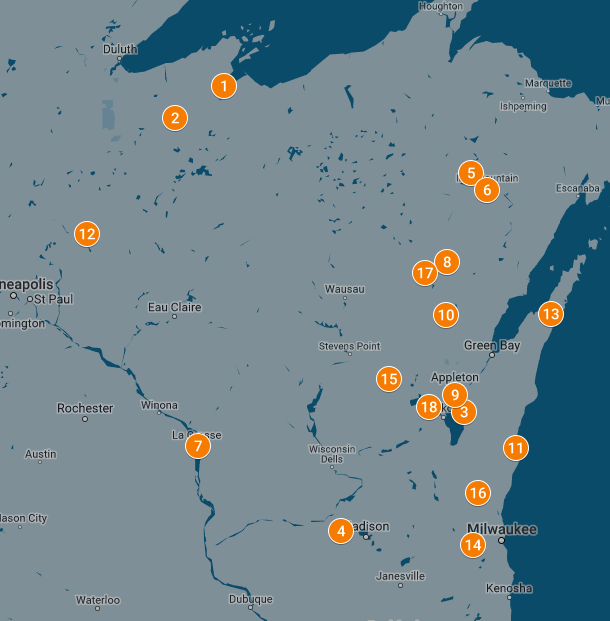 More sites coming soon in Oneida Co, Chippewa Co, Winnebago Co, and Fond du Lac Co.



Resources:
For additional questions, please contact Watershed Groups Manager, Natalie Dutack, ndutack@wisconsinrivers.org or 608-257-2424 x111.
Thank you for helping prevent the spread of aquatic invasive species (AIS).
Hosted in partnership with the Wisconsin DNR and UW Extension's Citizen Lake Monitoring Network.
Date and Time
Location
Multiple Sites Across Wisconsin
WI