Description
"Sangha" is the Sanskrit language word that means "Community"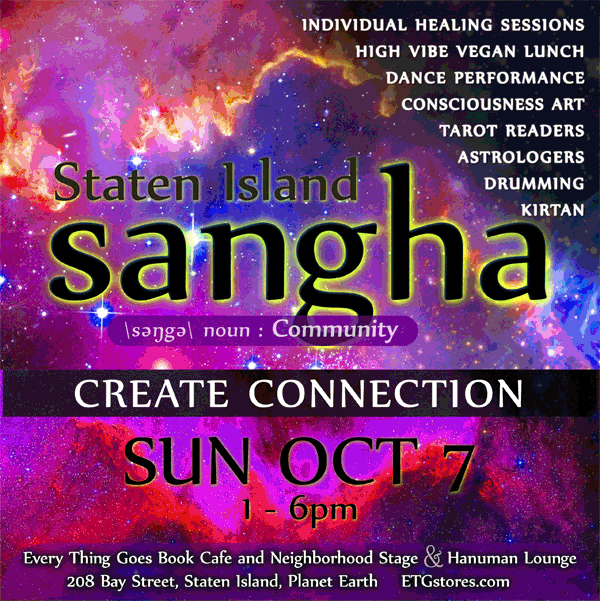 That's the reason you want to come - to CONNECT to KINSHIP


You are cordially invited to raise your consciousness
through healing sessions. This is multimedia affair
(includes high energy natural food), live musicians,
and the most amazing people to grace Staten Island.

**Space is limited to 46 tickets now. SIGN UP...


Staten Island Sangha

Tickets are $25 on Eventbrite / $30 at door

Downstairs:
Vegan High Vibe lunch by Leslie, Jim, Katie, Rachel!
(1:30-3:30pm).
Live background music; introductions; special speaking
guests; private tarot and astrology (X-tra=$) will happen in the
BookCafe's secret nooks; music, performance;
mind expanding artwork; and a kirtan (5 hours)!

Upstairs:
Complimentary healing sessions (on a first
come, first serve basis!!!) Thai Yoga Massage;
Vibrational Sound Therapy; Shiatsu and Reiki;
Acoustic Healing and mystical Frequency
Readings (5 hours)!!


SANGHA Features : :

MC MICHAEL O'CONNELL - MASTER
ELIZABETH LABUE- Thai Yoga
NANCY FIGUEROA-GALARZA - High Vibe Sound & Singing Bowls
EVYAN STREITFELD - Shiatsu/Reiki
LAURA LUKOS - Life giving Crystals
VALA DAWN - Acoustic Mystical Readings
GORDON REICHERT & TATFOO TAN & JENNIFER GALLO - Tarot Readers!!!
DENORA INDIGOCRYSTAL - Astrologer Extraordinarie
AMAWALK - ** Electronic Music Sound **
SI GOLRAINE - illuminating Paintings
BORICUA GUITAR POWER
** SHAMA DHANANI ** Hypno-Soul-Clearing Journey
SIMONE JOHNSON Mesmerizing Dancing
SANCHI BOBROW Kirtan guide with guest appearances
LESLIE GREENWOOD's naturally high vibed food.
PLUS Metaphysical Slide Show and magical environs!
and connections to 50 others!


Remember to connect now before you forget!!!

Special Unique Connection Circle for Sangha
#StatenIslandSangha