Description
Islamic Relief Presents:
A Night for Yemen
An already dire humanitarian situation in Yemen continues to get progressively worse, with both man-made conflicts and natural issues causing conditions to deteriorate.
Yemen—one of the oldest inhabited areas on Earth—is also one of the poorest and least developed countries in the Arab world. According to the World Food Program, an estimated 14.4 million people in Yemen are food insecure: the country imports a whopping 90% of its food! Of the food insecure, 7.6 million are considered severely malnourished, placing even more importance on external humanitarian food aid resources. The country's child malnutrition rates are among the highest in the world: around half of all Yemeni children under five years old are stunted.
Only 45% of health care facilities are partially or fully functioning. (UNOCHA, December 2016) 

· Only 1/3 of the country has access to health care. (UNICEF, December 2016) 

· The governorate of Sa'ada has the world's highest stunting rates amongst children with an unprecedented eight out of 10 children in some areas being chronically malnourished. (UNICEF, December 2016) 

· At least one child dies every 10 minutes in Yemen because of preventable diseases such as diarrhea, 
malnutrition and respiratory tract infections. (UNICEF, December 2016)
Together, We CAN MAKE A DIFFERENCE, We can BRING CHANGE, let us WORK TOGETHER FOR A BETTER WORLD.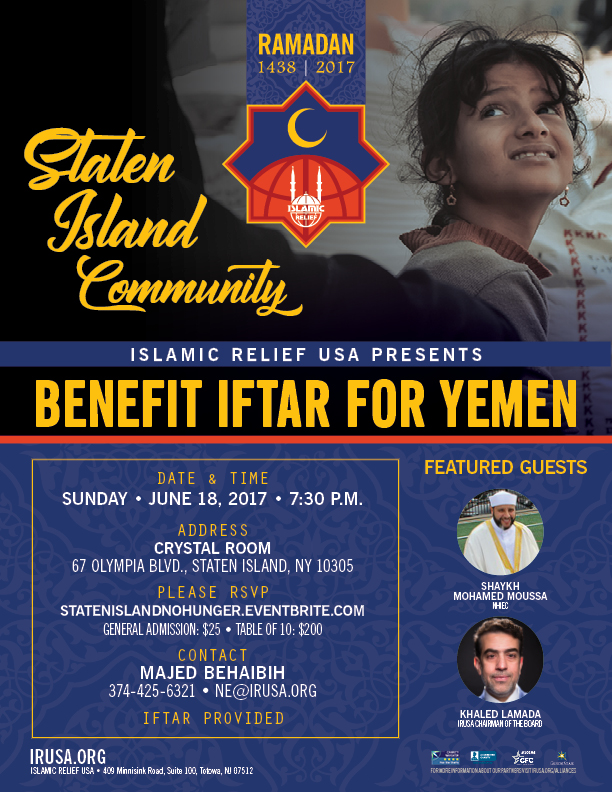 Organizer of Staten Island, NY: A Night for Yemen
Islamic Relief USA is a community of humanitarians–staff, volunteers, affiliates, supporters, partners, donors–who have been working together for a better world for more than 20 years. Islamic Relief USA provides relief and development in a dignified manner regardless of gender, race, or religion, and works to empower individuals in their communities and give them a voice in the world.