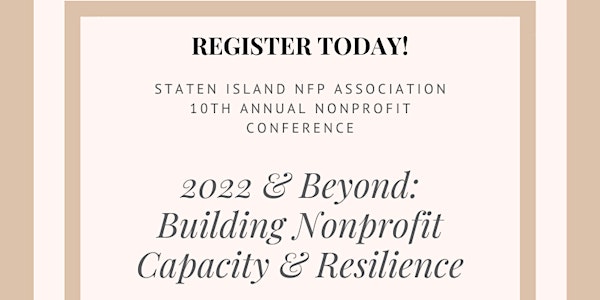 Staten Island NFP Association 10th Annual Nonprofit Conference
Learn, share, network at the 10th Annual Staten Island Nonprofit Conference - 2022 & Beyond: Building Nonprofit Capacity & Resilience
When and where
Location
Hilton Garden Inn New York/Staten Island 1100 South Avenue Staten Island, NY 10314
Refund Policy
Contact the organizer to request a refund.
Eventbrite's fee is nonrefundable.
About this event
The Staten Island Not For Profit Association's 10th Annual Nonprofit Conference, will take place on Thursday, October 27, 2022 at the Hilton Garden Inn of Staten Island from 8 AM- 6 PM. The theme of this year's conference is 2022 & Beyond: Building Nonprofit Capacity & Resilience. The only full-day event in Staten Island specifically focused on enhancing the capacity of the nonprofit sector, the conference brings together more than 150 area nonprofit staff, leaders, and volunteers and features keynote speakers addressing critical topics; distinct programs for nonprofit professionals and organizations of all experiences and focus areas; interactive workshops, breakout groups and networking sessions to explore issues of importance to nonprofit organizations, staff and community leaders; and a vendor arena highlighting services and information to help nonprofit organizations.
Staff Member and Non-Member Tickets may be purchased here (https://bit.ly/SINFPAnnualConference22) via credit card. If you would like to pay by check and/or are interested in Sponsorship, Exhibitor/Vendor, or Program Advertisement Opportunities, please contact tatiana@sinfpa.org as soon as possible.
See here for more information: http://www.sinfpa.org/2022-nonprofit-conference
Tentative Agenda: full schedule to be available online at www.sinfpa.org next month
Agenda
8:00 AM - 8:45 AM
Sign in, networking and table vending
8:45 AM
Breakfast is Served
9:00 AM
Welcome from Board Chair, Carol Bullock, Intro of Tatiana Arguello and Co- Chairs, Holly Bonner and Allison Cohen
9:15 AM - 9:45 AM
Breakfast Key Note Speaker
A Better Contract for Staten Island: Comptroller Lander
10:00 AM - 10:45 AM
Session 1
Voice: Strategic planning for organizational leadership with your Community in Mind - Presented by Nonprofit New York
Response: Redistricting & What it means for Staten Island Nonprofits- Presented by Districting Commissioner Mike Schnall
Building: Building Capacity, Building Community: Engaging & Managing Volunteers - Presented by American Red Cross
Individual Session: Mind Open Learning
11:00 AM - 11:45 AM
Session 2
Voice: Let's Talk Workforce Development: Recruit & Retain Top Talent: Panel- Presented by Wagner College, Jobs First NYC, WPTI, College of Staten Island
Response: 2022 & Beyond: Community-Based Preparedness & Response- Presented by SI COAD
Building: Build to Bloom: Trauma-informed, Anti-racist Human Services - Presented by Mind Open Learning
Individual Session: David Sorkin
11:45 AM - 12:15 PM
Box Lunch/ Networking
12:30 PM -1:30 PM
Lunch Keynote: Building Visibility & Resiliency in the NonProfit Sector Panel Questions presented by BP Fossella, NYS Nonprofit Unit, Laurie Cumbo, Commissioner of Cultural Affair
1:30 PM - 2:00 PM
Networking
2:00 PM - 2:45 PM
Session 3
Voice: Bringing Bucks to the Borough: Insights, Strategies, & Tools for Diversifying Your Funding & Development - Presented by NY Community Trust, Candid, SBDC, Merge Event Solutions, and The Richmond County Savings Foundation
Response: What Nonprofits Need to Know About Responsive Operations Systems & Technology - Presented by Tekie Geek
Building: Developing a Strong, Impactful, & Sustainable Board of Directors - Presented by Lawyer's Alliance
Individual Session: Mind Open Learning
3:00 PM - 3:45 PM
Session 4
Voice: What's Next in Human Services? A New Era of Communication, Collaboration, & Coalition Building - Presented by SI Chamber of Commerce, SIEDC, Little Flower Children and Family Services of NY, SIPCW, Health 4 Youth, The Nicotra Group, and Girl Scout Gold Award recipient
Response: Cybersecurity on a Budget: What You Need to Protect Your Organization - Presented by ComServ Connect
Building: Equitable Hiring Practices: Infusing DEIA initiatives into hiring a diverse pool of employees - Presented by Mind Open Learning
Individual Session: David Sorkin
4:00 PM - 6:00 PM
Awards and Reception
*Registration is required. Please be advised that by registering for this event, unless we hear from you otherwise, we will include you as part of our regular mailing list. Please also be advised that the event may be recorded by the Staten Island NFP Association, Inc. By enrolling for this event, you hereby: (1) give consent for the Association or any third parties to use recording of you in its online and video publications; (2) release the Staten Island NFP Association, Inc. its employees and any outside third parties from all liabilities or claims that you might assert in connection with the above-described uses; and (3) waive any right to inspect, approve or receive compensation for any materials or communications, including audio recordings, videotapes, website images or written materials, incorporating recordings of you. To revoke this waiver, please email admin@sinfpa.org.