Stateful vs Stateless programming in JavaScript & Node.js
About this event
Hi JavaScriptLA Orange County fans, we are bringing you another event closer to you.
In this talk, we will use hands-on examples to explore two very different approaches to Web application development: Stateful and Stateless. We will use each approach to build a small database-driven business application.
You will discover that neither approach is perfect, so you must choose carefully. By attending this meetup session, you will learn which option is best for you based on the type of application you are building.
Bring your laptop and be sure to follow along =)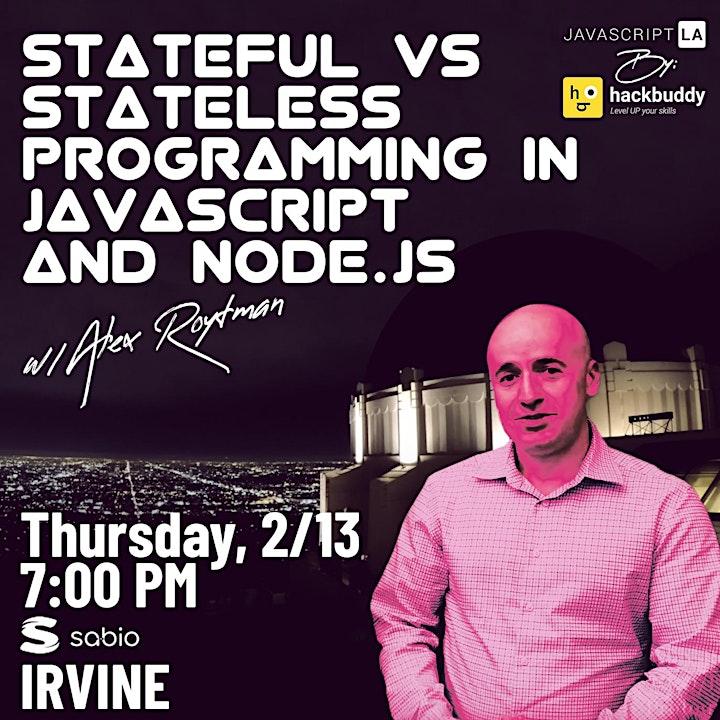 About the Presenter:
Alex Roytman is the founder and CEO of Profound Logic. He is a Node.js evangelist and educator who shares his knowledge at user groups and events around the world. His decades of experience and passion in the field of Web and Mobile development have led his company to create many popular modernization tools, win multiple awards for innovation, earn a patent for modernization technology, and gain over a thousand loyal customers in more than 50 countries.
You can learn more at www.profoundlogic.com.
Twitter:
@Alex_Roytman
@ProfoundLogic
YouTube:
ProfoundLogicTV
Find out more about our past and upcoming meets at:https://javascriptla.net
Vijay recently wrote a book on ES6, for anyone who'd like a guide to all the new syntax. You can get it for free if you are on Kindle Unlimited, and it's $9.99 if you want to purchase it.https://amzn.to/2EJ8jvw
We also have a video course to go along with the book now available in a very SMALL & limited promotion, if you use the coupon code PREVIEW the course is $20.https://hackbuddy.teachable.com/p/roadmap-to-es6/
Location:
Sabio OC
300 Spectrum Center Dr #1160
Irvine
CA 92618
*Free parking at the Irvine Spectrum which is right across the street from SABIO campus!
Join Us Online To Discuss This Meetuphttps://discord.gg/4XX7W6u
Subscribe on Youtube (View Past Meets & Tutorials)http://www.youtube.com/c/javascriptla
Join Us On Facebookhttps://www.facebook.com/groups/javascriptla
Follow Us On Twitterhttps://twitter.com/javascriptla
Support Us on Patreonhttps://patreon.com/javascriptla
Interested in Sponsoring? Please contact us at info@javascriptla.net if you would like to be our sponsor (provide drink, food, raffle gifts) in return for promotion / speaking time. You can also reach us on Slack for faster communications (please message @vijay or @marko).
By registering for our events, you agree to be also included in our mailing list for upcoming news, events and announcements. You may opt out at anytime if you choose not to want to hear about important announcements from JavaScriptLA and/or its partners. By attending our events / participating in discussion, raffles, Q&A: you consent to photography, audio recording, video recording and its/their release, publication, exhibition, or reproduction to be used for promotional purposes, advertising, inclusion on websites, social media, or any other purpose.
Organizer of Stateful vs Stateless programming in JavaScript & Node.js w/Alex Roytman
Coding Seminars, Paired Programming and Online Tutorials via Eventbrite. 100% REMOTE, meet up with us from anywhere!
We are still doing JavaScriptLA but with HackBuddy as the parent, we are also doing Software Engineering topics!
Visit our websites: https://javascriptla.net and https://hackbuddy.com for more info. Our YouTube channel for all our videos can be accessed at: https://youtube.com/hackbuddyorg