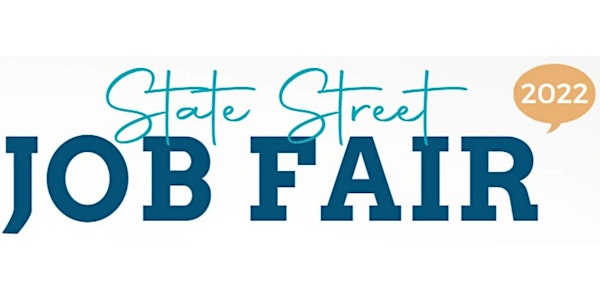 State Street Job Fair
Find your next job opportunity!
When and where
Location
700 & 800 blocks on State Street 700 State Street 800 State Street Santa Barbara, CA 93101
About this event
On September 28th, job seekers can connect with over 50 employers with immediate openings in Santa Barbara and across south county. Interested job seekers that are looking for new careers are all encouraged to attend. State Street Job Fair will provide access to employers, from a wide variety of organizations and industries, who are seeking committed, hardworking, and enthusiastic employees to fill available positions.
This unique job fair will be hosted on State Street's 700 and 800 block between Ortega and Canon Perdido, the job fair will also include additional store fronts and businesses on State Street.
There will be food available on a first come first serve basis as well as there will be a drawing for one of ten $25 gas cards.
Continue to scroll down for more information and a list of participating employers.
Not feeling confident or needing to polish up on your skills? The Santa Barbara Public Library, America's Job Center of California (AJCC), and Santa Barbara City College (SBCC) will all be offering workshops leading up to the job fair as well as the day of at the AJCC so you can be well-prepared. Workshops topics include interviewing preparations, creating a resume, job search, etc. Please see flyer below regarding the days and times for these workshops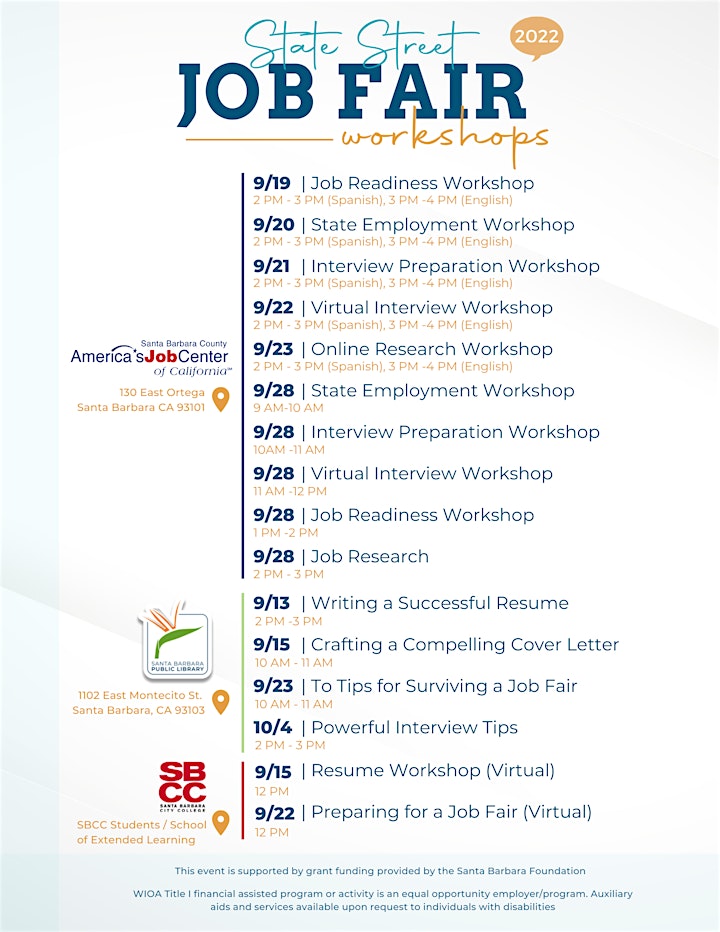 Meet with the following employers:
1Heart Caregiver Services
Ace Rivington
Allied Universal Security Services
Amazon
Belmond El Encanto
BrightStar Care
Carp Children
City of Santa Barbara Human Resources
County of Santa Barbara Social Services
Courtyard Santa Barbara
EOS Lounge
Fusion Academy
Glass House Brands
Goodwill Industries of Ventua and Santa Barbara Counties
Harbor View Inn
Hilton Santa Barbara Beachfront Resort
Hotel Californian
L' Antica Pizzeria Da Michele
Mar Monte Hotel
MarBorg
Momentum WORK, Inc
Morales Law
NPG of California/KEYT
Pacifica Hotels
PATH
PathPoint
RGNext
Ritz-Carlton Bacara
Rosewood Hotels
San Ysidro Ranch
Santa Barbara MTD
Santa Barbara Museum of Arts
Santa Barbara Police Department
Santa Barbara Zoo
Sephora
Storyteller Center
Sun Communities
T-Mobile
Transphorm USA
United States Postal Service
Yona Redz
The following downtown businesses are also participating:
Acme Hospitality
The Blue Owl
The Closet Trading Co.
The Night Lizard
Rilascio Chiropractic
Tondi Gelato
Unity Shoppe
Examples of positions being hired for:
Caregivers
Bartenders
Security Guards
Front Desk
Office Manager
Sales Stylist
Buyer
Servers
Assistant Managers
Retail Sales
Warehouse Stocking/Seasonal
Parking Lot Operators
Computer System Specialist
Accountants
Supervisors
Nurse
Housekeeping
Engineering
Barbacks
Hostess
Cooks
Dishwashers
Pizza Makers
Line Cooks
Mechanics
Commercial Drivers
Sorters
Roll-off Drivers
Night Audit
Job Coaches
Human Resources Analyst
Transit Planner
Fleet Maintenance Supervisor
Bus Operator
Building Technicians
Police Officers
Dispatchers
Parking Enforcement Officers
Animal Contol Officer
These are just several examples of positions waiting for you!