State of Washington National Cyber Security Awareness Month Kickoff - Bellevue
When and where
Location
Hyatt Regency 900 Bellevue Way NE Bellevue, WA 98004
Description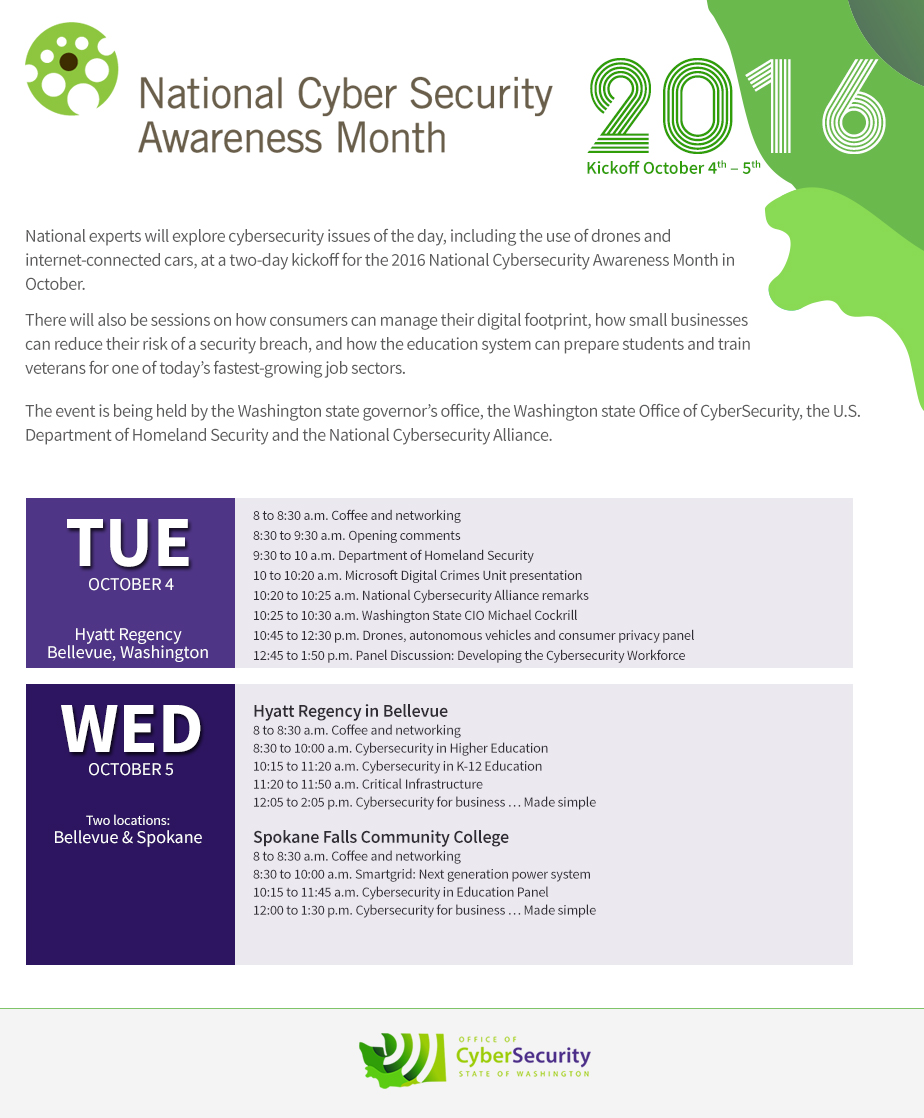 Tuesday, Oct. 4
8:00 to 8:30 a.m. Coffee and networking
8:30 to 9:30 a.m. Opening remarks
Governor Jay Inslee and members of Washington State's congressional delegation will make opening remarks. They'll also discuss plans by the state and its partners to build the cyber workforce of the future.
9:30 to 10 a.m. Department of Homeland Security
The Department of Homeland Security will formally launch National Cyber Security Awareness Month 2016 by discussing how cybersecurity is a responsibility that should be shared by all individuals. DHS will also discuss national priorities and initiatives around cybersecurity, including the need for a strong cyber workforce to meet evolving cybersecurity challenges.
10:00 to 10:15 a.m. Brig. Gen. Gregory Touhill, Federal Chief Information Security Officer
Gen. Touhill will discuss his role as the nation's first federal chief information security officer. Gen. Touhill leads a team at the forefront of driving policy and implementation of leading cyber practices across federal agencies.
10:15 to 10:35 a.m. Microsoft Digital Crimes Unit Presentation
Every second, 12 people online become a victim of cybercrime, totaling more than 1 million victims around the globe every day. This session will focus on the collaborative and innovative work being done to fight cybercrime, protect privacy and keep children and seniors safe online. Microsoft's Digital Crimes Unit (DCU) has an international team of attorneys, investigators, data scientists, analysts and engineers based in 30 countries that fight global malware to reduce digital risk. The DCU combines forensics, data analytics and legal strategies to protect customer data. Speaker: Stuart McKee, Microsoft's chief technology officer for state and local government.
10:35 to 10:40 a.m. National Cyber Security Alliance Remarks
10:40 to 10:45 a.m. Washington State CIO Michael Cockrill
10:45 to 11:00 a.m. BREAK
11:00 a.m. to 12:45 p.m. Drones, Autonomous Vehicles and Consumer Privacy Panel
Drones: The next frontier for privacy rights. What's at stake, and what should the public be concerned about? Speaker: Aravind Swaminathan, global chair of the Cybersecurity and Data Privacy Team at Orrick.
Autonomous Vehicles: Automobiles are increasingly connected to the internet and self-driving cars are rapidly becoming a reality. Speaker: Steve Marshall, with the Center for Advanced Transportation and Energy Solutions, will examine privacy and security concerns.
Panel Discussion on privacy issues as they affect consumers in the digital age. How can consumers manage their digital footprint given the rapid growth of internet-connected devices? Speakers will include Alex Alben, Washington State's Chief Privacy Officer, Aravind Swaminathan and Steve Marshall.
12:45 to 1:00 p.m. BREAK (Box lunch provided)
1:00 to 1:50 p.m. Panel Discussion: Developing the Cybersecurity Workforce
New programs are available to prepare veterans for cybersecurity jobs, including one created in partnership by Washington State and Microsoft. During this session, a panel discussion will highlight innovative programs with representatives from Microsoft, Joint Base Lewis-McCord, and the state Department of Commerce. Speakers: Kristine Reeves, Washington State Department of Commerce; Brig. Gen. John Tuohy, assistant adjutant general, Washington Air National Guard.
Wednesday, October 5:
Hyatt Regency, Bellevue, Washington
8:00 to 8:30 a.m. Coffee and networking
8:30 to 10:00 a.m. Cybersecurity in Higher Education
Whatcom Community College's Cybersecurity Center – a National Center of Academic Excellence – is one of only five such programs in the country established by the National Institute of Standards and Technology. Employers, students and educators will discuss how the program prepares students for careers in cybersecurity. Speakers include

Corrinne

Sande, Whatcom Community College.

The University of Washington will spotlight the cybersecurity education program available at their main campus in Seattle.
The Washington State Office of CyberSecurity will demonstrate how its Security Operations Center and Computer Emergency Readiness Teams help protect the state from cyber attacks. Speaker: David Morris, Washington State Office of CyberSecurity.
10:00 to 10:15 a.m. BREAK
10:15 to 11:20 a.m. Cybersecurity in K-12 Education
The Washington State Office of CyberSecurity will review its outreach program to educate K-12 students about online safety and techniques to avoid becoming a victim. Educators from local schools, who've gone through the training, will share their experiences. Speakers include David Morris, Washington State Office of CyberSecurity.
Washington State Office of the Superintendent of Public Instruction will address cybersecurity and safety programs available to educators through its office. Speaker: Mark Finstrom, chief technology officer for Highline Public Schools.
DHS and private sector companies will talk about cybersecurity education materials available to grades schools for student use. Speaker: Princess Young, Program Manager of National Cyber Awareness Programs
11:20 a.m. to 11:50 a.m. Critical Infrastructure
The State of Washington Emergency Management Division will discuss how they prepare for natural and manmade disasters, including cyber attacks, through conducting training exercises. Speaker: Robert Ezelle, Washington State Emergency Management Division.
11:50 a.m. to 12:05 p.m. BREAK (Box lunch provided)
12:05 to 2:05 p.m. Cybersecurity for Business...Made Simple
The National Cyber Security Alliance (NCSA) has created a workshop to help small- and medium-sized businesses handle cyber threats. Attendees will gain an increased understanding of the threats, as well as the tools available to secure their company data. Speaker: Kristin Judge, National Cyber Security Alliance.
2:05 p.m. Closing Remarks: Washington State CIO Michael Cockrill