State of the Art in Human Performance: Athlete, Military, and Biohacking Pe...
Description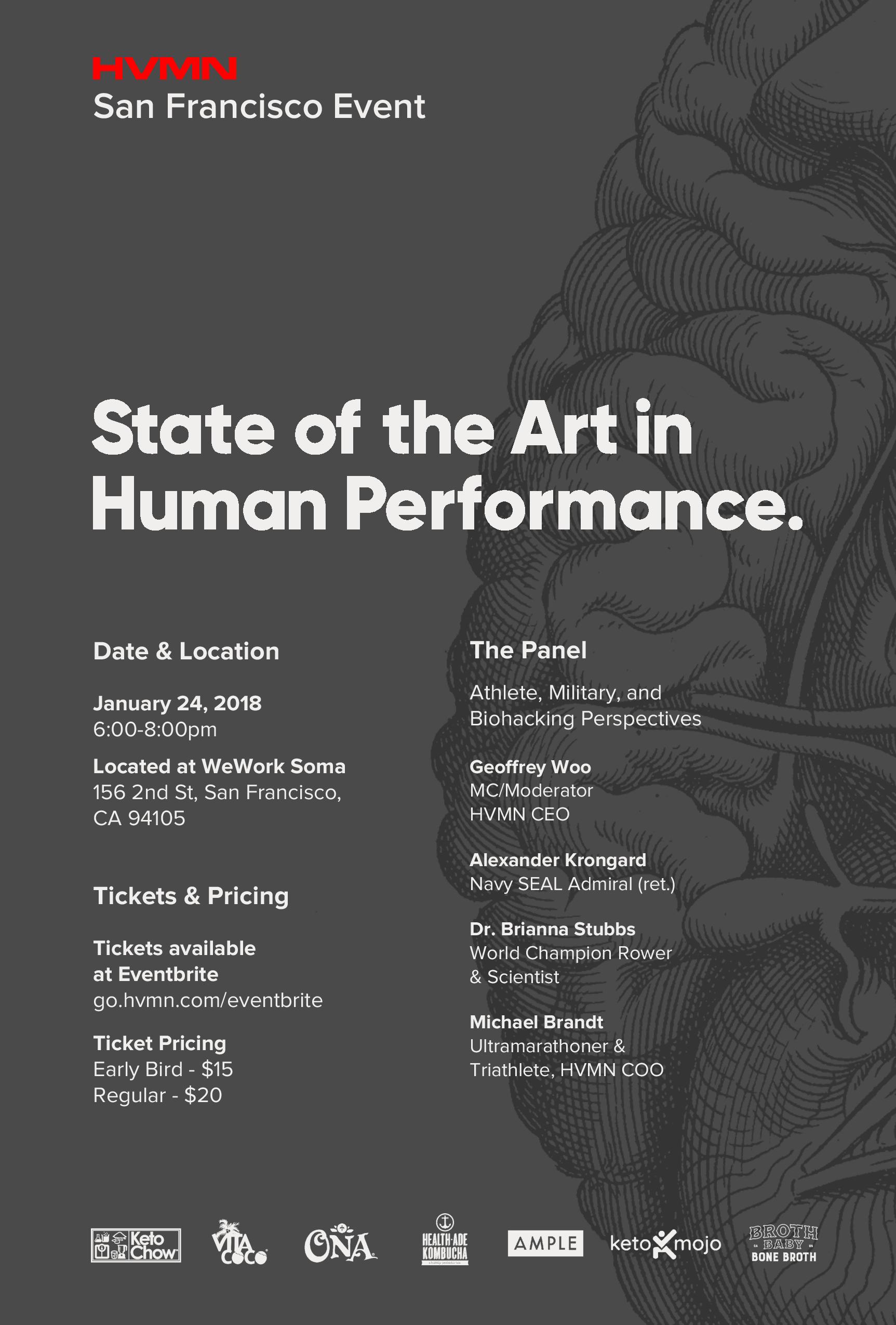 Are you wondering what practical tools and hacks you can implement today to be your best in 2018? Come learn the tips and tricks for optimal health, productivity, and performance from an elite panel.
State of the Art in Human Performance: Athlete, Military, and Biohacking Perspectives hosted by HVMN (pronounced "human) — formerly Nootrobox — the human enhancement company.
HVMN innovates and designs products to optimize the human condition. It is the fundamental human desire to be better and we're pushing the frontier of biohacking: the manipulation of measurable inputs into our biological system to achieve desirable outputs.
Moderator: HVMN co-founder Geoffrey Woo
Geoffrey Woo Biography:
Geoffrey Woo is co-founder and CEO of HVMN, backed by Andreessen Horowitz and other top investors and profiled on New York Times, Bloomberg Businessweek, Vanity Fair, and other top publications.
Previously, Geoffrey spent time at Foundation Capital as an Entrepreneur-in-Residence. In 2011, Geoffrey founded Glassmap, a technology company focused on location sharing and local discovery. Glassmap was backed by Y Combinator and acquired by Groupon in January 2013. At Groupon, Geoffrey built and launched Groupon's point-of-sale and payments products.
Prior to Glassmap, Geoffrey studied Computer Science at Stanford University and graduated with Honors and Distinction. At Stanford, he served as President of BASES (Business Association of Stanford Entrepreneurial Students), the largest entrepreneurship student group in the world, for which he now serves as a member of the board.
Panel:
Navy SEAL Admiral (retired) Alexander Krongard
World Champion Rower Dr. Brianna Stubbs
HVMN co-founder/COO, Triathlete Michael Brandt

Alexander Krongard Biography:

Rear Adm. Alexander Krongard graduated from Princeton University and received his commission following Navy Officer Candidate School in 1985.

Upon completion of Basic Underwater Demolition/SEAL training, he was assigned to SEAL Team 1 from 1986 to 1990. He then served as an element leader at Naval Special Warfare Development Group in Virginia Beach, Virginia, before attending the Defense Language Institute for German. His next assignment was as operations officer at Naval Special Warfare Unit 2 initially aboard Royal Air Force (RAF) Machrihanish in western Scotland and then at Panzer Kaserne outside Stuttgart, Germany. Krongard remained in Germany for a follow on tour in the Operations Directorate at Special Operations Command Europe.

After returning from Germany, Krongard was the executive officer at SEAL Team 2 before going to work in the Operations Directorate at the Joint Special Operations Command from 1999 to 2001. He was then selected to stand up a new SEAL Team as commanding officer. SEAL Team 7 was commissioned March 17, 2002, and deployed to Iraq in 2004.

Krongard commanded Naval Special Warfare Group 1 in Coronado, California, from August 2009 to July 2011 and was responsible for preparing West Coast SEAL Teams for their operational deployments overseas. While in command of Group 1 he deployed to Kabul from January to July 2010 as the deputy commander for the Combined Forces, Special Operations Component Command-Afghanistan.

Krongard is the deputy director for operations, U.S. Africa Command, in Stuttgart, Germany. In this position, he supports the director for operations by providing oversight and direction to the Current Operations, Future Operations, Information Operations, Counter-Terrorism and Special Operations Divisions.

Prior to his arrival at U.S. Africa Command, he served as a deputy commander, Combined Joint Task Force-Horn of Africa at Camp Lemonnier, Djibouti, Africa.

He is a graduate of the National War College and served as an executive assistant to the deputy chief of naval operations for information, plans and strategy as well as the chief of staff at Special Operations Command Central. He has also served on the National Security Council staff in Washington, D.C., as a counterterrorism director.
Dr. Brianna Stubbs Biography:
Stubbs' first involvement in international rowing was in 2007, when she rowed in the GB vs France match race as a spare. In 2009 she won a silver medal as a member of the Junior Women's Four. Stubbs won the Oxford vs. Cambridge Women's Boat Race in 2010 and 2011, competing for OUWBC. Making the change to the lightweight category and moving to Wallingford Rowing Club, she gained International selection and won the 2013 World Rowing Championships in the lightweight women's double scull, with Eleanor Piggott.
Stubbs gained her first senior international vest at the 2014 World Rowing Championships in the Lightweight Women's Quadruple Sculls, finishing 6th. At the 2015 World Rowing Championships in France, Stubbs was part of the silver-medal-winning team in the Lightweight Women's Quadruple Sculls, along with Ruth Walczak, Emily Craig, and Eleanor Piggott. At the following year's championships in Rotterdam, she was part of the gold medal-winning team in the same event, along with Craig, Piggott, and Imogen Walsh.

Dr. Stubbs is science lead at HVMN.
Michael Brandt Biography:

Michael Brandt is co-founder and COO of HVMN.
Went from never having run a half marathon at the beginning of 2017, to placing in his age group for his first Ironman 70.3 and Ultramarathon 50k in 2017.

In 2017 he also did a 7-day water-only fast, implanted a continuous glucose monitor in his arm, and more.
Besides running the business, launching HVMN Ketone, and being a prominent figure in the biohacking space, he's an avid endurance athlete using the latest biohacking tools & techniques to measure & optimize blood glucose, blood ketones, cadence, power, heart rate, etc.
Event partner samples included:
Ample + Vita Coco smoothie sample

Broth Baby bone broth sample
Health-Ade Kombucha "mocktail"
Keto Chow sample
Keto-Mojo live demo
Ona Foods protein bar
Kombucha on tap provided by WeWork
Free admission for WeWork members
Current partners:
Ample
Broth Baby
Health-Ade Kombucha
Keto Chow
Keto-Mojo
Ona Foods
Vita Coco
More partners to come!

The conversation about the future of human performance starts here.
FAQs
Are there ID or minimum age requirements to enter the event?
No minimum age to enter the event, ID check for alcoholic beverages
How can I contact the organizer with any questions?
Email: justin@hvmn.com
What's the refund policy?
No refunds at any time.