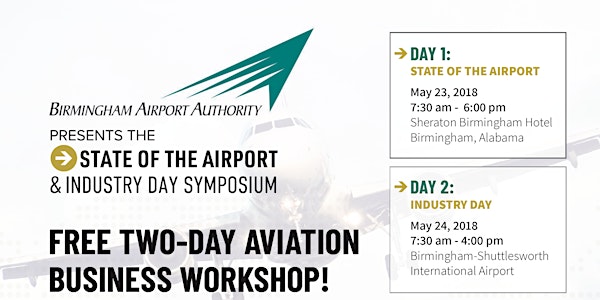 State of the Airport and Industry Day Symposium
Location
Birmingham-Shuttlesworth International Airport
5900 Messer Airport Highway
Birmingham, AL 35212
Description
The Birmingham-Shuttlesworth International Airport presents the FREE State of the Airport and Industry Day Symposium on May 23 at the Sheraton Birmingham Hotel and May 24 at the Birmingham-Shuttlesworth International Airport. This dynamic two-day aviation event is designed to provide an inside look at the state's largest airport and showcase new projects and upcoming plans to the business community and government officials on the State of the Air Transportation industry. The conference will highlight the important role air travel plays in the state as a solid economic driver for innovation and growth. Attendees will participate in power-packed industry workshops, key note luncheons with world renowned leaders and strengthen the collaborative partnerships between the Airport, community and its many local and regional partners. *All registrations include breakfast, lunch, and refreshments.
View the State of the Airport & Industry Day Promo Video.
Deadline to register: Tuesday, May 22 by Noon.
---
Day 1 - State of the Airport - Sheraton Hotel Birmingham 7:30 am - 7 pm
7:30 – 8:30 a - Registration and Continental Breakfast
8:30 – 9:00 a - Greetings, Welcome, Opening Remarks
9:00 – 9:45 a - Opening Session: State of the Air Travel
9:45 – 10:30 a - Birmingham-Shuttlesworth International Airport: A Year in Review
10:45 – 11:35 a - Emerging Technologies in Air Travel
11:35 a – 12:15 p - Evolution of Airline Passenger Services
12:15 – 1:45 p - Keynote Luncheon
1:45 – 2:30 p - Role of Airport Business Partnerships w/ Economic Development
2:30 – 3:15 p - Transportation Logistics in Corporate Site Selections
3:30 – 4:15 p - Trends in Air Cargo Development & its Potential at the Birmingham-Shuttlesworth International Airport
4:15 – 4:30 p - Closing Remarks
5:00 – 7:00 p - Networking Reception

Day 2 - Industry Day - Birmingham-International Airport 7:30 am - 4 pm

7:30 - 8:30 a - Registration and Continental Breakfast
8:30 - 9:00 a - Greetings, Welcome, Opening Remarks
9:15 – 10:00 a - Perspective from Prime Contractors: Getting the Business & Overcoming Challenges
10:00 - 10:45 a - Perspective from Small & Minorirty Business Owners, Women-Owned Businesses: Overcoming the Barriers with Winning Practices
11:00 - 11:45 a - Potential Sources of Funding for Contractors
11:45 a - 12:30 p - Meeting Bonding Insurance Requirements
12:30 - 1:45 p - Keynote Luncheon
2:00 - 2:45 p - Concurrent Workshop Breakout Sessions
— Registering Your Business as a Disadvantaged Business Enterprise (DBE) and/or Airport Concessions Disadvantaged Business Enterprise (ACDBE) & w/ the Birmingham-Shuttlesworth International Airport
— Large Companies: Finding Opportunities Nationwide
2:45 – 3:45 p - Future Contracting Opportunities at the Birmingham-Shuttlesworth International Airport
3:45 – 4:00 p - Closing Remarks