"State of Terror" conversation event with Hillary Rodham Clinton and Louise Penny, moderated by Stacey Abrams!
About this event
We are thrilled to bring you this virtual book event with bestselling authors Hillary Rodham Clinton and Louise Penny as they present their new international thriller, "State of Terror," moderated by Stacey Abrams!
How to Join: https://us02web.zoom.us/j/87469474885
The program start time is 7pm but the event will be open through the link above at 6:30 pm - we advise you to join a few minutes before the start time to ensure you don't miss any of the program. Also we will have a hometown slide-show while you are waiting for the main event. The link MAY NOT be distributed, shared, given, or used by anyone other than the ticket holder.
*You may be asked to enter your full name and email address - in this case, please proceed to do so and enter your name and email address to join the session
About the event:
Tickets are available as a book bundle. Signed books will not be personalized and double signatures will be on a bookplate.
Purchased books in the U.S. can be picked up at Scattered Books, 29 King Street, Chappaqua NY or free shipping will be provided. Books must be picked up within 30 days of the event. Special requests regarding books or additional books can be directed to: info@scatteredbooks.com.
Scattered Books in the U.S. and Brome Lake Books in Canada are teaming up to make the event available across borders. A special thank you to the publishers for facilitating book sales by the hometown book store of each author. We truly appreciate the support.
About the Book:
After a tumultuous period in American politics, a new administration has just been sworn in, and to everyone's surprise the president chooses a political enemy, Ellen Adams, for the vital position of secretary of state. With this appointment, he silences one of his harshest critics, since taking the job means Adams must step down as head of her multinational media conglomerate.
As the new president addresses Congress for the first time, with Secretary Adams in attendance, Anahita Dahir, a young foreign service officer (FSO) on the Pakistan desk at the State Department, receives a baffling text from an anonymous source. Too late, she realizes the message was a hastily coded warning. What begins as a series of apparent terrorist attacks soon unveils itself as the beginning of an international chess game involving the volatile and Byzantine politics of Pakistan, Afghanistan, and Iran; the race to develop nuclear weapons in the region; the Russian mob; a burgeoning rogue terrorist organization; and an American government set back on its heels in the international arena. As the horrifying scale of the threat becomes clear, Secretary Adams and her team realize it has been carefully planned to take advantage of four years of an American government out of touch with international affairs, out of practice with diplomacy, and out of power in the places where it counts the most.
To defeat such an intricate, carefully constructed conspiracy, it will take the skills of a unique team: a passionate young FSO; a dedicated journalist; and a smart, determined, but yet untested new secretary of state.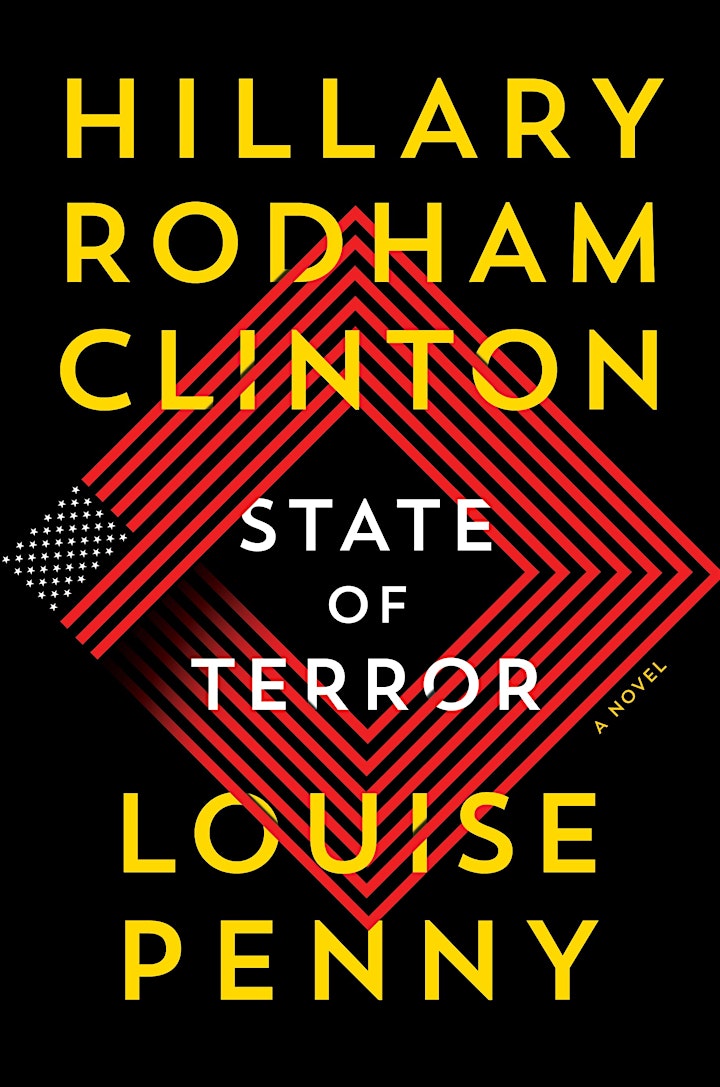 Organizer of "State of Terror" conversation with Hillary Rodham Clinton & Louise Penny
Scattered Books presents the ultimate bookstore experience - great titles, knowledgable staff, eclectic atmosphere, author events large and small, custom baskets, perfect parties and, of course, the famous bookstore bunnies. We love what we do and it shows. Come in to see what we mean.