About this Event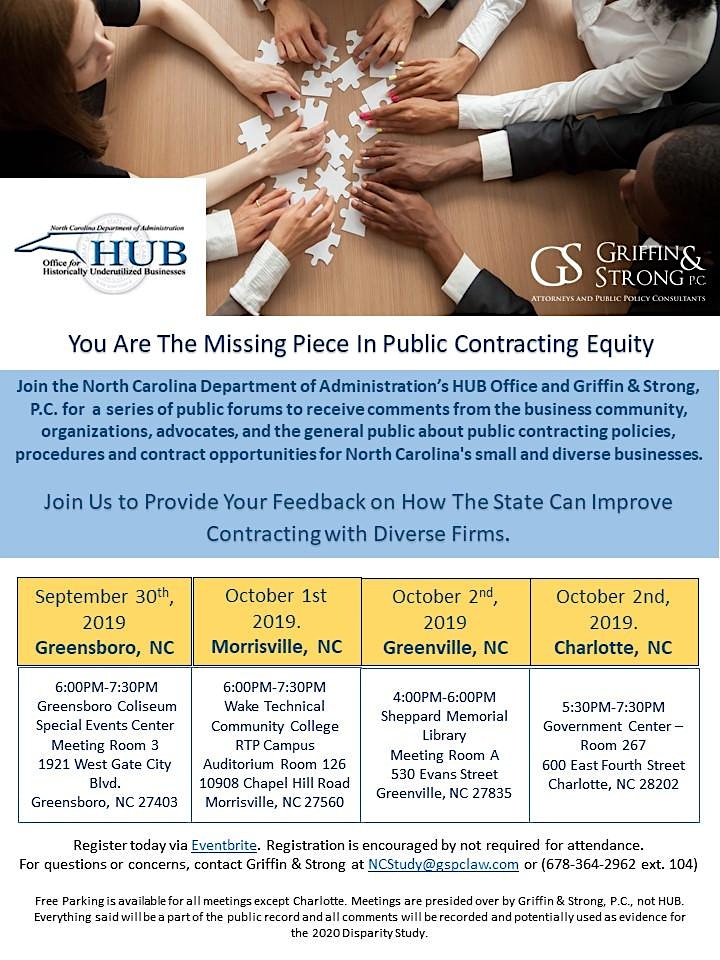 Griffin & Strong, P.C. is conducting a series of public hearings across the state of North Carolina to gather comments from the business community, organizations, advocates, and the general public about public contracting procedures and opportunities for small businesses across North Carolina.
The State of North Carolina Department of Administration's Office of Historically Underutilized Businesses (HUB) has engaged Griffin & Strong, P.C to conduct a disparity study on the availability and utilization of minority, women owned business enterprises and North Carolina historically underutilized businesses. This study will examine relevant evidence of race- or gender-based discrimination in contracting.
Beginning September 30th, the business community and people of all races, backgrounds and experiences are invited to provide input on ways the state of North Carolina can improve in its contracting process These (4) meetings will be held over a 3-day period in the following locations across the state:
Light refreshments will be available for meeting attendees. Free parking will also be available for meeting attendees in Raleigh, Greenville, and Greensboro. Registration is encouraged but not required for entry. Please be aware that all comments provided during this hearing will be recorded and potentially utilized as evidence for the Disparity Study.
Also note that this meeting is being presided over by Griffin & Strong, P.C. and not the state of North Carolina. Neither GSPC or state of NC personnel will be responding to questions, only accepting commentary. If needed, GSPC may ask follow up questions for additional clarity.
For questions or concerns, please email Griffin & Strong Deputy Project Manager, Sterling Johnson, at NCStudy@gspclaw.com or visit https://northcarolinadisparitystudy.com/. Please note all comments during the meeting may be recorded and potentially used in the studies.