Join yoga instructors of SLC for our annual complimentary summer yoga series: State of Mind, Yoga at the Capitol! Presented by SelectHealth.
About this event
Summer is here and we couldn't be more excited for this community connection through a beautiful outdoor yoga and meditation gathering at one of the most iconic landmarks in Utah. This class is for anyone and everyone!
What: 1 hour all-levels yoga class
Where: Southeast lawn of the Utah state capitol.
What to bring: your mat, water, sunscreen, friends!
*Inclement weather: event may be cancelled and rescheduled (check weekly Facebook event page posted on this group page, will post cancellations by 5pm day of event).
We will post weekly on the facebook group and facebook event on what yoga teachers/studios will be leading each week 😊
Give yourself the gift of one hour a week to enjoy the sunset, breathe the fresh air and take time to connect to yourself and others through this powerful practice series! This is yoga. See you on the mat!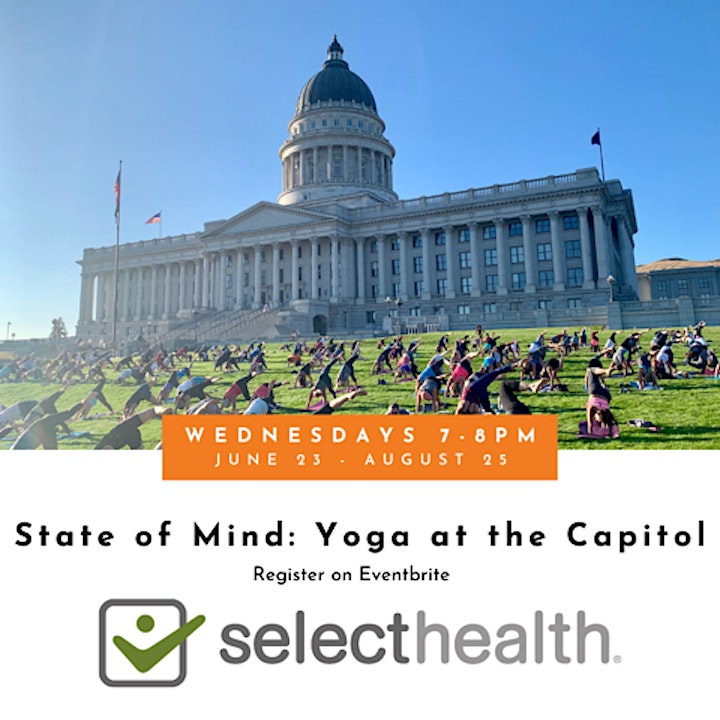 Organizer of STATE OF MIND: YOGA AT THE CAPITOL PRESENTED BY SELECTHEALTH
Some Like It 
Hot
Set in a heated room, SLPY offers dynamic classes focused on balanced movement with emphasis on both strength and breath. Regardless of your age, flexibility or strength, SLPY has a class to meet you where you are, and is accessible to everyone. Our powerful practice can help you reduce stress, lose weight, heal injuries, increase focus and much more.
Join In on the commUNITY
SLPY is a commUNITY focused yoga studio. We believe in the power of connection and the strength of partnership.