State of Disparities in the African American Community Race in America
The Northeast Ohio Black Health Coalition will host the State of Disparities in the African American Community Virtual Conf.Race in American
About this event
Join the Northeast Ohio Black Health Coalition and thousands of attendees from across the country for our 7th Annual State of Disparities in the African American Community Conference that will take place via Zoom Webinar 13-14th of August at 9 a.m. Register at https://tinyurl.com/2021NEOBHCConference
The conference will include information for all ages. 12 and up. The first day is an Introduction to antiracism and It's All About the Color Line, the second day focuses on youth. If you have a youth group, team with students in high school and college, or young people that are involved in the juvenile justice and foster care systems this program is for them. This conference is designed to help you scale into the untapped potential and provide you with skills needed to understand equity. You will participate in a national training on anti racism. You will be directed on how to properly invest your time and efforts in helping to be part of positive change. You will be given the chance to learn how to properly venture into a topic that is so hard for so many. Racism in America is real and the solutions come from the ground.By attending this conference, you will have the chance to grow both career-wise and also community wise. Your presence at our conference will be much appreciated. The agenda is listed below. Please share this information with your network. Contact me if you are interested in serving as a sponsor.
Northeast Ohio Black Health Coalition 7th Annual State of Disparities in the African American Community Virtual Conference Series - Race in America
August 13-14, 2021 Virtual Conference
Registration/Zoom Webinar Link
https://tinyurl.com/2021NEOBHCConference
Aug. 13, 2021: Opening DayTheme: It's All About the Color line
This conference will address the impact of the racial color line on the achievement of freedom and citizenship by African Americans in Northeast Ohio and the US nationally.Session will address the ways in which racism continues to affect efforts toward African American advancement in various areas of life and impacts the mental health of African Americans.Explains how the color line has transformed over time to evidence gains and continued hopes of progress toward racial equity.Places an emphasis on using a sustainable racial public health framework, drawn from the ongoing work of advocates and scholars, to navigate the contemporary racial color line.  
9:00 am - 9:25 am
Rev. Darnella Allen, Executive Board Chair Northeast Ohio Black Health Coalition
Yvonka M. Hall, MPA, Executive Director, Northeast Ohio Black Health Coalition 
9:30 am - 10:00 am
Toward the Science and Practice of Anti-Racism: Launching a National Campaign Against Racism
Dr. Camara Phyllis Jones, MD, MPH, PhD.American physician, epidemiologist, medical anthropologist
This presentation will focus on the effects of racism and social inequalities on health.Define institutional racism, personally mediated racism, and internalized racism in the context of modern U.S. race relations.Explain racism and not race is a risk factor and what actions are needed to address structural racism.
10:00 am - 11:30 am
Diversity Talks and Pr(iSM) Resistance Coalition A National Anti-Racism Training
White Folks(Part I): We Have to Talk About Race
Kiara Butler, EdD
Rachael Gavin, MS
This virtual workshop will focus on strategies for engaging in racial equity conversations.Create unique learning environments where the most marginalized voices are at the forefront.Increase cultural competency by fostering a healing space for those in power and those most marginalized to challenge the societal standards upholding white supremacy.
White Folks (Part II): A Call to Action
Friday September 13, 2021 10am-11:30am
This virtual workshop will focus on strategies for taking actionable steps in your communities.
BREAK
12:05 pm - 1:05 pm
Let Me Clear My Throat - The Plain Truth About Racism and the Impact on Black America
Racism and the Proliferation of Guns in the African American Community
Dr.Danielle King PhD., Congressional Black Caucus Foundation Congressional Fellow
This presentation will address the continuing need to speak out about the truthful impact of gun violence on the African American community.Highlight the significance of providing space for African Americans to express the continuing emotional impact of gun violence on their lives and those of their communities.Discusses holistic models of how to deal with the increased proliferation of guns and their impact on African American communities. 
12:35 pm - 1:05 pm
The Neighborhood that Racism Built Creating an Ecosystem of Wellness
Yvonka M. Hall MPA., Executive Director, Northeast Ohio Black Health Coalition
This presentation will look at the manner by which the social location of the neighborhood provides the context whereby the effects of racism can be countered through the creation of a sustainable system of communal health and wellness.Using a public health lens to address overall health and wellness while promoting mental health wellness.Will highlight the importance of the neighborhood as a site to dismantle the residue of racism and promote collective racial and communal health.
BREAK
1:10 pm - 1:40 pm
Fight the Power - Policy and the Impact on People
Rev. Dr. Zachery Williams, PhD., Policy Director Northeast Ohio Black Health Coalition
This presentation will focus on the importance of local, state, and federal policy in improving the lives of African Americans.Will discuss how people must be at the center of defining what policy should look like and what form it should take to advance equity.How cultural issues have been used to craft policies that have helped and hindered African American advancement.
1:45 pm - 2:45 pm
Jacquie Abram, Author, AntiRacism Consultant
HUSH Money How One Woman Proved Systemic Racism in Her Workplace and Kept Her Job
This presentation tells a compelling and cautionary tale that is all too familiar to Black people across the globe about the rigors of working in a large, highly bureaucratic organization and dealing with covert and overt racism
Provide those who are currently dealing with racism in the workplace with a sound strategy one Black woman used to successfully prove the existence of racism in the workplace.Provide employers who are looking for a more effective way to prevent racism in their organizations with a better way to understand it. 
Conclusion - Homework 
Day 2 of 2 Day Virtual Conference
August 14, 2021
Theme: All About YOUth
The mission for All About YOUth is to gather the community and bring awareness to mental, physical, and emotional health while setting the stage to build a secure future for the youths.
9:00 am - 9:15 am
Rev. Darnella Allen Executive Board Chair Northeast Ohio Black Health Coalition
Lashale Pugh PhD., Assistant Executive Director, Northeast Ohio Black Health Coalition
Marie Howell
Kaiya Relliford
Jaleah Harris
Northeast Ohio Black Health Coalition High School Interns 
9:20 am- 9:50 am
The Power of the POET-Drop It Like It's Hot
Keynote Honey Bell-Bey BA, OCPSI, Poet Laureate Cuyahoga County
Director of Youth Services Cleveland UMADAOP
The presentation will focus on the impact of emotional trauma in African American youth.The impact of adverse childhood experiences and overcoming trauma in african american youth.Using the power of poetry to heal emotional wounds.  
9:55 am-10:25 am
Missing You - Human Trafficking and the African American Community 
Loretta Gray MEd., Immediate Past President and National Council of Negro Women, Inc. National Board Member-at-Large
This presentation will focus on the magnitude of slavery and human trafficking awareness and prevention in Ohio.We will alert youth to the dangers and grim realities of slavery human trafficking.We will provide information regarding local police and tiplines for youth that find themselves or friends in danger.  
10:30 am - 11:00 am
Pass Up the Courvoisier-A Lifetime of Hurt Underage Drinking:
Rev. Dr. Joseph McNeal, ReEntry Specialist YUMADAOP (Youngstown)
The presentation will focus on the prevention of underage drinking in African American youth as well as the long-term impact of alcohol consumption.Provide an overview of the harm that results from consuming alcoholic products. Provide strategies to resist peer pressure related to the consumption of alcoholic products. 
11:00 am - 11:30 am
Puff Puff Pass - Menthol/Flavors and African American Youth
Amari Turner
Michael Miller
NEOBHC College Interns
This presentation will focus on smoking prevention for youth.Provide information on the physical harm that results from using tobacco products. Provide Information on vaping and the harmful effects of other products containing tobacco.  
11:35 am - 12:05 pm
Afternoon Panel
Digital Underground - Connecting the Disconnected
DigitalC
Angela Thi Bennett
This presentation will focus on innovation, collaboration, & connectivity working to make Greater Cleveland's digital future equitable for youth.Provide education to students regarding opportunities to have access to, as well as learn how to navigate through the internet and to provide ongoing support. Provide Information on the dangers of internet predators.  
12:05 pm - 12:35 pm
Stand Up for Your Rights - Overcoming Hurdles in the Foster Care System
Ohio Youth Advisory Board
Jaye Turner
This presentation will focus on the hurdles that youth face in the foster care system.Provide information on the creation of a youth ombudsman office in the State of Ohio. Provide Information on the rights of youth that are in and aging out of the foster care system.  
BREAK 
12:50 pm - 1:20pm
Can You Tell Me How to Get to Literacy
Rev. Todd Johnson, Black Boys Read
Chrishawndra Matthews, Literacy in the Hood
This presentation will focus on literacy and reading for youth.Provide information on the lifelong benefits of literacy on positive mental health outcomes . Provide Information on programs that are available in person and in a virtual space to assist youth with literacy. 
1:20 pm - 1:50pm
My Minds Playing Tricks on Me - Mental Health and Black Youth:
ADAMHS Board of Cuyahoga County
This presentation will focus on the impact of COVID 19 restrictions (stay at home order) and the mental health impact on youth.Provide information on the mental harm and challenges faced by our youth during this unprecedented time in our history. Provide Information and resources to help youth maneuver through the hurdles of COVID 19 and beyond. 
1:55 pm - 2:55 pm
Table Talk featuring Propaganda
Poet, Political Activist, Husband, Father, Academic and Emcee
This presentation will focus on providing a bold message on the mental impact of activism on youth.Provide information on activism that challenges and guides youth to inspire them through the intersections of life.Provide Information that will stretch the mind and hearts of youth and engage and empower them for positive community change.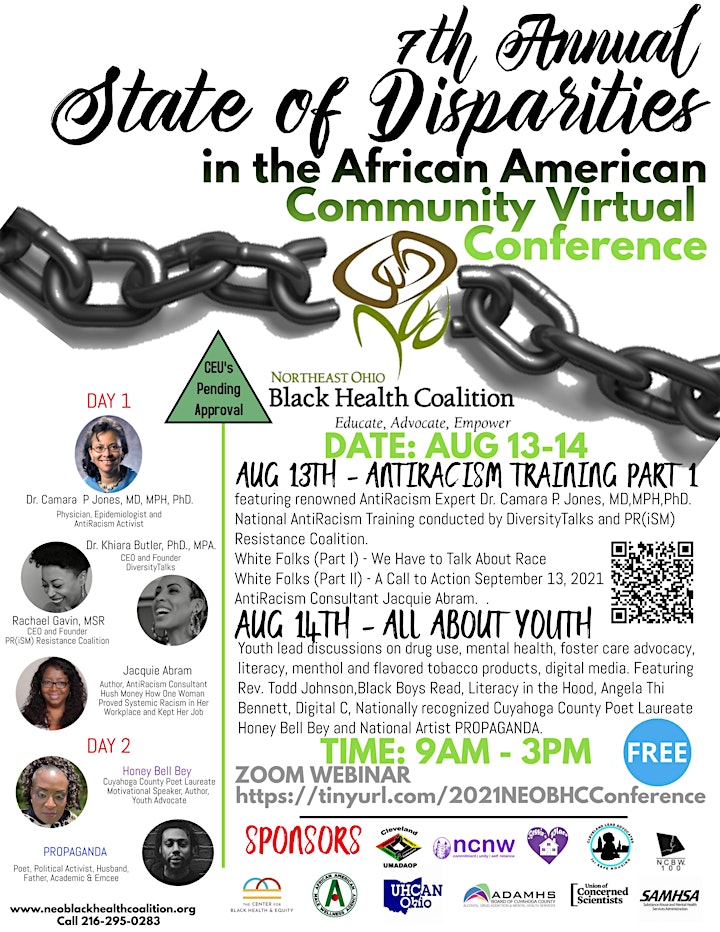 Organizer of State of Disparities in the African American Community Race in America