Description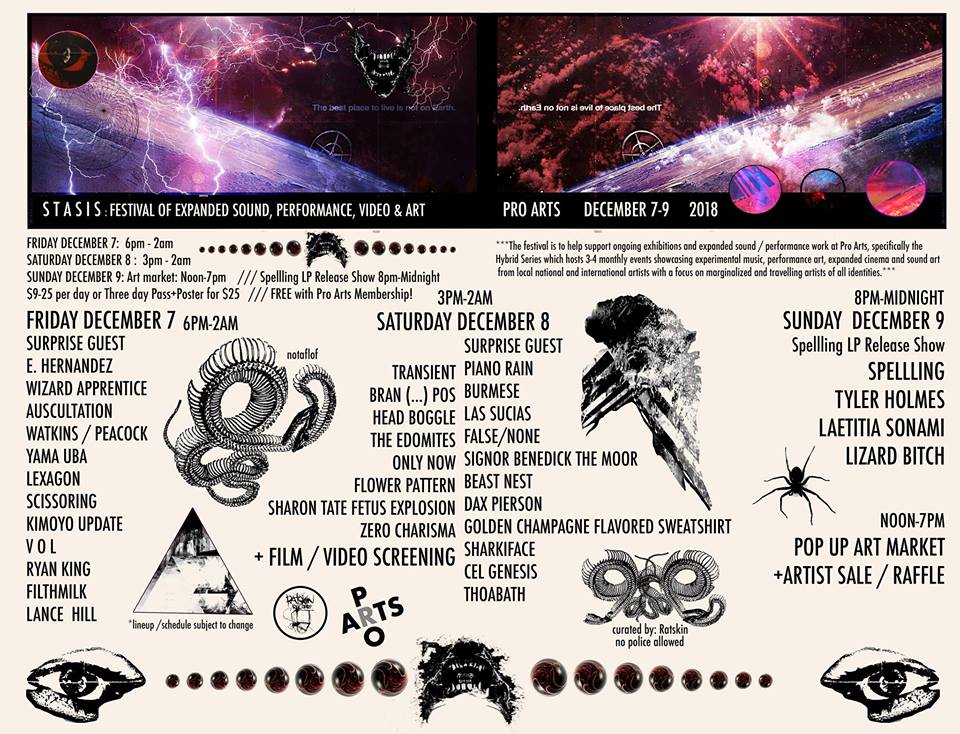 A three-day festival of sounds, video, art, Performances, art market + sale and more.
FRIDAY DECEMBER 7 4:00 p.m. - 1:00 a.m.
SATURDAY DECEMBER 8 1:00 p.m. - 2:00 a.m.
SUNDAY DECEMBER 9 11:00 a.m.-7:00 p.m.
Tickets: Three-day pass + Poster for $25 OR $9-25 sliding scale day off
FREE to Pro Arts Members.
*Memberships start at just $45: https://proartsgallery.org/membership/

This festival is organized with the aim to help support ongoing exhibitions and expanded sound and performance at Pro Arts, especially through the Hybrid Series program. The program hosts 3-4 monthly events, showcasing experimental music, performance art, expanded cinema and sound art from local national and international artists with a focus on marginalized artists of all identities.

Performances during the festival will take the form of musical performances, expanded sound and video presentations, performance art works, and culminating on the last day with a pop-up art market, featuring local and national artists.

curated by RATSKIN Records.
---
FRIDAY DECEMBER 7
4:00 - 6:00 pm - doors / quiet DJ'S / opening
6:00 - 6:20 LANCE HILL
6:30 - 6:50 FILTHMILK
7:10 - 7:30 RYAN KING
7:40 - 8:00 THE EDOMITES
8:10 - 8:30 KIMOYO UPDATE
8:40 - 9:00 SCISSORING
9:10 - 9:30 LEXAGON
9:40 - 10:00 YAMA UBA
10:10 - 10:30 WATKINS / PEACOCK
10:50-11:20 AUSCULTATION
11:30 - 11:50 WIZARD APPRENTICE

12:00 - 12:20 E. HERNANDEZ
12:40 - 1:00 SURPRISE GUEST - XXXXXX XX XXXX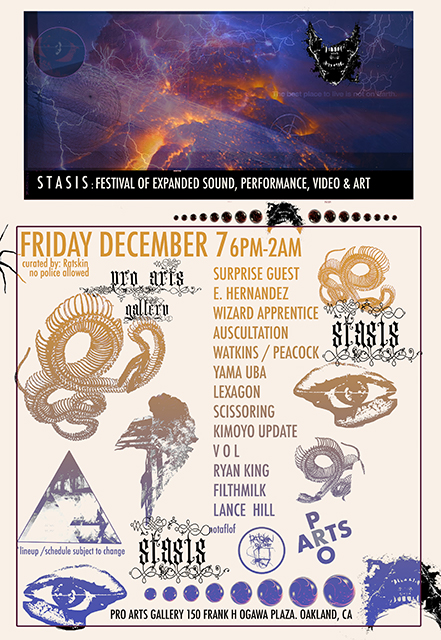 ---

SATURDAY DECEMBER 8
1:00 - 2:00 p.m. DOORS OPEN / DJ's
2:00 - 3:20 SCREENING
3:30 - 3:50 SCREENING PART 2
4:00 - 4:20 SHARON TATE FETUS EXPLOSION
4:30 - 4:50 FLOWER PATTERN
4:50 - 5:10 ONLY NOW
5:10 - 5:30 V O L
5:40 - 6:00 HEAD BOGGLE
6:10 - 6:30 BRAN (…) POS
6:40 - 7:00 TRANSIENT
7:10 - 7:30 BREAK / DJ
7:30 - 7:50 THOABATH
8:00 - 8:20 CEL GENESIS
8:30 - 8:50 SHARKIFACE
9:00 - 9:20 GOLDEN CHAMPAGNE FLAVORED SWEATSHIRT
9:30 - 9:50 BREAK / DJ
9:50 - 10: 10 DAX PIERSON
10:20 - 10:40 BEAST NEST
10:50 - 11:10 SIGNOR BENEDICK THE MOOR
11:20 11:40 BURMESE
11:50 - 12:10 BREAK / DJ
12:10 - 12:30 LAS SUCIAS
12:40 - 1: 00 FALSE / NONE
1:10 - 1:30 PIANO RAIN
1:40 - 2:00 SURPRISE GUEST XXXX XXXXXXX
---
SUNDAY DECEMBER 9
12:00 - 7:00 p.m. ART SALE / RAFFLE / POP UP MARKET
7:00 - 9:00 DJ'S / SCREENING
9:10 - 9:40 LIZARD BITCH
9:50 - 10:20 LAETITIA SONAMI
10:40 - 11:10 TYLER HOLMES
11:20 - 11:50 SPELLLING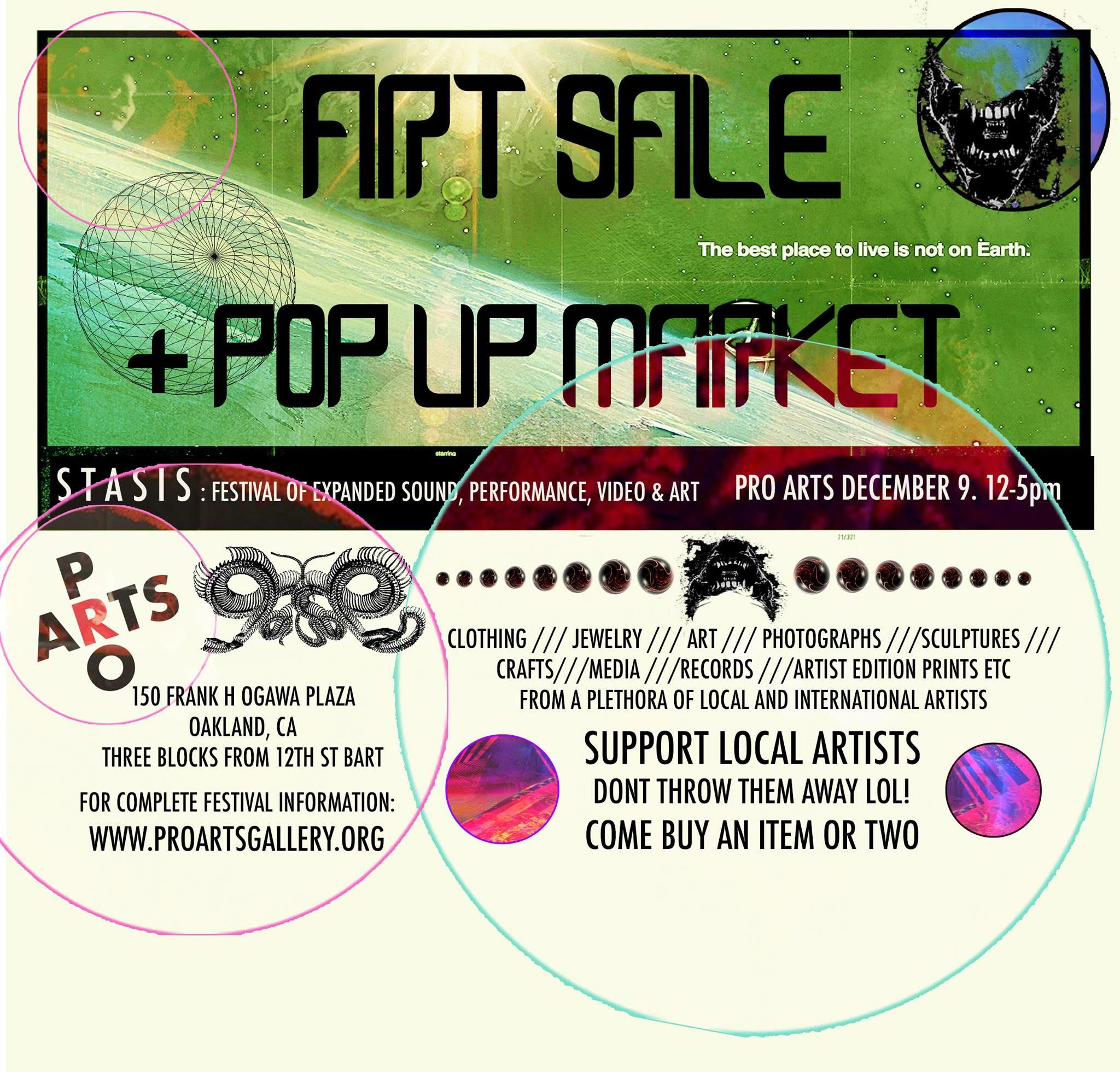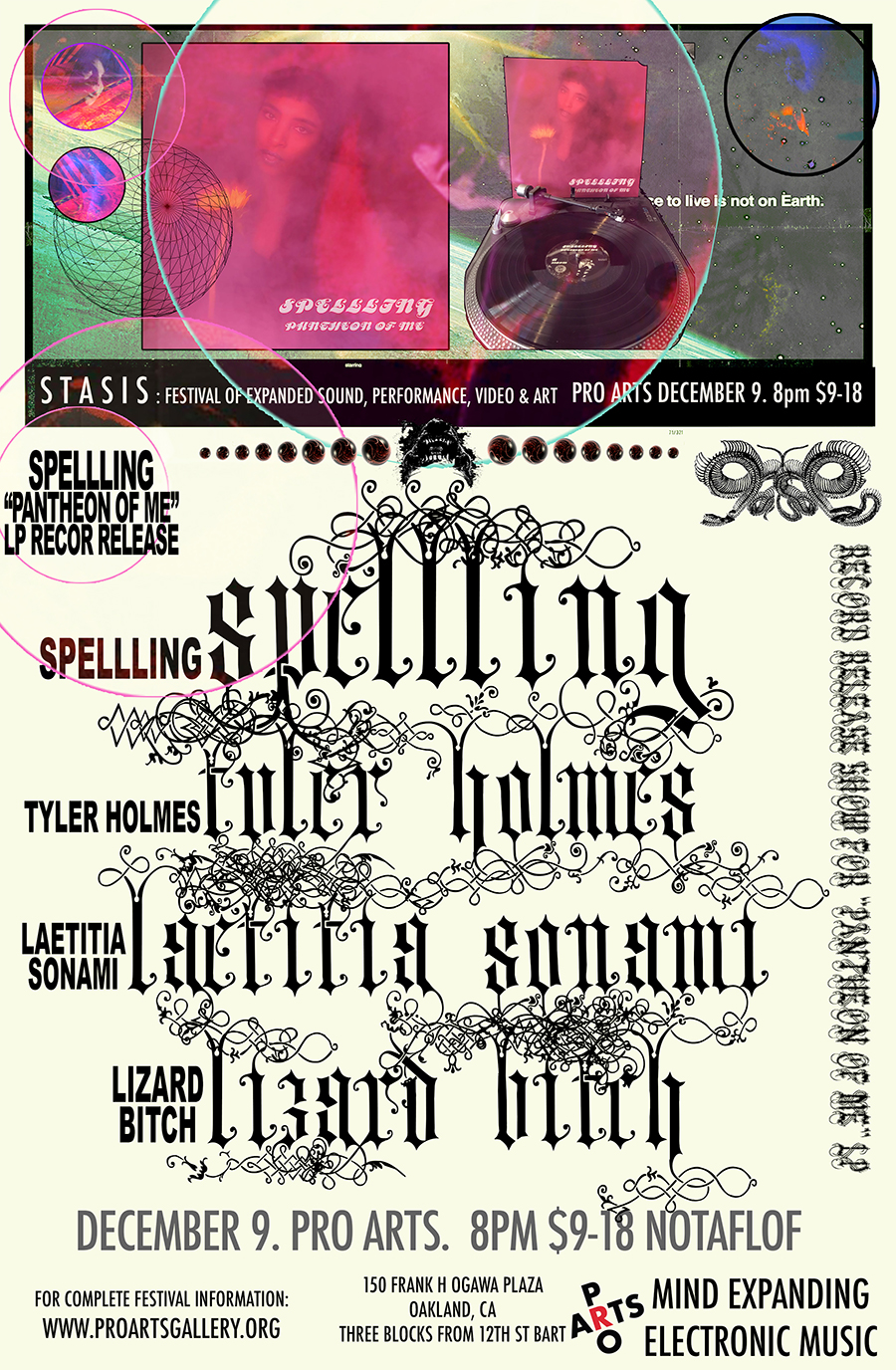 SUNDAY DECEMBER 9
12:00 - 7:00 p.m. ART SALE / RAFFLE / POP UP MARKET
7:00 - 9:00 DJ'S / SCREENING
9:10 - 9:40 LIZARD BITCH
9:50 - 10:20 LAETITIA SONAMI
10:40 - 11:10 TYLER HOLMES
11:20 - 11:50 SPELLLING