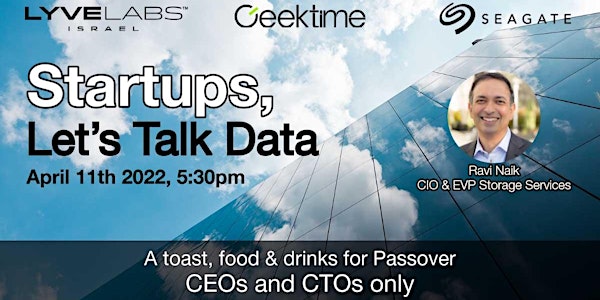 Startups, Let's Talk Data!
Let's Talk Data with Seagate CIO and EVP Lyve Storage Services, Ravi Naik, and Geekmedia Group. An invite-only event.
About this event
By 2025, the amount of data generated each day is expected to reach 463 exabytes globally. Imagine all the possibilities that could lead to.
But before we even get there, companies should ask themselves: are we making full use of the data we are collecting now? Are we collecting the right data to benefit our business? Because what makes data valuable is what can be learned when it is processed, studied, and turned into insights that are actionable.
In April 11th, join us in a networking discussion at F2F event and let's talk about exciting trends in data innovation and applications with a special Passover toast, food and drinks.
Specifically, the discussion will cover:
Exciting Data-Driven Innovations that are already disrupting the industry
Global Explosion of Data into 2025
Are we making full use of the data collected?
With Big data comes Big opportunities…but also Big challenges
Share your insights about how your company deals with and anticipates trends in data, and learn more about new technologies and best practices from Seagate and your fellow startup CEOs and CTOs.
Hear from Seagate Executives about how Seagate's edge-to-cloud data storage solutions could help unleash the full potential of your data!
Please note that due to COVID restrictions and venue limitations, slots for the event are limited.
By signing up, you are expressing your interest to join the discussion. Your participation will be confirmed when you receive an invitation from Lyve Labs Israel and your Data will be shared with Seagate and it's partners.