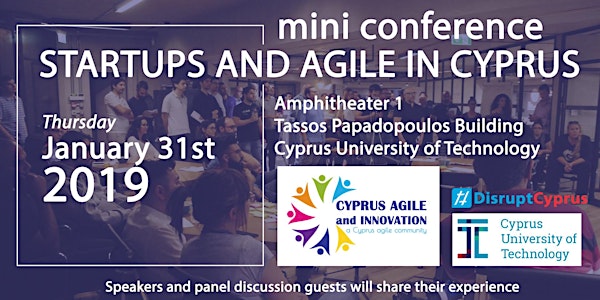 Startups and Agile in Cyprus
When and where
Location
Tassos Papadopoulos Building (CUT), Amphitheatre 1 Ifigeneias Themidos and Ifigeneias corner, next to old IL Posto Limassol Cyprus
Description
As many startups managed to establish themselves by acquiring a very small percentage of the market resulted to the happiness and satisfaction of everyone involved. It looks like you had a very successful recipe and now you feel ready to grow even more. You think you have what it takes to grow the numbers and increase revenue and be even more successful. That is absolutely fantastic news and everyone is looking forward to this growth, but are you really ready for this?
When is time to scale, we need to take into consideration many factors and use different recipes for every stage, otherwise we will build an environment that half of our time will be spent on dealing with problems. Usually we are focusing on the symptoms and not on the actual problems. This is happening when you are part of the problem and you are trying to solve it. Have in mind the right tools to use for scaling, the right way to remove impediments, the right way to build your identity and last but not least have a plan for your employees' retention. All four stages need a vision, a mission, a strategy and values.
Being agile means working in short iterations, delivering more often and building the product with the customer. Agile means investing time with the customer to experience the solution/product and provide feedback and adopt and respond to those feedback accordingly. This the agile way. Respond to the changes fast enough that will deliver fast enough the solution/product to the customer.
During the conference, speakers and panel discussions participants will share their experience on the following:
How a startup could scale based on the agile framework
From the idea to a startup
Agile HR – the role and values
Tools and techniques that startups could use
Let's share our experience. Sharing is caring, let's learn from each other, improve and be proactive.