Description
We decided to fusion our Happy Hour & Networking with the Battlefield Pitch competition, so join us to assist to Startups pitches with a Beer!
At StartupHouse every month we give the opportunity to 5 pre-series A startups to pitch their idea in 3 min in front of a panel of investors. We believe that in a tough world like Silicon Valley, pitching your idea must be FREE especially if it's a good one.
Why apply? Get funding on stage? Anything could happen. We promise that you will get a good exposure to the startup community, awesome feedbacks from the panel & great connections. The winner will get one month of free co-working space for the entire team! So hurry up, applications are limited and only the best applicants will be selected to pitch.
Those who don't feel ready to pitch are welcome to join us too. Mingle with other fellow entrepreneurs, listen to the pitches and learn how to convince investors that your product rocks!
HAPPY HOUR TIME @StartupHouse. Come join us to mingle with fellow entrepreneurs. Drop by and get the inside track on StartupHouse life. Meet & grow your network in the most vibrant & international startup community in SF.
Come enjoy our open bar while watching some start-ups pitching their business to investors.
---
Past Winners:
Past Judges:
...and many other Angel Investors!!!!
---
Event Schedule:
6:00 - 6:30 Networking and drinks
6:30 - 7:30 The Battlefield
7:30 - 9:00 More Happy Hour open bar!
---
Pitching Startups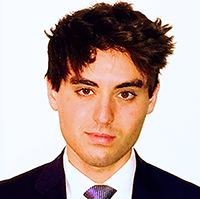 Noah D. Stone (born in Berkeley, California) is a Silicon Valley businessman, startup advisor, and frequent judge at Silicon Valley startup events. Stone is best known for being the recipient of the '2017 San Francisco Young Investor of the Year Award.' He is the youngest-ever permanent shark at Live Sharks Tank®, where he sits on an accredited-investors-only panel, and is an advisor to participating firms at Startups Showcase Group in San Francisco, California. He was dubbed a "funding expert" by Inc. Magazine in an exclusive interview regarding seed funding, and has been interviewed by foreign and domestic media outlets. With a combined social media following of approximately 30,000, and more than 15,000 direct LinkedIn connections, Stone is known to be very well-connected in Silicon Valley. Stone studied finance at Saint Mary's College of California, a private college in affluent Moraga, California. He was a player for the college's championship D1A rugby team, where he played wing, and full-back. He was also a member of the Saint Mary's Honor Society.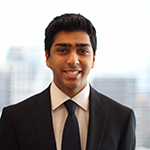 Vivek is an investor with Commerce Ventures where he focuses on early-stage companies in the broader FinTech and Retail Tech spaces. Previously, he was an investment banking analyst at FT Partners where he worked on numerous M&A and Private Placement transactions for FinTech companies.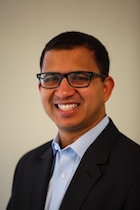 Ashish invests in early-stage companies in Robotics, Connected Devices, AI/ML, and Frontier Technologies across the complete stack at Grishin Robotics. Before that, Ashish led strategic corporate acquisitions, investments, and divestitures for Opera Software where he oversaw transactions worth hundreds of millions of dollars. Ashish also worked in marketing analytics for consumer and enterprise products at Dell in Austin Texas. At Yahoo! Ashish built large-scale enterprise infrastructure for advertising products. He led service-engineering teams to design dev-ops systems and architected complex advertising systems. He has also worked as an investor for OCA Ventures, a venture capital fund based in Chicago Illinois.
---
NO REFUNDS!
Do you want to be on the panel for our next competition? Do you have questions about the event or are you thinking about joining our awesome community? Email me!