Description
STARTUP WORLD CUP
Startup World Cup is a global event where startups from around the world will be coming to San Francisco to battle for a US $1,000,000 grand prize in investment. Startup World Cup is partnering with some of world's largest conferences and tech events to host 16 regional startup competitions in 13 different countries across 6 continents - North America, South America, Europe, Africa, Asia, and Oceania. The goal of Startup World Cup is to create innovation and entrepreneurship opportunities for startup ecosystems all over the world. Entrepreneurs from many different countries will be able to use the Startup World Cup platform to build great companies and improve the possibilities for themselves.
PRE-GRAND FINALE WORKSHOPS
Prior to the Grand Finale event on March 24th, 2017, Startup World Cup will host 2 workshops sessions on March 23rd, 2017 at the San Francisco Marriott Marquis.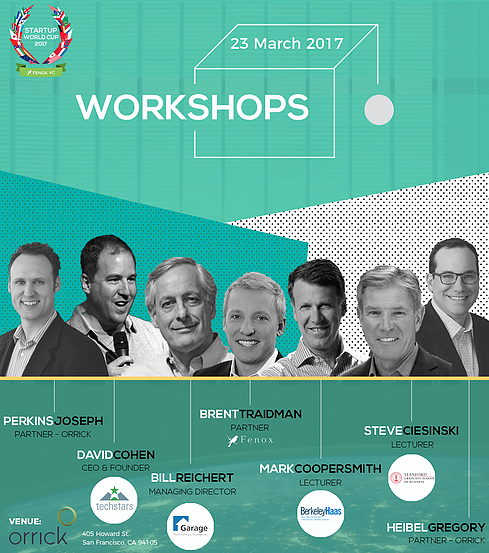 AGENDA
10AM - 1PM: Workshop #1 - "How to Make a New Venture Successful"
Content of the Workshop: During this workshop, the top Silicon Valley experts are going to explain the basics of how to make a new venture successful. Focus will be given to key subtopics, including a successful team building, product development, IP protection, marketing, fundraising, and exit strategies. Key hurdles when putting together a successful startup business and how to overcome them will also be discussed in detail. A detailed Q&A session will also be a part of this workshop to get clarity on major issues.


1PM - 2PM: Lunch


2PM - 5PM: Workshop #2 "How to Make Best Use of Silicon Valley for Business Development"
Content of the Workshop: This workshop will discuss how international and domestic corporations can use Silicon Valley and its resources to foster innovation. This workshop will cover different methods that corporations can explore to make themselves innovative and help their current research and development process. Experts will cover real life examples many Silicon Valley large corporations have undertaken that have helped them become global leaders in innovation.​
Please note that all sales are final. Tickets are non-refundable and non-transferrable.


For more information, please check out the Startup World Cup website at www.startupworldcup.io.