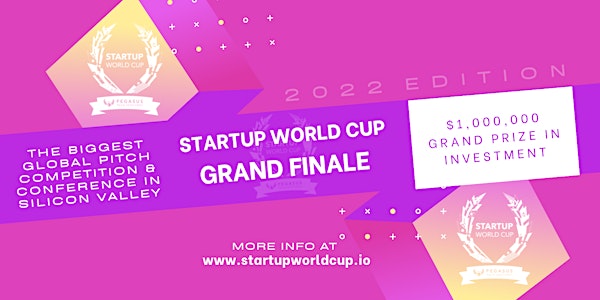 Startup World Cup Grand Finale 2022
Startup World Cup Grand Finale 2022
When and where
Location
Marriott Marquis 780 Mission St San Francisco, CA 94103
About this event
STARTUP WORLD CUP 
Startup World Cup is a global series of conferences and competitions that bring together the top startups, investors, entrepreneurs and tech CEOs around the world. Starting with regional competitions in nearly 70+ countries across six continents, hundreds of selected top technology startups compete for the chance to move onto the Grand Finale event in San Francisco to win a $1 million investment grand prize. Startup World Cup is organized by Pegasus Tech Ventures in partnership with investors and local sponsors. For more information on the Startup World Cup, please visit https://www.startupworldcup.io. 
Check it out: https://venturebeat.com/2019/05/21/vietnam-startup-wins-1-million-grand-prize-at-2019-startup-world-cup/ 
https://www.techinasia.com/abivin-wins-1m-2019-startup-world-cup
2020 Trailer: https://www.youtube.com/watch?v=sWBq3nswOBg&feature=youtu.be
2019 Event Recap: https://www.youtube.com/watch?v=_yhslz6FKog
Confirmed Speakers:
- Kevin O'Leary, ABC, Shark Tank
- Nikesh Arora, former COO of Softbank , Chairman & CEO of Palo Alto Networks
- Lidia Fonseca, CTO, Pfizer
- Thuan Pham, CTO at Coupang, Former CTO at Uber
- Thomas Dohmke, CEO, GitHub
- Spencer Rascoff, Co-Founder, Zillow
and more to come!
To Startup World Cup Attendees:
As we continue to navigate the uncertainty of COVID-19 and its impact on both event organizers and ticket holders, we are cancelling the 2020 Grand Finale planned in September 2020. With this change, we are combining the 2020 and 2021 Grand Finale regional winners to compete at the 2021 Grand Finale scheduled for September 30th, 2022. We hope by September we can resume the competition in a safe and healthy environment. The wellbeing of our participants is our #1 priority. 
We appreciate your understanding and cooperation.
 Please note that all sales are final. Tickets are non-refundable and non-transferrable. Please also note that details and the content of the event may be subject to change at any time at the organizer's sole discretion without formal notification.For more information, please check out the Startup World Cup website at www.startupworldcup.io.