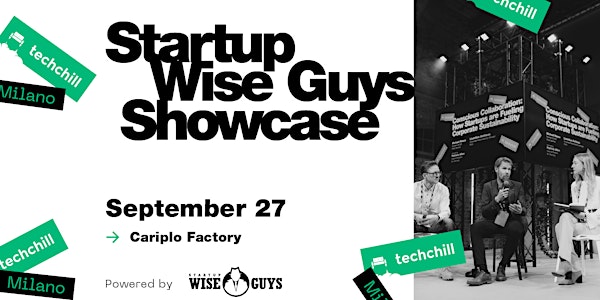 Startup Wise Guys Showcase
Startup Wise Guys Showcase
When and where
Location
Cariplo Factory Via Bergognone, 34 – angolo via Tortona 20144 Milano Italy
About this event
🎉 Join the official side-event of TechChill Milano!
11 international startups from the most recent batches of Startup Wise Guys will blow your mind - quickfire presentations, networking with investors, and mingling with the greatest people in tech.
With 300+ investments in early-stage startups, Startup Wise Guys are one of the most active investors in Europe. To help techy startup founders become true entrepreneurs, they are running a world-class startup accelerator since 2012. They focus on B2B SaaS, Fintech, Cybersecurity, XR, and Sustainability early-stage startups, as well as have done follow-on investments in accelerated startups. The portfolio has already had 13 exits and the overall startup survival and success rate is above 80%.
🤔 Which startups will you meet?
⭐ Sentric - the fastest way for small physical retailers to successfully bring their products online and open e-commerce.
⭐ iDEAL Rent powers businesses in the mobility, insurance, banking, and energy sectors to quickly and easily start selling car subscriptions. Thanks to its SaaS platform and turnkey business solution iDEAL Rent allows businesses to accelerate the adoption of sustainable mobility and generate new revenue streams.
⭐ Calton - a Customer Experience and Review Management platform that allows companies of any size to aggregate, respond to, analyze and manage online reviews and customer feedback from any channel to provide insight about the brand, stores, services, and products offered and competitors.
⭐ Volee - an Estonian platform for managing companies' online communities into a single one, where you can unite all of your SM data and management activities - saving you time and effort in building your company's community.
⭐ KEET - a next-gen fleet monitoring software that enables fleet managers to monitor the behavior of the drivers by detecting abnormalities, GPS position, fuel, and energy consumption. Fleet managers can use data to improve the usage of their fleets, save fuel expenditures, and reduce maintenance costs.
⭐ Cyberangels - an all-in-one web-based cybersecurity platform that provides automated assessment tools to measure cyber risk, an AI-based engine to deliver personalized remediation plans and guidelines, cybersecurity experts on-demand, and insurance products for our people's peace of mind.
⭐ Code RTD fights digital piracy by collecting legal evidence of copyright infringement, offering a secure cloud media focus, and preventing illegal sharing on video-sharing companies and social networks.
⭐ Octopus Cybersecurity - a B2B startup that helps IT Security teams identify and get alerted on configuration changes in real-time within their Organization. We make security software that secures business devices like data centers and network routers.
⭐ Data Against Data - is a privacy startup with a core team of five people with complementary skills, focused on making data privacy real. We started in 2020 and graduated from two acceleration programs so far, released an MVP, and are working on the first product launch in the next couple of weeks.
⭐ Elai.io - a text-to-video platform that allows companies to generate video content with human narrators from just text.
⭐ eID Easy - Typical simple eSignature done by copy-pasting the image of your name in the handwritten font on the document has low trust and according to law is not even not permissible in cases where the law requires "written form". On the other hand, the high-quality signature market is very fragmented, complex, and expensive to integrate with hundreds of local methods. eID Easy is wrapping all local popular electronic signature means behind one simple API making go to market time very short and total project cost very low.
👏 Free to attend by registering on Eventbrite 👏
TechChill Milano is an international event focused on the startup ecosystem and entrepreneurship, September 27 - 29.
📗 Learn more and get your pass https://www.techchillmilano.co