Startup Weekend Wearables and Fashion Tech Global Battle

Friday, September 11, 2015 at 6:30 PM

-

Sunday, September 13, 2015 at 9:00 PM (EDT)
Event Details
Startup Weekend Wearables and Fashion Tech Global Battle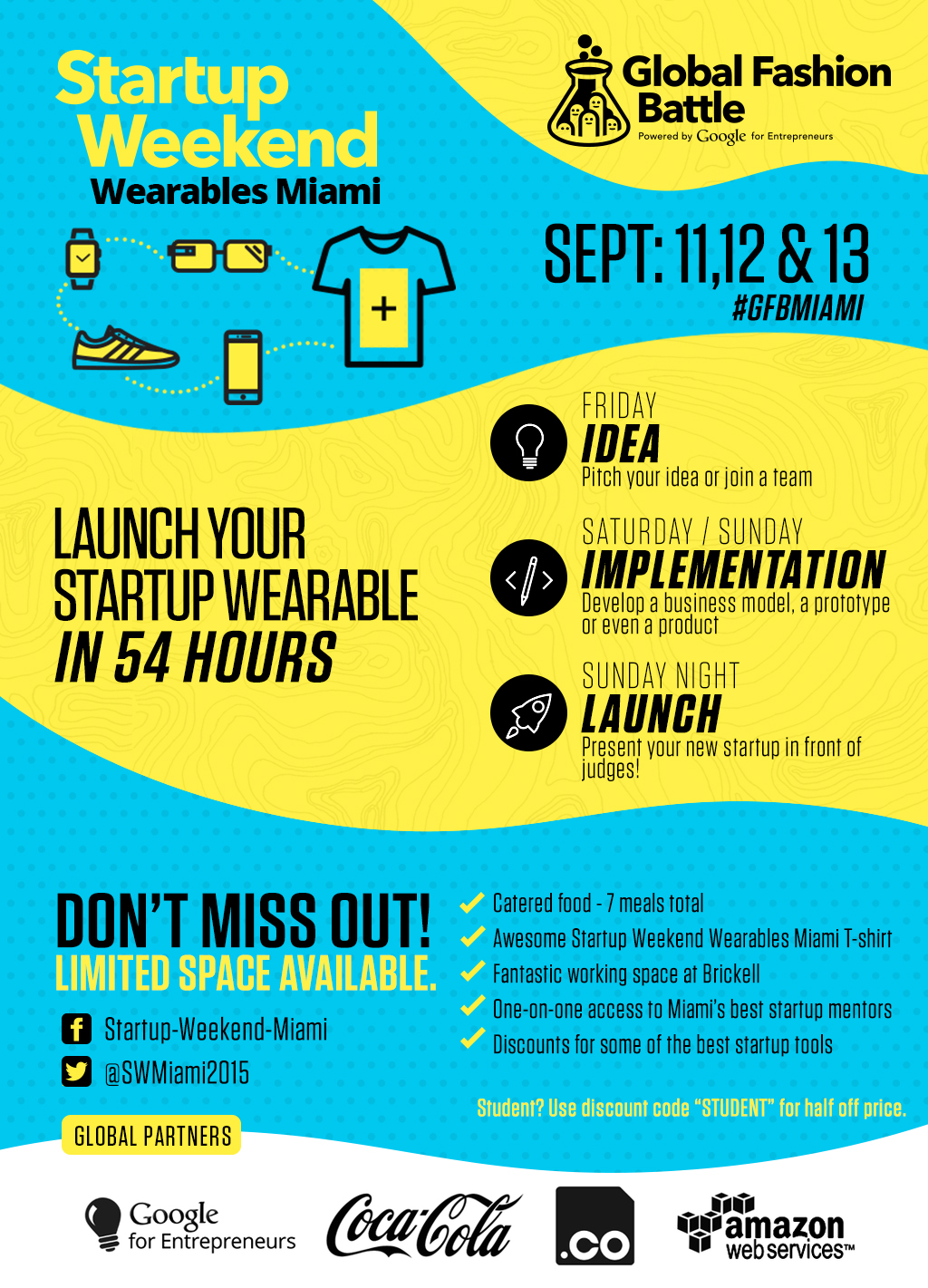 Technology and fashion are not fields that have previously been known for their interaction. Until now. Wearables, e-commerce sites, apps and fashion tech are changing both industries at an incredible pace. To celebrate, we're gathering together renowned wearables and fashion tech experts, the latest technology trends, and the most talented young entrepreneurs in the world's biggest Wearables & Fashion Tech startup competition in the world! 

Oh wait, the opportunity (and fun) doesn't stop there! We are coordinating with teams in New York, London, Milan, and Paris to host Startup Weekend Fashion Battles during the same weekend. The winner from each city will be flown and compete against one another on a global stage in Poznań, the home of the 8th Art & Fashion Forum powered by Grażyna Kulczyk! 

Welcome to STARTUP WEEKEND'S GLOBAL WEARABLES AND FASHION TECH BATTLE! Each of the cities participating will host a Startup Weekend - a 54-hour event bringing together developers, designers and non techs to create functional companies from scratch. 
Startup Weekend is a global grassroots movement of active and empowered entrepreneurs who are learning the basics of founding startups and launching successful ventures.

 --- 

Q. Is this program a good fit for me? 

A. If you're passionate about innovating within the fashion and retail space, this is for you. Whether or not you work within the industry, your experience, passion, and perspective can lend towards the development of a successful idea. Programmers, marketers, strategists, creative professionals, and all around driven people will come together in this weekend of connections and innovation. 

Q. I'm a web developer…what do I have to do with fashion? 

 A. Anyone can help disrupt an industry, regardless of what their skill set is. If the product is software related, then you are integral to production of the product (think Pinterest, Polyvore, Etsy, Piperlime, ASOS, Gilt, etc.). 

Q. I've got a fashion idea but I have no idea where to start. 

A. We know...this is not a question, but we want to comment on this. Startup Weekend Fashion Innovations is the perfect opportunity to pitch your idea, gather a team and see if you can turn your idea into a business! We'll give you the tools to get your idea produced in an incredibly short amount of time, test it with your would-be consumers and pitch the business to a panel of judges. 

--- A little bit more about Startup Weekend: All Startup Weekend events follow the same basic model: anyone is welcome to pitch their startup idea and receive feedback from their peers. Teams organically form around the top ideas (as determined by popular vote) and then it's a 54 hour frenzy of business model creation, coding, designing, and market validation. The weekends culminate with presentations in front of local entrepreneurial leaders with another opportunity for critical feedback. Whether entrepreneurs found companies, find a cofounder, meet someone new, or learn a skill far outside their usual 9-to-5, everyone is guaranteed to leave the event better prepared to navigate the chaotic but fun world of startups. If you want to put yourself in the shoes of an entrepreneur, register now for the best weekend of your life!
Refund Policy:  No refunds will be granted within 7 days of the event if food and drink have already been ordered. Apologies for any inconvenience this may cause.
Terms of Participation Agreement: It is our job to provide you with an incredible networking and learning opportunity. Our intention is that you meet some amazing people that you might actually start a company with, build relationships with coaches, and learn from your peers. The event is intended to be a collaborative forum for sharing, learning, building, and having fun. As such, by registering as a participant, you acknowledge that any ideas shared by you or anyone else over the course of the event are contributions to the overall experience and community. If you as a participant are worried about someone stealing your ideas, please reconsider your participation in the event itself or simply refrain from sharing specifics about your idea. 
As a member of your startup community, you agree to to be inclusive of any and all people and their ideas. You agree to act professionally, treat everyone with respect, and treat the event facilities with proper care. You agree that you are responsible for any accidents or damages that you cause. You also agree to not hold Startup Weekend, your local volunteer team, or any of the event supporters liable for any loss, damage, injury, or any other unforeseeable incident. 
By Participating at the event, you grant Startup Weekend permission to capture photo/video of the event. You can find the exact legal terms on our FAQ Page but to summarize, we want to share your success with the world.
By submitting your information above you agree to the UP.co and Techstars.co family of website's Privacy Policy, and you consent to receive email communication from UP Global and its programs about events and updates that may interest you.
When & Where

Building.CO
120 SW 8th St.
Miami, FL 33130


Friday, September 11, 2015 at 6:30 PM

-

Sunday, September 13, 2015 at 9:00 PM (EDT)
Add to my calendar
Organizer
Techstars is a global ecosystem that empowers entrepreneurs to bring new technologies to market wherever they choose to live. With dozens of mentorship-driven accelerator programs and thousands of community programs worldwide, Techstars exists to support the world's most promising entrepreneurs throughout their lifelong journey, from inspiration to IPO. Techstars provides access to tens of thousands of community leaders, founders, mentors, investors, and corporate partners, allowing entrepreneurs to accelerate the pace of innovation and do more faster. Techstars supports every stage of the entrepreneurial journey – from early stage grassroots community development to more formal opportunities that provide education, experience, acceleration, funding, and beyond. Techstars Startup Programs include Startup Weekend, Startup Digest, and Startup Week. By purchasing a Ticket you agree to the Terms and Conditions.