Description
Follow us on Facebook, Twitter and Instagram for more info!
About the event:
A Startup Weekend is a Techstars entrepreneurship event, powered by Google for Startups. Created by and for people attracted by entrepreneurship and innovation. The event will take place over 54 hours.
In just 54 hours, you will experience the highs, lows, fun, and pressure that make up life at a startup. You'll learn and get involved in building strong foundations for a solid startup (Problem, Business Model, Solution, Market Size, Customers, Value Prop, etc.) You'll meet the very best mentors, investors, cofounders, and sponsors who are ready to coach you, guide you, and share their inspiring knowledge and expertise.
Our Amazing Mentors: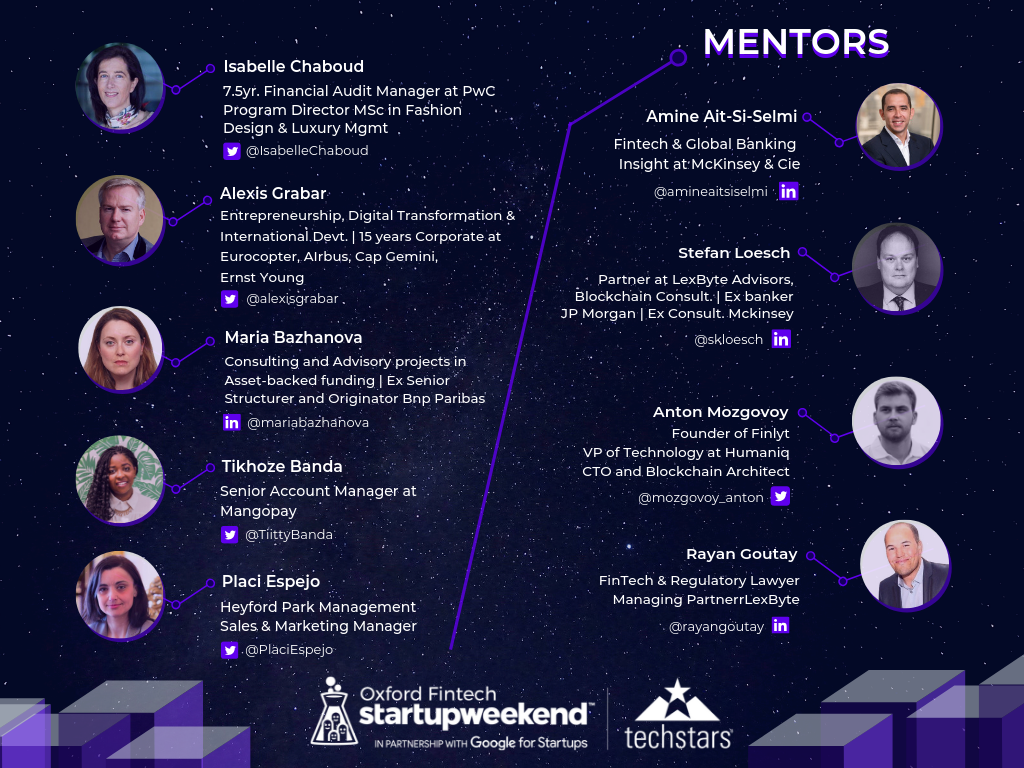 Short schedule:
- Friday night: Pitches and building the teams.
- Saturday: Brainstorming, business plan development, working prototype creation (MVP product), workshop, mentors support & fun!
- Sunday: Final Stretch before the Final Presentations, Awards and Celebration!


Why should I buy my ticket to Startup Weekend?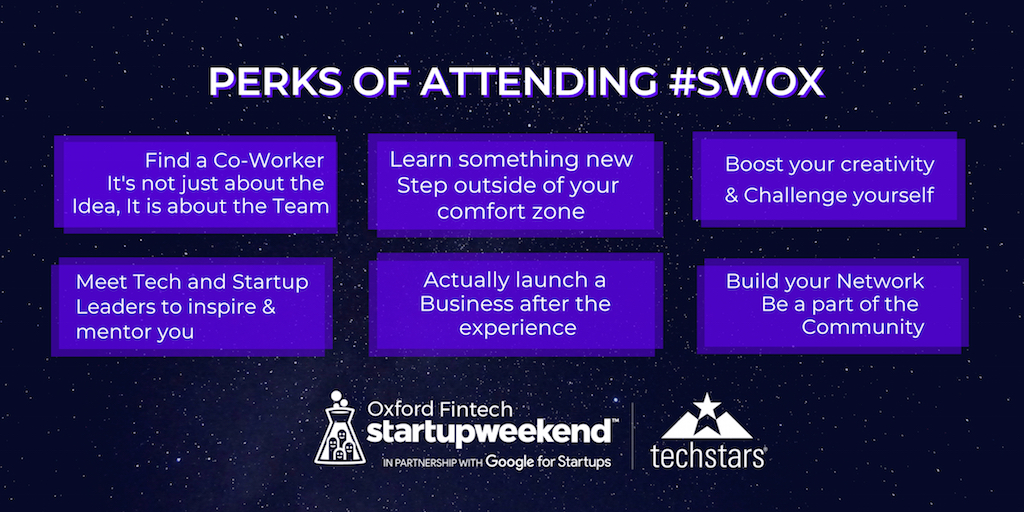 Do I need to come with an idea?

If you have an idea for a startup, then great! We encourage you to pitch it on Friday!
If you don't have an idea, that's alright! Among the other ideas pitched, something will strike your interest! The weekend is all about learning about the startup ideation process and learning from each other.

The theme this year is based around fintech. However, we've chosen our mentors to have expertise in all sectors! If your idea is not related to fintech idea and still want to take on the challenge, buy your ticket and we'll make sure your idea become a reality.

Here are the sectors related to Fintech space. As examples: InsurTech, RegTech, Financial inclusion, Cybersecurity, Wealthtech, Crowdfunding, ect.

All other industries are welcome to join the above :).
What if I don't know about fintech?
It's not a problem! We are gathering people with backgrounds in finance and technology. They will come with the ideas but they will need to team up with designers, lawyers, business developers, etc.
Everyone is welcome!


For the £40(student)/ £50 (non-student) tickets you get:

- Access to the full weekend-long event


- Opportunity to pitch your fantastic idea on Friday night


- Tasty meals all weekend (breakfast, lunch and dinner)


- A unique and unforgettable experience: taking an idea from concept to creation in a matter of days!
- Mentored by brilliant and dynamic leaders
- Membership in the Startup Weekend Community (>200K alumni)


- Fun activities and relaxing times


- GOODIES :))))
- Good vibes and love from the organizing team!!


For the winning team, here are the prizes: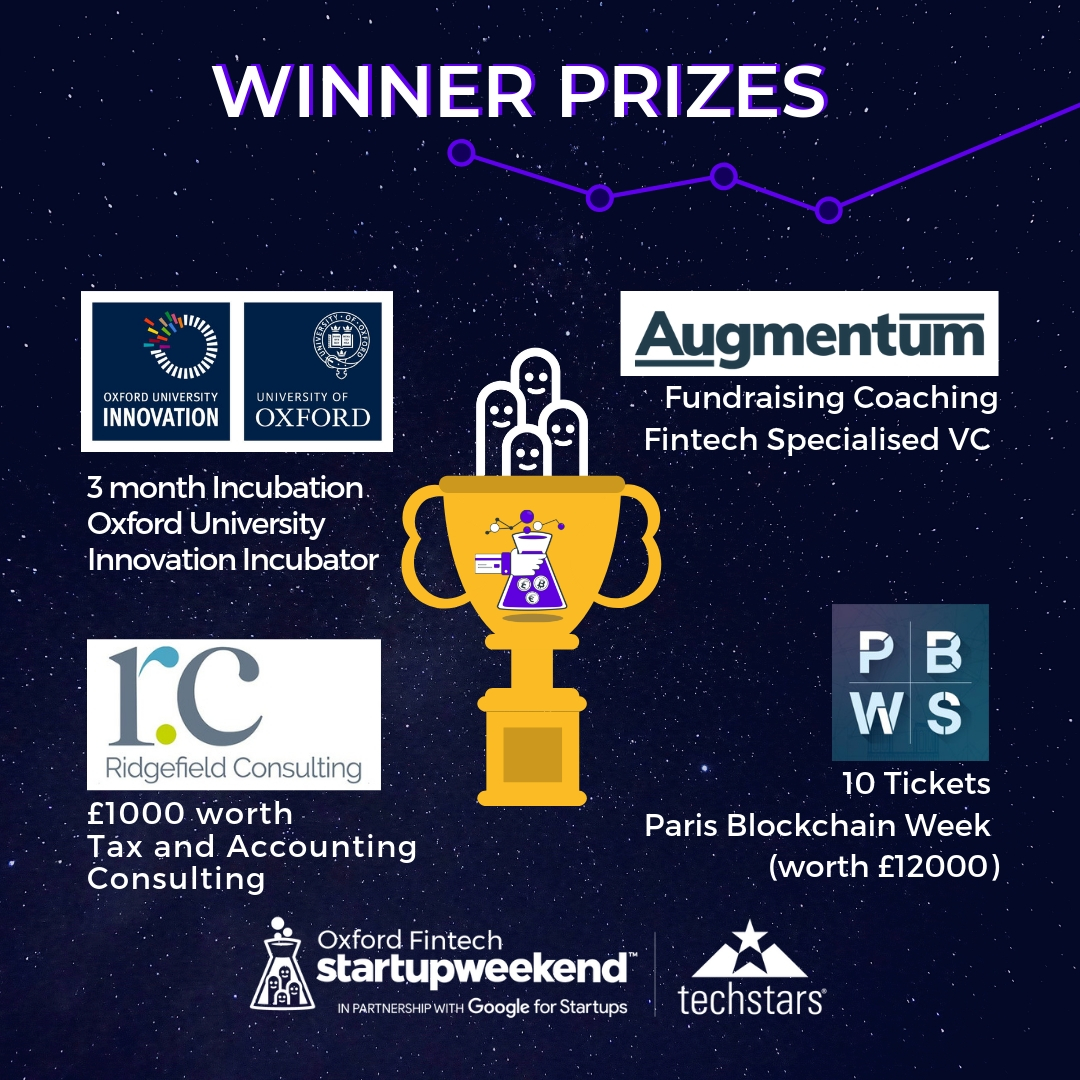 If you don't reside in Oxford already and come from another city, it will be your responsibility to find accommodation. However, we remain at your disposal if you need any support/clarification/

advice regarding this point. As a community, we'll do our best to find suitable solutions for everyone. Don't hesitate to drop us a message! (oxford-fintech@startupwee

kend.org)

Don't forget to follow us on social media to stay updated!

FB:

https://www.facebook.com/

OxfordSW

Instagram:

https://www.instagram.com/

swoxfintech/
_________________________________________
Refund Policy: No refunds will be granted within 7 days of the event if food and drink have already been ordered. Apologies for any inconvenience this may cause.
Terms of Participation Agreement: It is our job to provide you with an incredible networking and learning opportunity. Our intention is that you meet some amazing people that you might actually start a company with, build relationships with coaches, and learn from your peers. The event is intended to be a collaborative forum for sharing, learning, building, and having fun. As such, by registering as a participant, you acknowledge that any ideas shared by you or anyone else over the course of the event are contributions to the overall experience and community. If you as a participant are worried about someone stealing your ideas, please reconsider your participation in the event itself or simply refrain from sharing specifics about your idea.
As a member of your startup community, you agree to be inclusive of any and all people and their ideas. You agree to act professionally, treat everyone with respect, and treat the event facilities with proper care. You agree that you are responsible for any accidents or damages that you cause. You also agree to not hold Techstars Startup Weekend, your local volunteer team, or any of the event supporters liable for any loss, damage, injury, or any other unforeseeable incident.
By Participating at the event, you grant Techstars Startup Weekend permission to capture photo/video of the event. You can find the exact legal terms on our FAQ Page but to summarize, we want to share your success with the world.
By purchasing a ticket to a Techstars Startup Weekend event, you are agreeing to our Terms of Use and Privacy Policy. If you have questions please reach out to privacy@techstars.com.