Description
Techstars Startup Weekend Blockchain Edition

All of the awesomeness of Startup Weekend combined with all the mystery and possibility of blockchain technology! Let's do this!

Many thanks to our platinum sponsor IBM and our friends at Consensys!


What is Startup Weekend?

Have you ever seen a new product, app, or business and thought to yourself, "that was my idea a few years ago"? If you have, that means you did not have a process for taking that idea from concept to creation.

Startup Weekend is your chance to learn how to take any idea from concept to creation within a matter of days! Whether you are looking to...
get introduced to the world of startups and entrepreneurship,

learn the process for going from concept to creation,

meet experienced, talented, and passionate entrepreneurs in NYC,

join or build an all-star team,

learn and practice new skills to take back to your job, or

take your own idea from concept to creation
Do I need to know about Blockchain?

No prior knowledge necessary! Even better, we will be featuring a few workshops to help you learn about blockchain while you are at Startup Weekend. We'll be featuring:
Blockchain Business Models 101
Design Thinking for Blockchain
Building a Blockchain 101

Who is Startup Weekend For?

It doesn't matter what you do or where you come from, Startup Weekend is designed as an inclusive event and program that brings all sorts of people together including...
aspiring & experienced entrepreneurs,

developers and other tech-related professionals,

designers of all types,

non-technical talent (i.e. business, sales, finance, legal, etc.),

students from universities and even high schools,

professionals looking to switch careers or build new skills,

passionate visionaries, and

many more!

What's the twist?

Whether you are interested in the blockchain or not, the ultimate objective of the event is to empower you with a powerful process for taking any idea, blockchain-related or not, from concept to creation! Don't miss this opportunity to learn about blockchain and begin designing solutions based on this technology.


Your Full-Price ticket includes:
Access to the full, weekend-long, event (Friday 6pm-Sunday 10pm)

Opportunity to pitch your idea on Friday night @ Pitch Fire Session

Mentoring by all-stars from the blockchain world and the tech startup community

7 meals plus coffee throughout the weekend

1 Pitch Design (Story Telling) workshop, presented by The Pitch Doctor

Collaboration with awesome blockchain professionals from throughout NYC

All-star judge's panel led by tech, startup, and blockchain leaders

Membership in the Startup Weekend Community (>350K alumni)

A process for taking any idea from concept to creation in a matter of days

Over 100 new awesome friends!

Do I need to come with an idea?

If you have an idea for a startup, then great! We hope you pitch for the weekend. If you don't have an idea, that's quite all right! Come and spend the weekend, listen to the ideas being pitched, and see if something strikes your interest! The weekend is all about learning about the startup ideation process and learning from each other. If you have more questions, check out the Startup Weekend First Timers FAQ!


Still have questions, feel free to reach us at "nyc@startupweekend.org".

Don't wait any longer and join the Techstars Startup Weekend movement!

No talk, all action!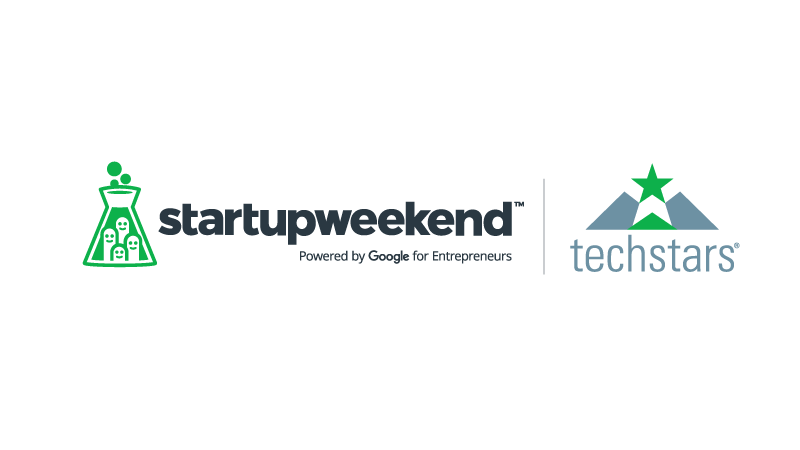 For all event details, please visit http://communities.techstars.com/events/13312
About Techstars Startup Weekend: Techstars Startup Weekends are 54-hour events designed to provide superior experiential education for technical and non-technical entrepreneurs. Beginning with Friday night pitches and continuing through brainstorming, business plan development, and basic prototype creation, Techstars Startup Weekends culminate in Sunday night demos and presentations. Participants create working startups during the event and are able to collaborate with like-minded individuals outside of their daily networks. All teams hear talks by industry leaders and receive valuable feedback from local entrepreneurs. The weekend is centered around action, innovation, and education. Whether you are looking for feedback on an idea, a co-founder, specific skill sets, or a team to help you execute, Techstars Startup Weekends are the perfect environment in which to test your idea and take the first steps towards launching your own startup.
Refund Policy: No refunds will be granted within 7 days of the event if food and drink have already been ordered. Apologies for any inconvenience this may cause.
Terms of Participation Agreement: It is our job to provide you with an incredible networking and learning opportunity. Our intention is that you meet some amazing people that you might actually start a company with, build relationships with coaches, and learn from your peers. The event is intended to be a collaborative forum for sharing, learning, building, and having fun. As such, by registering as a participant, you acknowledge that any ideas shared by you or anyone else over the course of the event are contributions to the overall experience and community. If you as a participant are worried about someone stealing your ideas, please reconsider your participation in the event itself or simply refrain from sharing specifics about your idea.
As a member of your startup community, you agree to be inclusive of any and all people and their ideas. You agree to act professionally, treat everyone with respect, and treat the event facilities with proper care. You agree that you are responsible for any accidents or damages that you cause. You also agree to not hold Techstars Startup Weekend, your local volunteer team, or any of the event supporters liable for any loss, damage, injury, or any other unforeseeable incident.
By Participating at the event, you grant Techstars Startup Weekend permission to capture photo/video of the event. You can find the exact legal terms on our FAQ Page but to summarize, we want to share your success with the world.
By purchasing a ticket to a Techstars Startup Weekend event, you are agreeing to our Terms of Use and Privacy Policy. If you have questions please reach out to privacy@techstars.com.