Startup Weekend Nova Gorica

Friday, November 22, 2013 at 10:00 AM

-

Saturday, November 23, 2013 at 8:00 PM (PST)
Event Details
Vabljeni na podjetniški vikend, ki se bo odvijal v Novi Gorici, od 22. do 23. novembra 2013.  
Startup vikend je namenjen študentom vseh smeri in letnikov. Odvijal se bo sočasno v več krajih po vsej Sloveniji. V dveh dneh boste razvili svojo podjetniško idejo po najsodobnejših metodologijah (»d.school«, »lean startup« in »business model generation«), stkali nova poznanstva in se zabavali.
Startup weekendi za študente so intenzivni, interdisciplinarni in osredotočeni na konkretizacijo, hkrati pa tudi zabavni.
Podjetniški vikend se bo odvijal na Univerzi v Novi Gorici, Vipavska cesta 13, Nova Gorica.
Rezervirajte si čas! Več informacij bo na voljo v kratkem. 
Ekipa Primorskega tehnološkega parka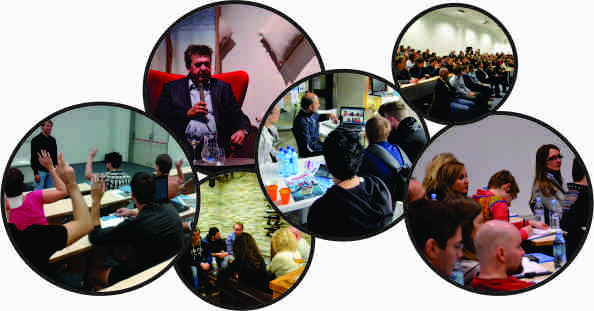 When & Where

Univerza v Novi Gorici
Vipavska cesta 13
5000 Nova Gorica
Slovenia


Friday, November 22, 2013 at 10:00 AM

-

Saturday, November 23, 2013 at 8:00 PM (PST)
Add to my calendar
Organizer
Primorski tehnološki park - najboljša lokacija za vaše podjetje!
Tukaj dobite vse, kar potrebujete za zagon, rast in razvoj startup podjetja.
Start:up center - celovita podjetniška podpora, ki jo potrebujete za razvoj podjetniške ideje v uspešno globalno podjetje,
StartUP inkubator za mlada podjetja, ki razvijajo nov inovativen izdelek ali storitev, ki temelji na lastnem znanju z visoko dodano vrednostjo in si želijo prodreti na globalni trg, 
co-working space in Start:up Geek House za globalno usmerjene podjetnike in 'freelancerje' - delovno mesto v skupni pisarni, sostanovalci s katerimi lahko sodelujete, podjetniški mentor, ki vam pomaga pri težjih odločitvah, vključevanje v programe za razvoj startup podjetja po metodologijah vitkega podjetja - The Lean Startup, 
startup šola Master ob startups za razvoj poslovne ideje v uspešen posel,
tekmovanje za najboljše startup podjetje v Sloveniji Start:up Leta, ki omogoča pridobitev do 25 od 100 možnih točk na razpisu P2 

Slovenskega podjetniškega sklada,

podpora pri kandidiranju za do 74.000 EUR nepovratnih sredstvev za zagon podjetja - razpis P2 Slovenskega podjetniškega sklada,
Go:Global, mentorski program in podpora pri prodoru na globalni trg,
PODIM, največja podjetniška konferenca v Sloveniji ,
Business Meetups Nova Gorica, neformalna mreženja podjetnikov,
POPRI, tekmovanje za naj podjetniške ideje med mladimi v osnovnih in srednjih šolah ter med študenti.