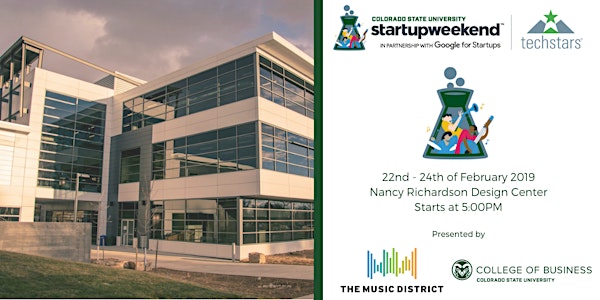 Startup Weekend: Music Innovation PITCH NIGHT
When and where
Location
Nancy Richardson Design Center Design Exchange, Main Lobby 522 West Lake Street Fort Collins, Colorado 80523
Description
Kick off Fort Collins Startup Week by joining the Startup Weekend Pitch Night! Join us to see the teams pitch their ideas and progress throughout the weekend!
Hosted by CSU Institute for Entrepreneurship and Music District, at the Nancy Richardson Design Center.
Fort Collins Startup Weekend: Music Innovation is a themed event, where participants are encouraged to develop business/product ideas related to music innovation, and have potential for applications in other industries. This 54 hour hackathon will challenge participants to work in teams to produce creative solutions to problems in the music entertainment and music technology space. Sunday, participants will compete for cash prizes and present their creative solutions, judged by a panel of industry and business experts. Attendance FREE if you are only viewing pitches.
If you are interested in participating in Startup Weekend: Music Innovation full weekend of workshops and activities, please visit http://communities.techstars.com/usa/fort-collins/startup-weekend/13613 for more information and to reserve your spot. Participation is FREE for all CSU students.