Description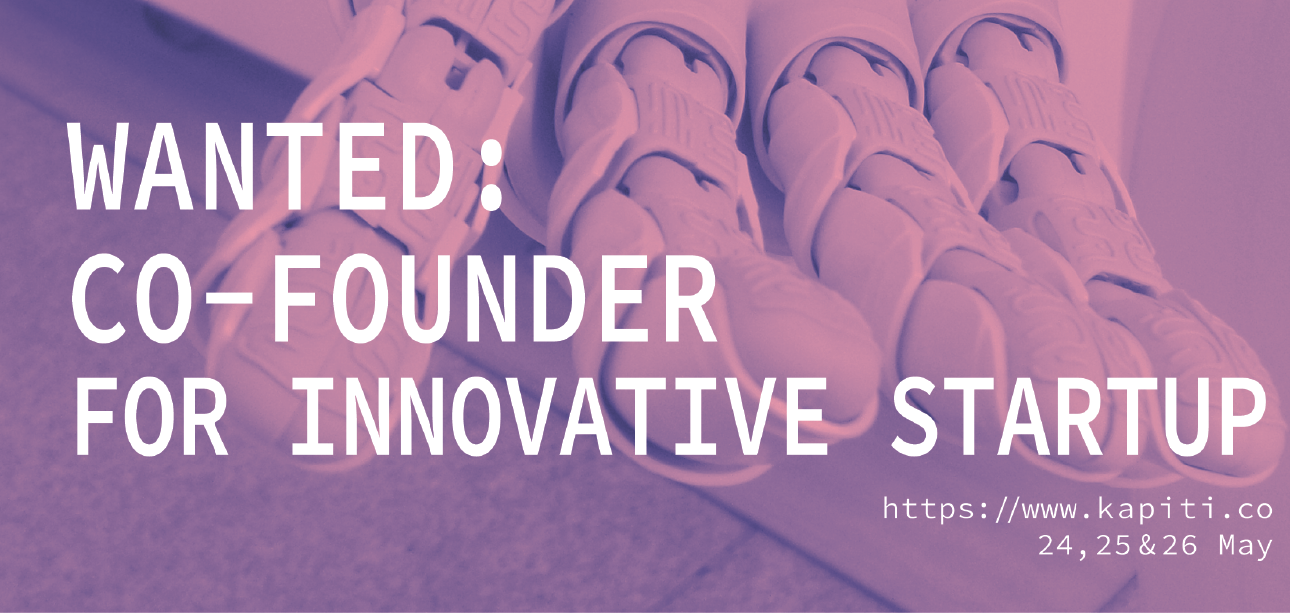 Don't miss out on this great weekend event focused on fostering technology, innovation and entrepreneurship. Build your network and learn.

Kapiti Startup Weekend allows you to create a startup in just 54 hours collaborating with a group of motivated individuals. Everyone is encouraged to get involved. You can pitch your idea or listen to others, then vote on the most interesting ones and form teams with diverse skill sets.
About Startup Weekend:
Startup Weekends are 54-hour events designed to provide superior experiential education. Beginning with Friday night pitches and continuing through brainstorming, business plan development, and basic prototype creation, Startup Weekends culminate in Sunday night demos and presentations. Participants create working startups during the event and are able to collaborate with like-minded individuals outside of their daily networks. All teams are mentored by industry leaders and receive valuable feedback from local entrepreneurs. The weekend is centred around action, innovation, and education.
KEY DETAILS
Date: 24th, 25th, 26th May 2019
5.30 pm Friday, Doors open registration
5:00 pm Sunday, Final Pitch/Celebration night begins
Venue: Kāpiti Community Center. 15 Ngahina Street, Paraparaumu
Pitch/ Celebration: KCDC Chambers, Rimu Road.
Why Attend a Startup Weekend?
Many people want to try entrepreneurship, but can't find time around their study/work/family commitments. Startup Weekends are a high-impact/low-commitment vehicle for you to test your ideas and see if entrepreneurship is for you. Even if you aren't looking to start something new, this experience will equip you with entrepreneurial thinking, that you can bring into your existing work.
Not everyone can spare 3 months, but everyone can spare a weekend.
What Do I Get Out Of It?
You will get a taste of the startup world, and gain first-hand experience about every step of building a startup (at the very least, it'll be a memorable weekend away from your usual daily routine).

You might find your perfect co-founder soulmate with whom you'll go on to launch a multi-million dollar startup, be it on this weekend or down the road.

You will get a chance to network and mingle with some of the top brass in the New Zealand entrepreneurship/investing communities - individuals that would otherwise be very hard to reach - and ask them questions to your heart's content.

You will greatly expand your network and build lasting relationships with the most innovative, creative and motivated people in Kāpiti. This could mean a new client, employer, business partner, new employee, investor or even a friend!

Plus, if your team wins, you will get heaps of additional resources and mentorship to help you get your startup off the ground. There are also plenty of investors in the crowd, so if your pitches were something special, you might even get funding (it happens!).
How Does It Work?
We begin on Friday night with open-mic "elevator pitches", where participants get 60 seconds to pitch their ideas to the crowd and try to recruit the best talent in the room! Teams then form around the most exciting ideas and spend the rest of the night planning for the battle ahead. The whole of Saturday and much of Sunday is a mad dash to build, validate, pivot, polish and test your Minimal Viable Product (MVP). The weekend culminates with a pitch-night where teams present their MVP to a panel of judges, guests and fellow participants. In the end, a winner is crowned and everyone celebrates over a few casual drinks - a chance to network before saying goodbye!
Why Do I Have to Pay?
The price of your ticket almost covers the cost of your food and drinks; if you work out how much six meals + free beer + unlimited coffee will cost, you could more than break even just by showing up and eating! On top of all the grub, all participants get heaps of exclusive goodies including free domain names, web services and more. Not to mention free coaching and guidance from some of the best mentors around. All in all, its probably the best money you'll ever spend.
What do you need to bring?
Lots of energy! You'll pitch your own idea or listen to others, then vote on the most exciting ideas and form teams with diverse skill sets. You can come with friends, but you'll get the full experience if you participate in separate teams. Remember, it's all about the team.
You may need to bring a laptop or smartphone, depending on the idea you choose to work on.
Your idea should be something you have not previously worked on. The idea you pitch and the problem you set out to solve can span social, educational, financial, environmental, or other issues. Over the course of the weekend, you'll be challenged to create a prototype of your MVP, or minimum viable product, that fits the needs of your target customer. You'll get feedback, iterate, and likely pivot your approach entirely! Important: You cannot have worked previously on your idea.
But I'm Not An Entrepreneur...
You don't have to be! At every Startup Weekend, participants come from all walks of life, ranging from students to educators, bankers to doctors, even retirees! Worried you don't have the skills? That is why we have experienced mentors here to guide you (and Startup Weekends are about learning anyway). Too young/old? We have had participants as young as 12 and as old as 70, so if you fall within 0-100 years old, you're sweet!
Get off that fence, join us, and get ready for the ride of your life.
Still, have questions, feel free to reach us at swkapiti@gmail.com or @swkapiti
Don't wait any longer and join the Kāpiti Startup Weekend movement!
The Boring Stuff
Terms of Participation Agreement: It is our job to provide you with incredible networking and learning opportunity. Our intention is that you meet some amazing people that you might actually start a company with, build relationships with coaches, and learn from your peers. The event is intended to be a collaborative forum for sharing, learning, building, and having fun. As such, by registering as a participant, you acknowledge that any ideas shared by you or anyone else over the course of the event are contributions to the overall experience and community. If you as a participant are worried about someone stealing your ideas, please reconsider your participation in the event itself or simply refrain from sharing specifics about your idea.
As a member of your startup community, you agree to be inclusive of any and all people and their ideas. You agree to act professionally, treat everyone with respect, and treat the event facilities with proper care. You agree that you are responsible for any accidents or damages that you cause. You also agree to not hold Techstars Startup Weekend, your local volunteer team, or any of the event supporters liable for any loss, damage, injury, or any other unforeseeable incident.
By Participating at the event, you grant Techstars Startup Weekend permission to capture photo/video of the event. You can find the exact legal terms on our FAQ Page but to summarize, we want to share your success with the world.
By submitting your information above you agree to the Techstars website's Privacy Policy, and you consent to receive email communication from Techstars and its programs about events and updates that may interest you.