Startup Weekend Jakarta 2017 - Learn to Build a Startup in 3 Days!

Friday, 19 May 2017 at 19:00

-

Sunday, 21 May 2017 at 19:00 (WIB)
Event Details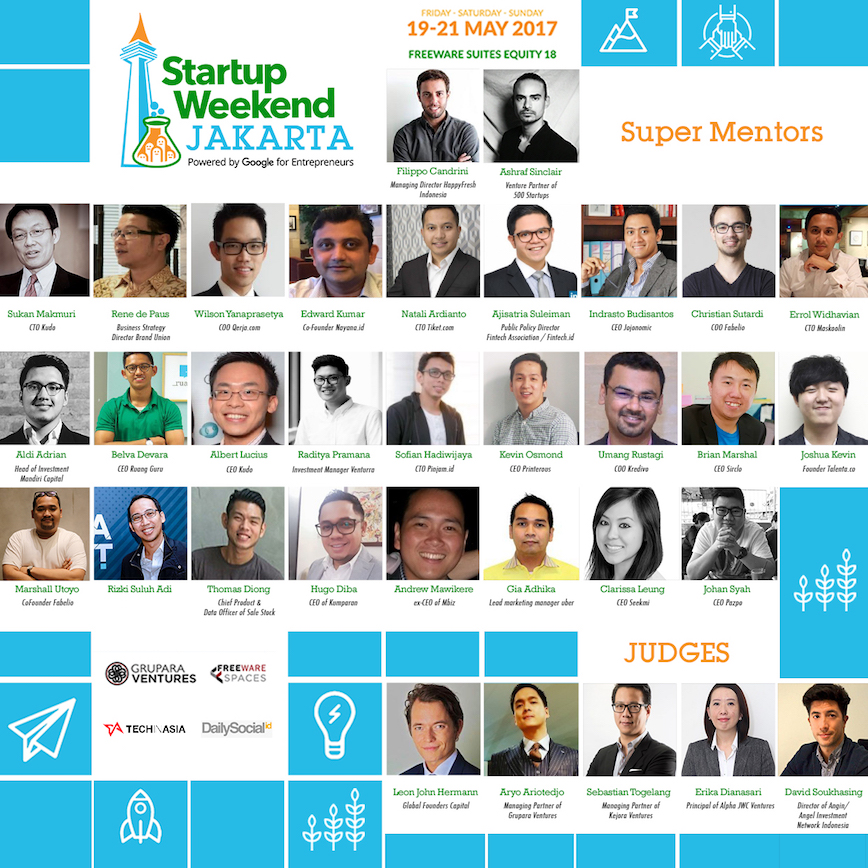 PITCH IDEA, FORM TEAM, AND BUILD STARTUP IN 54 HOURS! 
Interested on building your own tech startup but clueless? Looking for co-founders? Need help to start planning your startup?
Startup Weekend would be the perfect program for you to kick-start your digital dreams!
We are a non-profit organization that helps emerging entrepreneurs to learn how to startup their tech products in 3 days. It is a good way to learn the basics of starting your million Dollars Company.
We got volunteered mentors & judges from companies like Kudo, Tiket.com, Fabelio, Brand Union, Printerous, Qerja.com, Kredivo, Venturra, Alpha JWC Ventures, Grupara Ventures, 500 Startups, Angin, Ebay, Sales Stock, and more. Whom all of our mentors are experienced in Ecommerce, SaaS, fintech, music, fashion, transportation, travel, etc. Startup Weekend Jakarta 2017 is organized by Grupara Ventures, a local Indonesian Venture Capital firm and Techstars, a prominent accelerator from USA.
To get a clear image of what Startup Weekend Jakarta 2017 is all about, these are the highlight of what you are going to do in 54 Hours:
Friday 19 May ( 5PM - 10PM @ Freeware Suites Equity 18 ): Kick-Off
Administration, coffee break, and getting to know each other. 

Pitch idea on the stage (you can choose whether you want to pitch or not)

Vote for good ideas that you want to see it brought into life. 

Form/ join a team. 

If you want to work extra hours with your team to settle the business plan, you can move to our partner's 24h Coffee Shop that is still around the neighborhood. 

Or work at our other 24h venue, Freeware Labs Kemang.  
Saturday 20 May ( 9AM - 10PM @ Freeware Suites Equity 18 ): Building
Work with your team

Talk to mentors (we will arrange the schedule by email after you complete the registration process, so that everyone get a fair share of mentorship session.)

Re-design, upgrade, settling your business idea into more clear and feasible plan.

If you still want to work extra hours with your team on the 2nd day to make update to your business plan, you can move to our partner's 24h Coffee Shop that is still around the neighborhood. Or work at our other 24h venue, Freeware Labs Kemang.  
Sunday 21 May ( 9AM - 10PM @ Freeware Labs Kemang ): Presenting
Meet some inspiring speakers

Last chance of mentorship to checking up your progress, before judgement. 

Do short presentation/ pitch to judges. 

Awarding

After event chilling session. 
19 - 21 May 2017 will be exciting and remarkable for you, no worries :)

Here are the lists of our current mentors and more will be announced!
1. Albert Lucius (CEO of Kudo)
2. Natali Ardianto (CTO of Tiket.com)
3. Umang Rustagi (COO of Kredivo)
4. Wilson Yanaprasetya (COO of Qerja.com)
5. Sofian Hadiwijaya (CTO of Pinjam.id)
6. Belva Devara (CEO of Ruang Guru) 
7. Christian Sutardi (COO of Fabelio)
8. Brian Marshal (CEO of Sirclo)
9. Rene de Paus (Business Strategy Director of Brand Union)
10. Kevin Osmond (CEO of Printerous)
11. Raditya Pramana (Investment Manager of Venturra)
12. Edward Kumar (Co-Founder of Nayana.id)
13. Ajisatria Suleiman (Public Policy Director of Fintech Association/ Fintech.id)
14. Indrasto Budisantoso (CEO of Jojonomic) 
15. Joshua Kevin (CEO of Talenta)
16. Ashraf Sinclair (Venture Partner of 500 Startups)
17. Rizki Suluh Adi 
18. Thomas Diong (Chief Product & Data Officer of Sale Stock)
19. Hugo Diba (CEO of Kumparan)
20. Andrew Mawikere (ex-CEO of Mbiz)
21. Gia Adhika (Lead Marketing Manager of Uber)
22. Filippo Candrini (Managing Director of Happy Fresh Indonesia)
23. Sukan Makmuri (CTO of Kudo)
24. Clarissa Leung (CEO of Seekmi)
25. Johan Syah (CEO of Pazpo)
26. Marshall Utoyo (Head of Design at Fabelio)
27. Aldi Adrian (Head of Investment at Mandiri Capital)
Our Judges
1. Aryo Ariotedjo (Managing Partner of Grupara Ventures)
2. Sebastian Togelang (Managing Partner of Kejora Ventures)
3. Erika Dianasari (Principal of Alpha JWC Ventures)
4. David Soukhasing (Director of Angin/ Angel Investment Network Indonesia)
5. Leon John Hermann (Associate of Global Founders Capital)
* You can do Bank Transfer Payment of IDR 350,000 (registration fee per-person, including food and beverage during the event), to 
BCA 622 0258 406 A.N. Aryo Prakoso Ariotedjo .
Please send the proof of wired to finance@freewarespaces.com with subject SWJ17 REGISTRATION, including information of name, category of interest (i.e. Fintech, E-Commerce, Design, HR, Others), and whether you want to pitch or not.
After you email the proof of wire, we will send you a code to register at Eventbrite.
Our team will update you informations regarding the event, schedule, mentors through email. 
* Any Inquiries related to the event, you can contact Startup Weekend Jakarta 2017 Committee Member through: 

1. Ace Kalama ( +62 877-7663-7654 )
2. info@freewarespaces.com
EXTRAS:
About Startup Weekend: Startup Weekends are 54-hour events designed to provide superior experiential education for technical and non-technical entrepreneurs.  Beginning with Friday night pitches and continuing through brainstorming, business plan development, and basic prototype creation, Startup Weekends culminate in Sunday night demos and presentations.  Participants create working startups during the event and are able to collaborate with like-minded individuals outside of their daily networks. All teams hear talks by industry leaders and receive valuable feedback from local entrepreneurials. The weekend is centered around action, innovation, and education.  Whether you are looking for feedback on a idea, a co-founder, specific skill sets, or a team to help you execute, Startup Weekends are the perfect environment in which to test your idea and take the first steps towards launching your own startup.
Terms of Participation Agreement: It is our job to provide you with an incredible networking and learning opportunity. Our intention is that you meet some amazing people that you might actually start a company with, build relationships with coaches, and learn from your peers. The event is intended to be a collaborative forum for sharing, learning, building, and having fun. As such, by registering as a participant, you acknowledge that any ideas shared by you or anyone else over the course of the event are contributions to the overall experience and community. If you as a participant are worried about someone stealing your ideas, please reconsider your participation in the event itself or simply refrain from sharing specifics about your idea. 
 As a member of your startup community, you agree to to be inclusive of any and all people and their ideas. You agree to act professionally, treat everyone with respect, and treat the event facilities with proper care. You agree that you are responsible for any accidents or damages that you cause. You also agree to not hold Startup Weekend, your local volunteer team, or any of the event supporters liable for any loss, damage, injury, or any other unforeseeable incident.
Each Participant further agrees to (i) be questioned or interviewed (whether in person or by other means such as email or phone), filmed and/or photographed and available for interviewing, filming, photography and for other public relations, marketing and promotional activities associated with the Event, as reasonably required and directed by STARTUP WEEKEND, (ii) allow STARTUP WEEKEND to make contact with the Participant (whether in person, by phone, email or otherwise) for the purpose of requesting further information from the Participant in relation to their participation or for any other purpose related to the Startup Weekend.  Each Participant represents and warrants that neither its participation, nor STARTUP WEEKEND's exercise of any of the rights granted to it under these Terms will (a) infringe or violate any rights of any third party or entity, including, without limitation, those relating to patents, copyrights, trademarks, trade secrets, moral rights, mask works, defamation, privacy, publicity, false light, misappropriation, confidentiality, and/or any contractual or other rights recognizable under any applicable law, rule, regulation, ordinance, judgment or decree (collectively, "Law"), or (b) otherwise violate any applicable Law.
By submitting your information above you agree to the Techstars' Privacy Policy, and you consent to receive email communication from Techstars about events and updates that may interest you.
When & Where

Freeware Suites Equity 18 (Freeware Spaces Group)

Kby. Baru, DKI Jakarta 12190
Indonesia

Friday, 19 May 2017 at 19:00

-

Sunday, 21 May 2017 at 19:00 (WIB)
Add to my calendar
Organiser
Techstars Startup Programs
Techstars is a global ecosystem that empowers entrepreneurs to bring new technologies to market wherever they choose to live. With dozens of mentorship-driven accelerator programs and thousands of community programs worldwide, Techstars exists to support the world's most promising entrepreneurs throughout their lifelong journey, from inspiration to IPO. Techstars provides access to tens of thousands of community leaders, founders, mentors, investors, and corporate partners, allowing entrepreneurs to accelerate the pace of innovation and do more faster. Techstars supports every stage of the entrepreneurial journey – from early stage grassroots community development to more formal opportunities that provide education, experience, acceleration, funding, and beyond. Techstars Startup Programs include Startup Weekend, Startup Digest, and Startup Week. By purchasing a Ticket you agree to the Terms and Conditions.
Startup Weekend Jakarta 2017 - Learn to Build a Startup in 3 Days!