Event Information
Location
Hong Kong University of Science and Technology
The BASE, Room 1520, 1/F, lift 29-30
New Territories
Hong Kong
Description

What is Startup Weekend HKUST- Healthcare x BioTech?
Startup Weekend, powered by Google for Entrepreneurs, is a 54-hour weekend event to pitch, form a team (Fri), work, learn, build a prototype (Sat), present and celebrate (Sun). As you learn how to create a real company, you'll meet the very best mentors, investors, cofounders, and sponsors who are ready to help you get started. Up to date, 23k+ teams have been formed in 150 countries in 2.9k+ Startup Weekends!
Yep, it's to give a idea & prototype to solve HEALTH PROBLEMS on Mar 3 - 5, 2017 at The BASE, HKUST! We care about the technology, as well as the business strategy; we care about your passion for a better world, as well as your wisdom in entrepreneurship.


What's included in your ticket
Special Discount to HKUST members!
Please visit The BASE or check the HKUST Entrepreneurship Newsletter!
How to Reach The Venue (The BASE, HKUST)?
Please click HERE for the transportation tips!
More About The Event:
Please visit http://up.co/communities/events/10470.
Frequest Questions:
Q: May I join alone without a team?
A: Definitely yes! You will find a team and news friends who share the same mission at the first night!
Q: I don't have an idea, can I join?
A: Of course. You will choose the team with idea that you want to work at the first day.
Q: I am not interested in creating my own business. Should I join?
A: Startup Weekend is also a good learning experience for you to turn book-knowledge into a real thing. During this journey, you will learn how to apply your knowledge to the real world!
Q: I don't have any knowledge about Health-care and Bio-tech. Should I join?
A: Don't underestimate your talent! What you come across in your daily life might be relevant to this field as well. Most importantly, you can find teammates in the first day that could complement your inadequacy.
Have Questions In Mind?
Please email the team at base@ust.hk or the Startupweekend Facilitator at felix.wong@startupweekend.org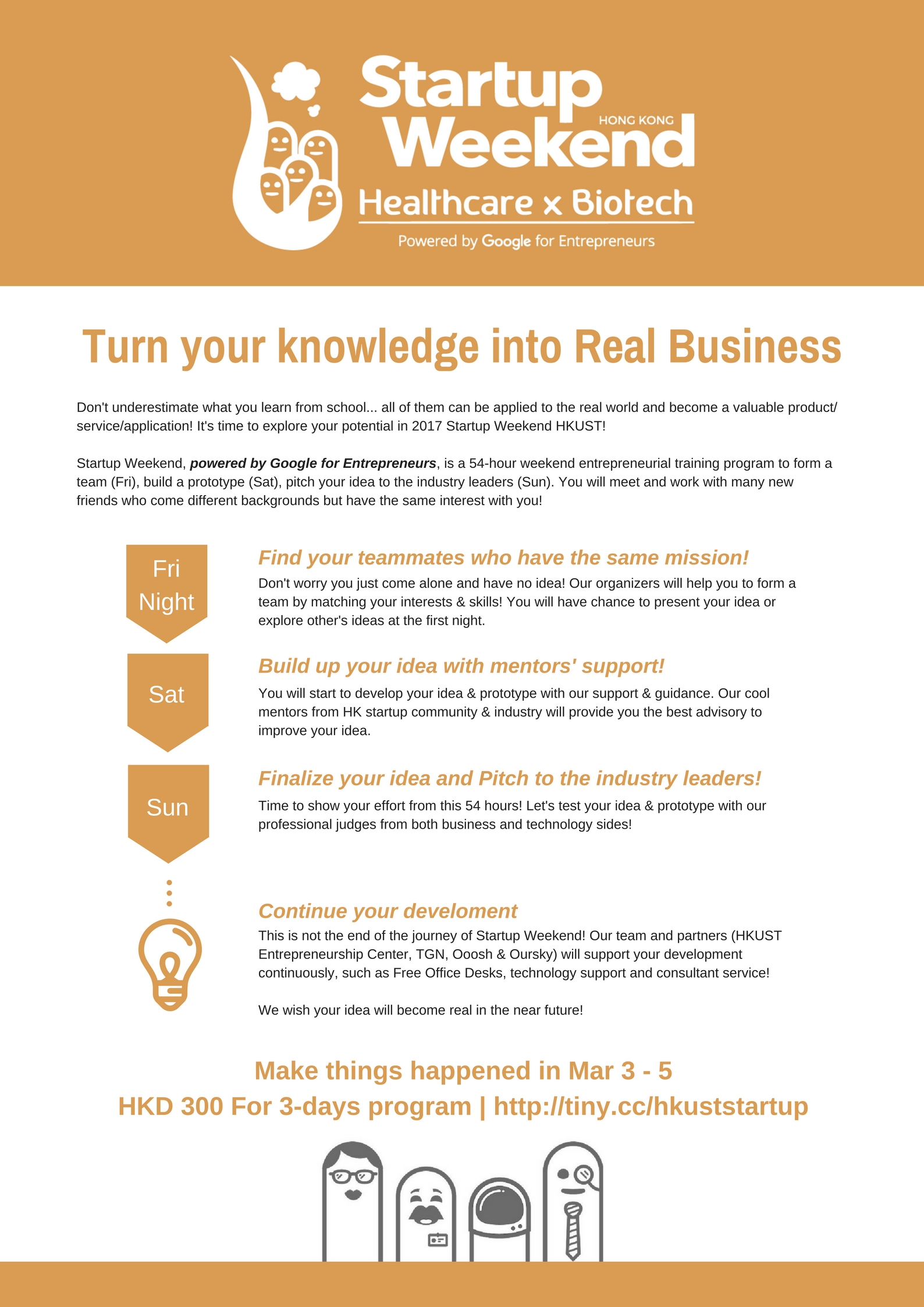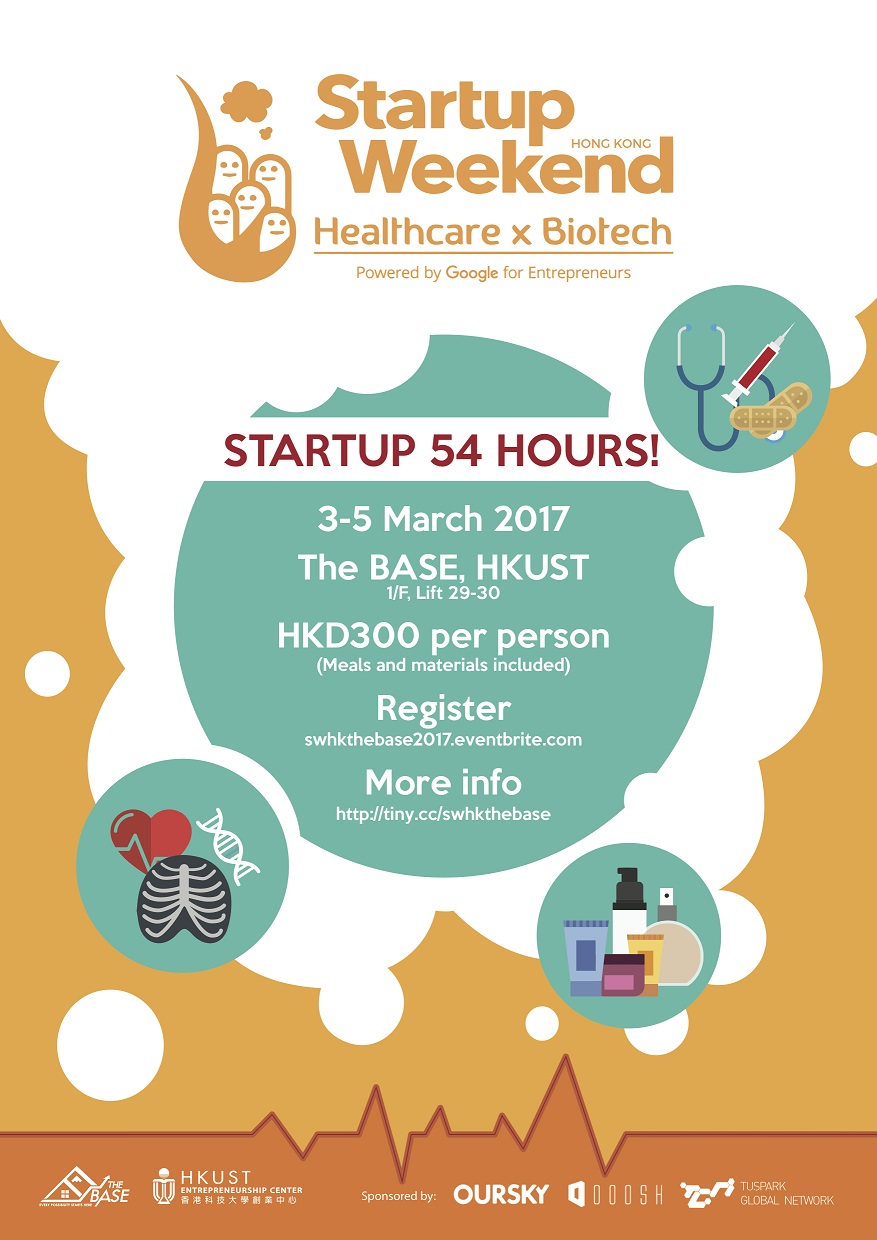 Cancellation & Refund Policy:
If you couldn't make it, please email us at any time. However, participant will only be refunded when cancellation is made 7 days prior to the event. Please understand that food and drink had already been ordered by that time.
Terms of Participation Agreement:
It is our job to provide you with an incredible networking and learning opportunity. Our intention is that you meet some amazing people that you might actually start a company with, build relationships with coaches, and learn from your peers. The event is intended to be a collaborative forum for sharing, learning, building, and having fun. As such, by registering as a participant, you acknowledge that any ideas shared by you or anyone else over the course of the event are contributions to the overall experience and community. If you as a participant are worried about someone stealing your ideas, please reconsider your participation in the event itself or simply refrain from sharing specifics about your idea.
As a member of your startup community, you agree to to be inclusive of any and all people and their ideas. You agree to act professionally, treat everyone with respect, and treat the event facilities with proper care. You agree that you are responsible for any accidents or damages that you cause. You also agree to not hold Startup Weekend, your local volunteer team, or any of the event supporters liable for any loss, damage, injury, or any other unforeseeable incident.
By Participating at the event, you grant Startup Weekend permission to capture photo/video of the event. You can find the exact legal terms on our FAQ Page but to summarize, we want to share your success with the world.
Date and Time
Location
Hong Kong University of Science and Technology
The BASE, Room 1520, 1/F, lift 29-30
New Territories
Hong Kong