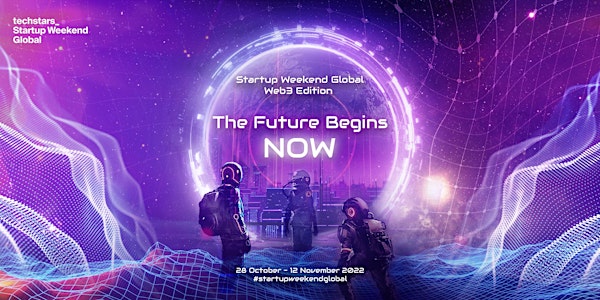 Startup Weekend Global 2022
Change the World, One Idea at a Time at Startup Weekend Global 2022 – Web3 Edition
About this event
Startup Weekend is running the second Global edition!
This coming 28 October - 12 November, join the largest, wildest, craziest and most impactful hackathon of the year. Immerse yourself in a world of possibilities, and let startup magic happen.
Over 16 days, join revolutionaries, game-changers, pioneers and innovators from across the globe on a journey of exploration into the Web3 metaverse.
Together, let us ideate, build life-changing innovations, and push boundaries in Web3 as we redefine our future together, one idea at a time.
What are you waiting for?
Register for a ticket & join us today.
THE FUTURE AWAITS YOU
With Endless Possibilities
Web3 is a $2.5 trillion sector, DeFi holds over $240 billion of wealth, and NFT sales have reached $25 billion. From dApps to smart contracts & DAOs, Web3 has reshaped our online interactions, revitalized our control over our privacy & information, and redefined our technological future.
Don't blink, we're still moving at light speed.
Over 2 weeks, join forces with our global community to learn, hack and build ideas that can change the world.
Get inspired as you interact with global leaders, tech visionaries and startup mentors in Web3 who will be there as you build the new unicorn.
NO TALK, ALL ACTION
It doesn't matter which part of the world you're based in. Startup Weekend Global is for everyone, whether you have any experience or not, no matter what age you are, and what language you speak. To ensure you get the complete fullest experience, this time round, we are stretching Startup Weekend Global across 16 days, so that you and your global counterparts can have plenty of time to network, build your startup idea, learn from global mentors and go from zero to one.
AN ENHANCED STARTUP WEEKEND EXPERIENCE
For the second year in a row, we are partnering with Gather.Town to build our very own Startup Weekend virtual world where every one of us can come hang out together any time, any day. Look forward to a completely new and revamped experience of coming together to hack good ideas online. This is Startup Weekend like you've never seen before. Stay tuned to the launch of our virtual world, coming very soon!
WHO IS STARTUP WEEKEND FOR?
Laser-focused 24/7, you accomplish whatever you set out to do.
For you, there are no boundaries. You dream bigger than anyone else. And you are relentless in your pursuit. Risk-takers and go-getters by nature, failures don't bite you. Instead, they spur you on further.
You are opportunistic and a problem-solver; you know how to play your best cards. If you can pitch, market, formulate business models, or will do anything to keep the team going — hey, there's a hustler in you.
You are no stranger to visual hierarchies, visual cues and information foraging.
For you, the rainbow is more than its 8 colors - instead, you see them in hues, tints, shade and their 6 digit HEX-codes.
Magic is at your fingertips when you're on visual editing softwares. You transform pitch decks or prototypes into a feast for the eyes. If you have a flare for visuals and speak the design language - hey, there's a designer in you.
As long as you're concerned, bugs aren't insects and a library isn't where you go to borrow books. A master of translating the real-world into a computer simulation, you create algorithms with no sweat.
You are a polyglot, familiar with various programming languages from the likes of Python to C++. Defined by an endless curiosity and an unrelenting drive, you fix problems with code.
If you find thrill in writing applications and building products - hey, there's a developer in you.
Wanna be part of the fun but rather just be a fly on the wall and observe the action? Or are you still on the fence if this is still for you?
You are more than welcome to be an event teetotaler & view the fun first-hand!
This is your opportunity to be inspired and unlock that hustler, designer or developer in you.
Come one, come all!
THE FUTURE BEGINS NOW
Startup Weekend is the place for you to kickstart impactful and revolutionary startups in Web3.
Connect and build ideas with people around the globe. Watch as Web3, the shining beacon of light unites the world in our conquest to revolutionize our future.
Register now and join the Startup Weekend metaverse!
For more information on Startup Weekend Global 2022, please visit our official website at ​​https://startupweekendglobal.com/