Startup Weekend GIRLS!

Friday, January 22, 2016 at 5:00 PM

-

Sunday, January 24, 2016 at 6:00 PM (PST)
Event Details
Join us for the second annual Startup Weekend GIRLS!
Ever wondered what it takes to be an entrepreneur? The professional and personal challenges, the highs and lows, the failures and the successes?
Startup Weekend Girls Edition is specially designed for the next generation's entrepreneurs-in-the-making, 5th–9th grade girls. Our team of highly innovative and connected mentors and judges will create an atmosphere of exercises and experiences that will teach girls how to come up with business ideas, conduct market research, prototype, work in teams, and "pitch" their ideas to a room full of people. Our goal is to give girls the confidence to innovate and create they will need to succeed in all aspects of life.
Startup Weekend is a global grassroots movement of active and empowered entrepreneurs who are learning the basics of founding startups and launching successful ventures. It is the largest community of passionate entrepreneurs with over 1800 past events in 120 countries around the world in 2014. The non-profit organization is headquartered in Seattle, Washington, but Startup Weekend organizers and facilitators can be found in over 200 cities around the world. From Mongolia to South Africa to London to Brazil, people around the globe are coming together for weekend long workshops to pitch ideas, form teams, and start companies.
All Startup Weekend events follow the same basic model – which we will massage to fit the needs of our aspiring entrepreneurs: participants pitch their startup idea and receive feedback from their peers. Teams form organically around the top ideas (as determined by popular vote) and then it's a frenzy of business model creation, coding, designing, and market validation. The weekends culminate with presentations in front of local entrepreneurial leaders with another opportunity for critical feedback. Everyone is guaranteed to leave the event better prepared to navigate the cha30otic but fun world of startups. If you want to put yourself in the shoes of an entrepreneur, register now for the best weekend of your life!
Ready to be part of something big? Join us: we're assembling 50 of the most motivated and excited entrepreneurial-minded girls for a very special edition of Startup Weekend on January 22, 23, and 24, 2016. We provide the working space, brain fuel, food, mentors, new friends, and inspiring speakers and judges. You supply the energy and innovation to build something big over the weekend.
Ready to join us? We have 50 spots available so we expect the event to sell out fast. The weekend will be hosted by Lake Washington Girls Middle School in their historic school building the Central District of Seattle.
Get ready to build something exciting. Sign up now and see you January 22!
Please note: You must be in grades 5-9 to register for this event. Schoo IDs will be required at registration.
---
FAQ 
Why a girl-focused Startup Weekend?
The entrepreneurial talent we see from girls in Seattle is inspiring, and we are excited about creating an event that will inspire them to dream big and work hard. We hope to provide the opportunity for the aspiring girl entrepreneurs in our community to innovate and create; to get inspired by an idea/product/team; to become more connected with other brilliant entrepreneurially-minded individuals in Seattle (so when they're ready for the "real world," they already have a support system!); and to show the girls that not only are their dreams and goals a real possibility, but that their gender does not impact the difference they can make in the world.
Why is it important to teach girls entrepreneurial skills?
Entrepreneurship teaches life skills. Not everyone will grow up wanting to own a business, and there is nothing wrong with that. Still it is important for girls to learn the basics of running a business because they will pick up life skills that can be useful in a variety of situations. Risk taking is a big one. To be an entrepreneur, you must be comfortable with taking action, even without having a clear idea of the outcome.

It is not an either/or situation. We all might be tired of talking about this, but the problem still exists: Starting from a young age, girls feel like they have to decide between a career or personal life. We can't sit around waiting for society to change. Instead, we have to teach girls that it can be normal to have both a career and a rich personal life, if that's something that they want.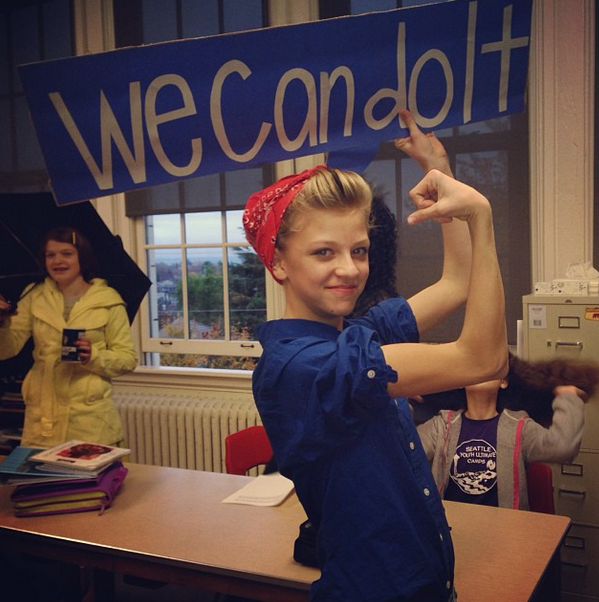 Women kick butt in business! This is not an us-vs.-them debate, but statistics show that women are good at business. So why not try to encourage more of this? Recent research by Vivek Wadhwa and Lesa Mitchell found that women-led private tech companies achieve a 35 percent higher return on investment. Think about how much better off we would all be if we taught women about business at a younger age.
When women are encouraged to start businesses, the world can become a better place. A 2012 study by the Women's Philanthropy Institute at the Center on Philanthropy at Indiana University found that many women use their success for social good, donating more money to worthy causes than their male counterparts. This can't be a bad thing for any of us!
Will the participants be required to pitch or work on "girl-focused" startup ideas?
No, there is no GIRL focus, but there is a Social Justice focus – we would like participants to take the opportunity to create products and services to help people in a positive way. This is called Social Entrepreneurship!
What will the girls be learning?
When running a business, it's important to make sure you have the basics down pat.
Over the weekend girls will be exploring...
1. Business Model Validation
Who are the key partners? Is there a customer acquisition/rollout strategy? Are they able to identify customers (demographic, location etc)? Did they get out and talk to customers? What is the value proposition to customers? What is the cost and revenue breakdown?
2. Product Execution
Can they establish a "Minimal Viable Product" (MVP) for the weekend (software, hardware, tangible product, service etc)? Are they able to demo something functional?
3. User Experience Design
Does it have a professional look and feel? Does it deliver a compelling and captivating user experience? Is it memorable? What key insights were gathered over the weekend to go into this creative direction?
---
Parents/Guardians...you're invited, too!
Come along to our FREE Friday Night event to discover what it is all about!
If you want to see how these business ideas turned out, register to come along to the Judgement Day event too!
---
About Startup Weekend: Startup Weekends are 54-hour events designed to provide superior experiential education for technical and non-technical entrepreneurs.  Beginning with Friday night pitches and continuing through brainstorming, business plan development, and basic prototype creation, Startup Weekends culminate in Sunday night demos and presentations.  Participants create working startups during the event and are able to collaborate with like-minded individuals outside of their daily networks. All teams hear talks by industry leaders and receive valuable feedback from local entrepreneurials. The weekend is centered around action, innovation, and education.  Whether you are looking for feedback on a idea, a co-founder, specific skill sets, or a team to help you execute, Startup Weekends are the perfect environment in which to test your idea and take the first steps towards launching your own startup.
Refund Policy:  No refunds will be granted within 7 days of the event if food and drink have already been ordered. Apologies for any inconvenience this may cause.
Terms of Participation Agreement: It is our job to provide you with an incredible networking and learning opportunity. Our intention is that you meet some amazing people that you might actually start a company with, build relationships with coaches, and learn from your peers. The event is intended to be a collaborative forum for sharing, learning, building, and having fun. As such, by registering as a participant, you acknowledge that any ideas shared by you or anyone else over the course of the event are contributions to the overall experience and community. If you as a participant are worried about someone stealing your ideas, please reconsider your participation in the event itself or simply refrain from sharing specifics about your idea. 
 As a member of your startup community, you agree to to be inclusive of any and all people and their ideas. You agree to act professionally, treat everyone with respect, and treat the event facilities with proper care. You agree that you are responsible for any accidents or damages that you cause. You also agree to not hold Startup Weekend, your local volunteer team, or any of the event supporters liable for any loss, damage, injury, or any other unforeseeable incident. 
By Participating at the event, you grant Startup Weekend permission to capture photo/video of the event. You can find the exact legal terms on our FAQ Page but to summarize, we want to share your success with the world.
By submitting your information above you agree to the UP.co family of website's Privacy Policy, and you consent to receive email communication from UP Global and its programs about events and updates that may interest you.
When & Where

Lake Washington Girls Middle School
810 18th Avenue
Seattle, WA 98122


Friday, January 22, 2016 at 5:00 PM

-

Sunday, January 24, 2016 at 6:00 PM (PST)
Add to my calendar
Organizer
Techstars is an American seed accelerator, founded in Boulder, Colorado in 2006. As of 2019, the company had accepted over 1,600 companies into its programs with a combined market capitalization of $18.2bn USD. Less than 1% of applicants are accepted.