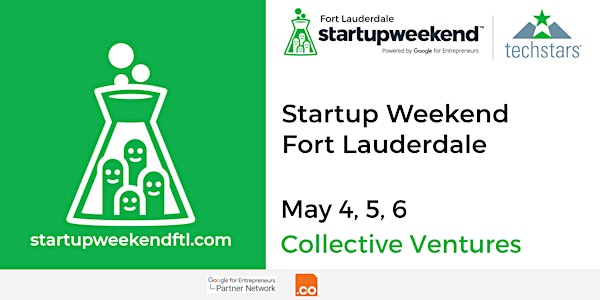 Startup Weekend Fort Lauderdale 5/4
When and where
Location
Collective Ventures 100 North Federal Highway #unit c4 Fort Lauderdale, FL 33301
Refund Policy
Refunds up to 7 days before event
Description
For all event details, please visit http://communities.techstars.com/events/12331

TONIGHT'S THE NIGHT. LET'S END STARTUP WEEKEND FORT LAUDERDALE WITH A BANG!
Join us for dinner at 4, enjoy the pitch competition at 5. You also get free admission to our Closing Party at 9 tonight at Good Spirits. Limited Demo Day tickets are on sale until 5 pm. BUY YOUR TICKETS NIGHT.

HUGE NEWS: OFFICE DEPOT IS NOW A SPONSOR OF STARTUP WEEKEND FORT LAUDERDALE: 50% off the next 25 full price tickets.
Office Depot wants to show it's support for the Fort Lauderdale startup community by sponsoring the next 25 tickets. The next 25 people to enter the following code: OFFICEDEPOTROCKS in the promotional code field will receive 50% off the full price admission tickets. Enter the same code on the Kickoff Party page to receive free admission.

Growing Prize Package includes:
Thank you 4GeekAcademy for:

Full Sponsorship of our Full Stack Program taught at Miami Dade College. Value: $3405 + $5000 of software services/coaching from our Dev Team (senior developers);

30% discount on our Software Program in Downtown Miami: Total tuition fee value: $6000. 30% of discount value: $1800 + $3000 of software services/coaching from our Dev Team (senior developers)
10% discount on our Software Program in Downtown Miami: Total tuition fee value: $6000. 30%of discount value: $600$ + 1500 of software services/coaching from our Dev Team (senior developers)
Prizes come with a bag of swag.

Thank you DB Collective:
Top 2 finalists get consulting services:
1st finalist: 10 hours a month of consulting valued at $15k
2nd finalist: 5 hours a month valued at $7.5K
Thank you Business Sherpas:
Top 2 finalists get Strategy consulting services
1st finalist:

10 hours valued at $2000

2nd finalist:

5 hours valued at $1000


Do you have an idea you'd like to pursue or a problem you'd like to solve but don't know where to start or who to start with? TechStars Startup Weekend Fort Lauderdale is the place to look for a team, create a prototype of your idea, validate your business idea, and receive feedback from experienced entrepreneurs, all in one weekend.
About TechStars Startup Weekend: Techstars Startup Weekends are 54-hour events designed to provide superior experiential education for technical and non-technical entrepreneurs. Beginning with Friday night pitches and continuing through brainstorming, business plan development, and basic prototype creation, Techstars Startup Weekends culminate in Sunday night demos and presentations. Participants create working startups during the event and are able to collaborate with like-minded individuals outside of their daily networks. All teams hear talks by industry leaders and receive valuable feedback from local entrepreneurs. The weekend is centered around action, innovation, and education. Whether you are looking for feedback on an idea, a co-founder, specific skill sets, or a team to help you execute, Techstars Startup Weekends are the perfect environment in which to test your idea and take the first steps towards launching your own startup.
Refund Policy: No refunds will be granted within 7 days of the event if food and drink have already been ordered. Apologies for any inconvenience this may cause.
Terms of Participation Agreement: It is our job to provide you with an incredible networking and learning opportunity. Our intention is that you meet some amazing people that you might actually start a company with, build relationships with coaches, and learn from your peers. The event is intended to be a collaborative forum for sharing, learning, building, and having fun. As such, by registering as a participant, you acknowledge that any ideas shared by you or anyone else over the course of the event are contributions to the overall experience and community. If you as a participant are worried about someone stealing your ideas, please reconsider your participation in the event itself or simply refrain from sharing specifics about your idea.
As a member of your startup community, you agree to be inclusive of any and all people and their ideas. You agree to act professionally, treat everyone with respect, and treat the event facilities with proper care. You agree that you are responsible for any accidents or damages that you cause. You also agree to not hold Techstars Startup Weekend, your local volunteer team, or any of the event supporters liable for any loss, damage, injury, or any other unforeseeable incident.
By Participating at the event, you grant Techstars Startup Weekend permission to capture photo/video of the event. You can find the exact legal terms on our FAQ Page but to summarize, we want to share your success with the world.
By submitting your information above you agree to the Techstars website's Privacy Policy, and you consent to receive email communication from Techstars and its programs about events and updates that may interest you.