Startup Weekend for the Planet / Mexico City Noviembre 9, 10 & 11

Friday, November 9, 2012 at 6:00 PM

-

Sunday, November 11, 2012 at 9:00 PM (CST)
Event Details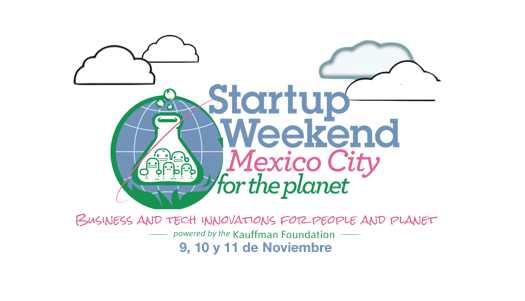 Developers, designers, engineers, inventors and business people unite!
Si tienes alguna idea o habilidad para crear una empresa innovadora que transformara al mundo;
ya no aguantas el esperar mas para materializar esa idea 

;
estas buscando el equipo de tus sueños y/o
tienes un gran talento y te gustaría trabajar en conceptos innovadores
Entonces startup Weekend es para ti.
¡Participa en Startup Weekend!
¡Construye una nueva empresa sustentable en 54 horas!
NO TALK ALL ACTION!
En tan solo 54 horas podrás diseñar, validar con el mercado y llevar tu idea a su máximo potencial.
¡No te pierdas esta experiencia inolvidable!
 ¿Eres desarrollador o diseñador?
Crea nuevos sitios web, aplicaciones o juegos durante Startup Weekend. Aquí puedes trabajar en tus propios conceptos y obtener ayuda de otras personas o unirte a un equipo para desarrollar productos y servicios innovadores. ¡Usa tus habilidades y lanza un nuevo producto o servicio sostenible en 54 horas!
¿Eres ingeniero, científico o inventor? ¿Estás trabajando en productos o servicios que cambien el mundo?
Únete a Startup Weekend para formar un equipo junto a diseñadores y desarrolladores con mentalidad de empresarios.
¡Prueba las oportunidades de mercado y lanza ideas sostenibles en menos de 54 horas!
¿Eres empresario o mercadólogo? ¿Tienes una idea genial, pero no sabes cómo construirla? ¿Sabes todo sobre social media, publicidad, etc.?
Forma un equipo con desarrolladores, diseñadores e ingenieros para poner en marcha una nueva empresa sostenible con éxito.
¿Eres un estudiante talentoso?
Esta es tu oportunidad para adquirir verdadera experiencia. Dentro de 54 horas Startup Weekend te llevará a través de una montaña rusa. ¡Aprenderás a crear productos o servicios innovadores, a diseñar productos impresionantes y sentir lo que es comenzar con tu propia empresa!
When & Where

Universidad CENTRO | diseño, cine y televisión
415 Sierra Mojada
Mexico City, D.F. 11000
Mexico

Friday, November 9, 2012 at 6:00 PM

-

Sunday, November 11, 2012 at 9:00 PM (CST)
Add to my calendar
Organizer
Techstars Startup Programs
Techstars is a global ecosystem that empowers entrepreneurs to bring new technologies to market wherever they choose to live. With dozens of mentorship-driven accelerator programs and thousands of community programs worldwide, Techstars exists to support the world's most promising entrepreneurs throughout their lifelong journey, from inspiration to IPO. Techstars provides access to tens of thousands of community leaders, founders, mentors, investors, and corporate partners, allowing entrepreneurs to accelerate the pace of innovation and do more faster. Techstars supports every stage of the entrepreneurial journey – from early stage grassroots community development to more formal opportunities that provide education, experience, acceleration, funding, and beyond. Techstars Startup Programs include Startup Weekend, Startup Digest, and Startup Week. 
Startup Weekend for the Planet / Mexico City Noviembre 9, 10 & 11