Description
Startup Weekend Energy Edition
Energy is the lifeblood of human society. By creatively harnessing energy we can transform it into clean water, food, jobs, and connectivity. The world has enough latent capacity for energy innovation to shift the trajectory of global development. The world needs more disruption that taps into those energy innovations to accomplish a second transformation: the transformation of lives. Thus, aligned with Hult Prize 2018 Challenge, the theme of Startup Weekend Energy Edition is an invitation to find and discover energy innovations that can be scaled to improve the lives of millions. The eligible winning team will be invited to Hult Prize National Final.
Note: According to Hult Prize requirements to be eligible for the National Final, the winners have to be a team of 3-4 current students (undergraduate & postgraduate) from the same university. We do not place limitations on team composition for the Startup Weekend, as long as winners make themselves eligible in the end.
Make sure you've checked out the mentors line-up! And the event details HERE!
How do 54 hours sound like?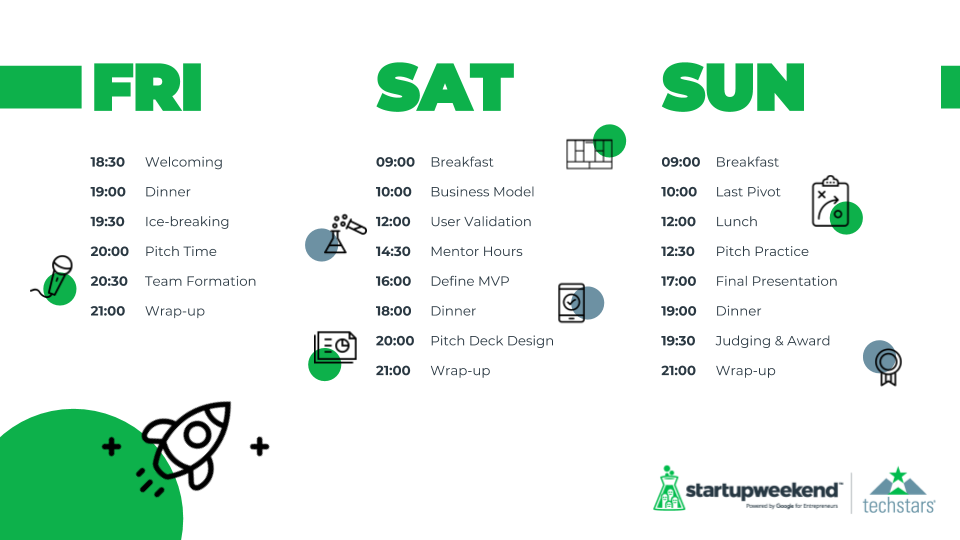 Venue:
University of Hong Kong (HKU) - iDendron, adjacent lecture room, adjacent Learning Commons
Your ticket includes:
- Benefits and discounts from our global partners
- One-on-one time with amazing mentors
- A new network of developers, designers, and entrepreneurs eager, like you, to change the world
WHY SHOULD YOU REGISTER?
Build your network
Startup Weekend attracts the best makers and do-ers. By spending a weekend working to build scalable companies that solve real-world problems, you will build long-lasting relationships and possibly walk away with a job or even an investor.

Actually launch a business
You as a participant of this event and the presenter of your idea can join this community to actually work upon your idea and build your business under guidance and support of global, national and local supporters and collaborators. Take your idea to prototype.

Get face time with thought leaders
Get one-on-one time with the experienced startup community leaders and mentors. Meet and get valuable feedback from a panel of judges and startup coaches.

Join a global community
Startup Weekend alumni span all the continents and scores of cities.

Learn
Startup Weekends are all about learning through the art of creating. Build your own strategy and test it as you go.

About Hult Prize: Founded by Ahmad Ashkar in 2009, and in partnership with the United Nations and the Clinton Global Initiative, the Hult Prize Foundation is a startup accelerator for budding young social entrepreneurs emerging from universities around the world. Our annual flagship year-long competition challenges college students to tackle a pressing social topic such as energy and win USD 1 million in seed capital. Hult Prize was named as a "Top 5 Idea Changing the World" in TIME Magazine. 14 Hult Prize Finalists were honored Forbes "30 under 30" in 2016.

About Techstars Startup Weekend: Techstars Startup Weekends are 54-hour events designed to provide superior experiential education for technical and non-technical entrepreneurs. Beginning with Friday night pitches and continuing through brainstorming, business plan development, and basic prototype creation, Techstars Startup Weekends culminate in Sunday night demos and presentations. Participants create working startups during the event and are able to collaborate with like-minded individuals outside of their daily networks. All teams hear talks by industry leaders and receive valuable feedback from local entrepreneurials. The weekend is centered around action, innovation, and education. Whether you are looking for feedback on an idea, a co-founder, specific skill sets, or a team to help you execute, Techstars Startup Weekends are the perfect environment in which to test your idea and take the first steps towards launching your own startup.
https://www.techstars.com/startup-weekend/
Refund Policy: No refunds will be granted within 7 days of the event if food and drink have already been ordered. Apologies for any inconvenience this may cause.
Terms of Participation Agreement: It is our job to provide you with an incredible networking and learning opportunity. Our intention is that you meet some amazing people that you might actually start a company with, build relationships with coaches, and learn from your peers. The event is intended to be a collaborative forum for sharing, learning, building, and having fun. As such, by registering as a participant, you acknowledge that any ideas shared by you or anyone else over the course of the event are contributions to the overall experience and community. If you as a participant are worried about someone stealing your ideas, please reconsider your participation in the event itself or simply refrain from sharing specifics about your idea.
As a member of your startup community, you agree to be inclusive of any and all people and their ideas. You agree to act professionally, treat everyone with respect, and treat the event facilities with proper care. You agree that you are responsible for any accidents or damages that you cause. You also agree to not hold Hult Prize, Techstars Startup Weekend, your local volunteer team, or any of the event supporters liable for any loss, damage, injury, or any other unforeseeable incident.
By Participating at the event, you grant Hult Prize and Techstars Startup Weekend permission to capture photos/videos of the event. You can find the exact legal terms on our FAQ Page but to summarize, we want to share your success with the world.