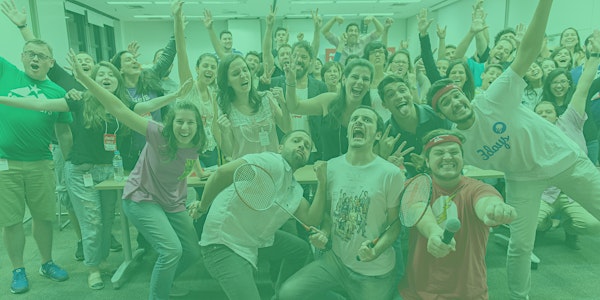 Startup Weekend Córdoba E-Health 20-22 Abril 2018
When and where
Location
Colegios Mayores Avenida Menendez Pidaz S/N 14004 Córdoba Spain
Refund Policy
Contact the organizer to request a refund.
Description
Valida una idea de negocio que encaje en el mundo de la Salud en 54 horas

¿Tienes una idea que deseas validar o un problema que te gustaría resolver, pero no sabes por dónde empezar o con quién comenzar?
Startup Weekend Córdoba E-Health es el lugar para buscar un equipo, crear un prototipo de tu idea, validar tu modelo de negocio y recibir comentarios de empresarios experimentados, todo en un fin de semana. Esta vez, además, nos centraremos en presentar y validar ideas relacionadas con el mundo de la Salud.
¿Qué necesitas traer?
¡Mucha energía! Lanzarás tu propia idea o escucharás a los demás, luego votarás las ideas más interesantes y formarás equipo con personas llenas de habilidades diferentes (sanitarios, diseñadores, programadores, finanzas, marketing...). Puedes venir con amigos, pero obtendrás la experiencia completa si participais en equipos separados. Recuerda, todo se trata del equipo.
Tu idea no debe ser algo en lo que no hayas trabajado anteriormente. La idea que presentes y el problema que se propone resolver debe abarcar problemas relacionados con el ámbito de la Salud. A lo largo del fin de semana, tendrás el desafío de crear un prototipo, o MVP (producto mínimo viable), que se adapte a las necesidades de tu cliente objetivo. Obtendrás feedback, iterarás y probablemente pivotes completamente tu enfoque.
Startup Weekend Córdoba E-Health es una experiencia completa de fin de semana.
Tu entrada incluye:
5 comidas completas a lo largo del fin de semana.
Tiempo con mentores increíbles que te darán feedback continuo.
Una nueva red de sanitarios, desarrolladores, diseñadores y empresarios deseosos, como tú, de cambiar el mundo.
¿Todavía tienes preguntas? Escríbenos a "cordobaodb@startupweekend.org".
¡No esperes más y vente a Startup Weekend!
No talk, all action!
Al registrarte como participante, reconoces que cualquier idea compartida por ti o por cualquier otra persona durante el transcurso del evento es una contribución a la comunidad y a la experiencia en general. Si como participante te preocupa que alguien robe tus ideas, reconsidera tu participación en el evento o simplemente abstente de compartir detalles sobre tu idea. Como miembro de un evento basado en la comunidad, aceptas incluir a todas las personas y sus ideas. Aceptas actuar profesionalmente, tratar a todos con respeto y tratar las instalaciones del evento con la atención adecuada. Aceptas que eres responsable de cualquier accidente o daño que ocasiones. También aceptas no responsabilizar a Techstars Startup Weekend, a su equipo local de voluntarios ni a ninguno de los patrocinadores del evento por cualquier pérdida, daño, lesión o cualquier otro incidente imprevisible. Al participar en el evento, otorgas permiso a Techstars Startup Weekend para capturar fotos / videos del evento. Puedes encontrar los términos legales exactos en nuestra página de preguntas frecuentes, pero para resumir, queremos compartir tú éxito con el mundo.
Para todos los detalles del evento, visita http://communities.techstars.com/events/12105.