Startup Weekend Compiègne 2015

Friday, May 15, 2015 at 6:30 PM

-

Sunday, May 17, 2015 at 8:30 PM (CEST)
Event Details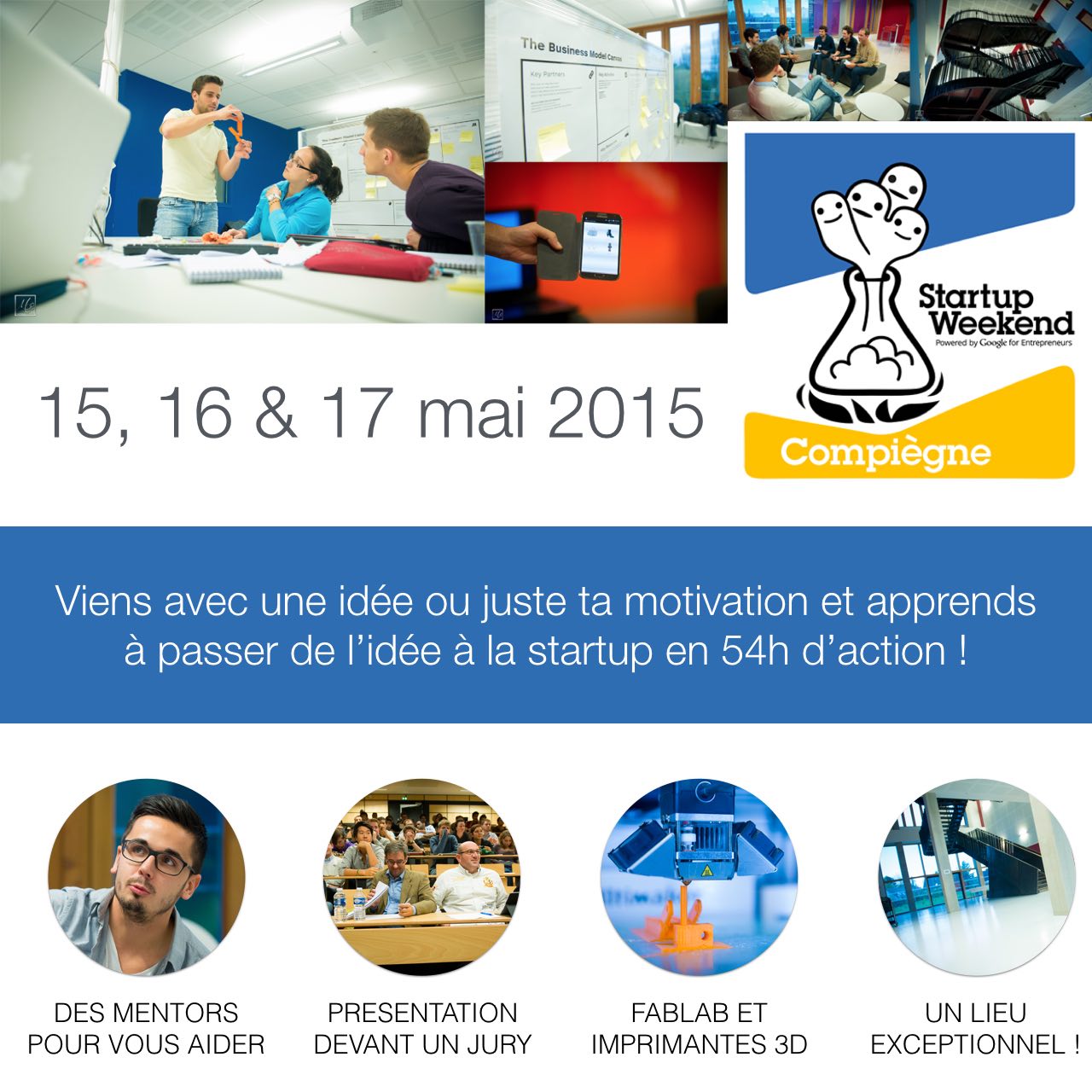 Profite du tarif Early Bird et paye 30€ au lieu de 50€ jusqu'au 30 avril !
Le prix du billet sert à financer l'ensemble des repas, boissons, et encas du vendredi soir au dimanche soir. Les fournitures, les consommables pour le Fablab, la mise à disposition d'agents de sécurité pour que le Centre d'Innovation de l'UTC soit ouvert h24,... sont financés par nos partenaires.
Le Startup Weekend Compiègne en 10 questions !
1. Pourquoi je dois venir ?
C'est l'occasion pour toi de développer tes idées et/ou vivre une première expérience entrepreneuriale sur un projet concret. L'aventure que tu vas vivre te permettra d'apprendre à passer d'une idée à une startup avec un prototype et un business model. C'est aussi l'occasion d'élargir ton réseau, rencontrer et échanger avec des entrepeneurs, et pourquoi pas rencontrer un futur cofondateur ? En bref : apprentissage, networking et motivation.
Enfin, pour certains : poursuite de l'aventure !
2. Qui peut participer ?
Tout le monde ! Ingénieurs, businessmen, artistes, designers, créatifs, chimistes, managers, étudiants, non étudiants, simples curieux… C'est de la diversité des profils et de leur interactions que naissent les idées géniales !
3. Quels types de projets puis-je présenter ?
Tu peux proposer n'importe quelle idée, quelque soit son degré de maturité, à partir du moment ou tu peux développer un rapide prototype à l'issue du weekend. Sache que tu as à ta disposition le Fablab pour faire des maquettes et des outils informatique qui te permettent de réaliser un prototype d'application par exemple.
4. Et si je n'ai pas d'idée ?
Pas de problème ! Tout le monde ne vient pas avec une idée. Le tout est d'intégrer une équipe et travailler sur un projet qui te plaise.
5. Comment sont sélectionnées les idées ?
Chaque porteur de projet doit recruter une équipe pour développer son idée, c'est pourquoi la sélection se fait naturellement par les participants en fonction des équipes constituées.
6. On bosse pendant 54h non stop ?
Tu fais ce que tu veux ! Les locaux sont ouverts h24 et ton équipe et toi avez la possibilité de travailler et dormir quand vous le souhaitez.
7. Où dort-on ?
Vous disposerez d'un lieu de repos. Vous goûterez au moelleux des tatamis et les canapés du Centre d'Innovation ou bien vous pouvez rentrer chez vous si vous habitez à côté…
8. Qu'est ce que j'apporte ?
• un ordinateur portable, avec ses accessoires…
• quelques affaires pour écrire / prendre des notes.
• des affaires de rechange et une trousse de toilette (douches à disposition).
• un duvet au minimum, tu peux amener d'avantage pour ton confort.
• ta motivation et ta bonne humeur !
• ensuite libre à toi d'apporter ce qui pourrait t'être utile (cartes de visites,...)
9. Qu'est ce qui est inclus dans le tarif ?
C'est simple, une fois sur place tu ne débourses pas un centime ! En fait le le prix de la place ne couvre que les repas ! Tout le reste (fablab, sécurité, fournitures...) est pris en charge par nos partenaires.
10. L'ambiance ?
Toutes les personnes qui ont participées au premier Startup Weekend Compiègne te le diront, durant le WE tu es porté par une ambiance incroyable qui t'empêche même de dormir !
Si tu as d'autres interrogations, contacte nous à swcompiegne@gmail.com ou sur twitter : @swcompiegne, on répond très rapidement.
Politique de remboursement : Vous pouvez demander le remboursement de votre place jusqu'à 7 jours avant le début de l'évènement, c'est à dire avant le 8 mai 2015. Nous sommes désolés de la gêne que cela peut occasionner mais la nourrtiture et les boissons aurons déjà été commandées.
Cession de droit à l'image : En participant au Startup Weekend Compiègne, vous autorisez STARTUP WEEKEND à vous filmer et vous photographier. Cette autorisation comprend la réutilsation, modification, adaptation, des médias (photos, vidéos, sons) en vue de promouvoir le STARTUP WEEKEND (presse, radio, télévision, internet, réseaux sociaux, supports de communication).
Conditions de participation : En tant que participant au Startup Weekend Compiègne, vous vous devez d'être ouvert d'esprit et être animé par l'envie d'apprendre, d'enrichir votre réseau, de travailler de manière collaborative. Vous vous engagez à respecter les autres participants ainsi que les locaux et les équipements du Centre d'Innovation de l'Université de Technologie de Compiègne (UTC). 
By participating in the Startup Weekend, each Participant grants STARTUP WEEKEND and its licensees, successors and assigns a non-exclusive, perpetual, non-cancelable, royalty free, fully paid up, worldwide right and license to edit, modify, adapt, translate, exhibit, publish, transmit, participate in the transfer of, reproduce, copy, create derivative works from, distribute, perform, display and otherwise use all and/or any part of such Participant's names, likenesses, photographs, voices and images of all persons referenced and/or appearing in materials generated at the event, without limitation, anywhere in the world in any form (tangible or intangible, permanent or ephemeral, including, without limitation, audio, video, print, electronic, written, and photographic) and via any transmission medium (including, without limitation, television, radio, Internet, and print) now existing or that may exist in the future for advertising, trade, promotion, publicity and other related purposes without compensation and without notice to or consideration, review or approval from Participant.
Each Participant further agrees to (i) be questioned or interviewed (whether in person or by other means such as email or phone), filmed and/or photographed and available for interviewing, filming, photography and for other public relations, marketing and promotional activities associated with the Event, as reasonably required and directed by STARTUP WEEKEND, (ii) allow STARTUP WEEKEND to make contact with the Participant (whether in person, by phone, email or otherwise) for the purpose of requesting further information from the Participant in relation to their participation or for any other purpose related to the Startup Weekend.  Each Participant represents and warrants that neither its participation, nor STARTUP WEEKEND's exercise of any of the rights granted to it under these Terms will (a) infringe or violate any rights of any third party or entity, including, without limitation, those relating to patents, copyrights, trademarks, trade secrets, moral rights, mask works, defamation, privacy, publicity, false light, misappropriation, confidentiality, and/or any contractual or other rights recognizable under any applicable law, rule, regulation, ordinance, judgment or decree (collectively, "Law"), or (b) otherwise violate any applicable Law.
When & Where

Centre d'Innovation de l'UTC

60200 Compiègne
France


Friday, May 15, 2015 at 6:30 PM

-

Sunday, May 17, 2015 at 8:30 PM (CEST)
Add to my calendar