Description
Do you have a business idea with an international dimension ? Are you familiar with intercultural benefits ? Would you like to meet your neighbours and launch an exciting project together ?
The goal is to work out a complete startup idea and examine its marketability and feasibility. Ideally you are ready to get your idea on the road right after Startup Weekend Belgo-French. The event's culmination is on Sunday evening, when all teams present their results in front of a jury of local entrepreneurial leaders. Whether entrepreneurs start companies, find cofounders, meet exciting new network contacts, or learn a skill far outside their usual 9-to-5 job routine, everyone is guaranteed to leave the event better prepared to navigate the chaotic but fun world of startups. If you want to put yourself in the shoes of an entrepreneur, register now for the best weekend of your life!
Everyone is welcome ! Never mind if you are a business specialist, designer, developer, student, founder or founder to be! All teams will have the opportunity to work and pitch in English. Intrapreneurship is welcome ! You are a company or a partner and you want to register a team ? It is now possible !
There's just one requirement : All participants should have the same initial conditions. Therefore, the only restriction is that you are not already working on your business (research for the pitch preparation does not fall under this rule).
Why a Franco-Belgian SW ?
In a global environment we believe that projects should face intercultural challenges from the earliest stages of conception and design. There is no better way to test and validate a business idea than collaborating with different people from different backgrounds.
Our devoted and passionate mentors all have an international background to help the teams address this specific issue.
Depending on the composition of your team, you can choose between English and French to work and to pitcher in. A good understanding in both is therefore necessary.
Can I stay in Lille for the night ?
We set up a facebook group where French participants can propose a room and Belgian ones ask for one. Let's welcome your neighbour !
Discover our speakers, judges and coaches !
Follow us on Facebook and Twitter !
Our Facebook page : @StartupWeekenkBelgoFrench
Our Twitter account : @SW_belgo_french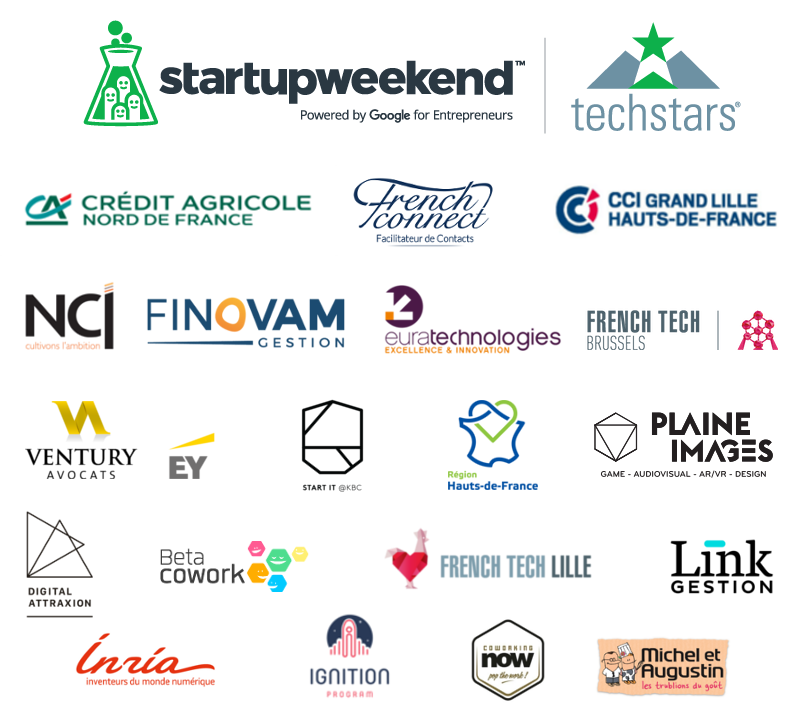 ---


Vous avez un projet de startup à dimension internationale ? Vous souhaitez travailler dans un environnement multiculturel ? Vous voulez rencontrer vos voisins belges et vous lancer dans un fabuleux projet ensemble ?
L'objectif du Startup Weekend est d'élaborer un projet de startup de A à Z en 54h et d'examiner sa faisabilité. Le weekend se termine par la présentation des projets devant un jury de dirigeants et d'entrepreneurs internationaux. A la fin de l'événement, vous serez totalement prêt à concrétiser votre projet !
Que vous souhaitiez élaborer un projet de startup, trouver des co-fondateurs, développer un réseau de contacts professionnels ou acquérir de nouvelles compétences, nous vous garantissons que vous vivrez un moment unique dans le monde merveilleux des startups !
Alors, prêt à vous mettre dans la peau d'un entrepreneur ? Inscrivez-vous maintenant !
Tout le monde est le bienvenu, que vous soyez commercial, designer, concepteur, développeur, étudiant, entrepreneur ou porteur de projet !
Vous êtes une entreprise ou un partenaire et vous souhaitez inscrire une équipe ? Les projets d'intrapreneuriat sont également éligibles !
Pour avoir les mêmes conditions initiales, vous ne devez pas avoir déjà travaillé sur votre projet de startup (excepté la préparation du pitch). Les équipes auront l'opportunité de travailler et pitcher en anglais ou en français.
Pourquoi un SW franco-belge ?
Dans un environnement mondial, nous croyons que les projets doivent faire face aux défis interculturels dès les premiers stades de leur conception. Collaborer avec des personnes d'horizons différents est le meilleur moyen pour tester une idée de startup. Profitez également de l'expérience internationale de nos coachs.
En fonction de la composition des équipes, le choix leur sera donné de travailler et de pitcher en anglais, ou en français. Une bonne compréhension est donc préférable.
Puis-je rester à Lille pour la nuit ?
Nous avons mis en place un groupe Facebook de coachsurfing où les participants habitant la région lilloise peuvent proposer un logement. N'hésitez pas à le consulter !
Toutes les informations sur les ju
rys, les coachs, l'agenda, etc sont consultables via ce lien : http://communities.techstars.com/events/12607
Suivez-nous sur Facebook et Twitter !
Notre page Facebook : @StartupWeekenkBelgoFrench
Notre compte Twitter : @SW_belgo_french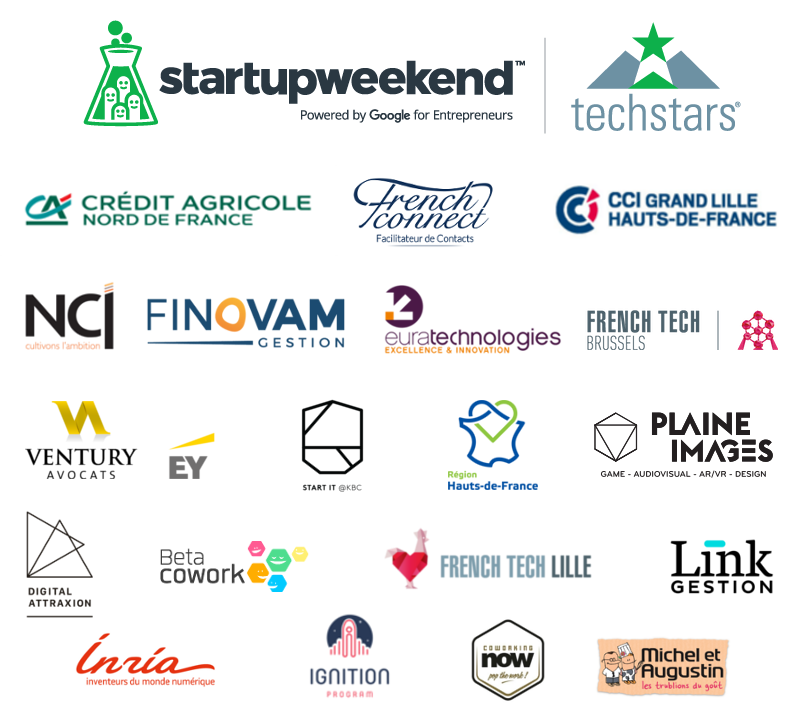 ---
-- MORE ABOUT TECHSTARS PROGRAM --
---
About Techstars Startup Weekend: Techstars Startup Weekends are 54-hour events designed to provide superior experiential education for technical and non-technical entrepreneurs. Beginning with Friday night pitches and continuing through brainstorming, business plan development, and basic prototype creation, Techstars Startup Weekends culminate in Sunday night demos and presentations. Participants create working startups during the event and are able to collaborate with like-minded individuals outside of their daily networks. All teams hear talks by industry leaders and receive valuable feedback from local entrepreneurs. The weekend is centered around action, innovation, and education. Whether you are looking for feedback on an idea, a co-founder, specific skill sets, or a team to help you execute, Techstars Startup Weekends are the perfect environment in which to test your idea and take the first steps towards launching your own startup.
Terms of Participation Agreement: It is our job to provide you with an incredible networking and learning opportunity. Our intention is that you meet some amazing people that you might actually start a company with, build relationships with coaches, and learn from your peers. The event is intended to be a collaborative forum for sharing, learning, building, and having fun. As such, by registering as a participant, you acknowledge that any ideas shared by you or anyone else over the course of the event are contributions to the overall experience and community. If you as a participant are worried about someone stealing your ideas, please reconsider your participation in the event itself or simply refrain from sharing specifics about your idea.
As a member of your startup community, you agree to be inclusive of any and all people and their ideas. You agree to act professionally, treat everyone with respect, and treat the event facilities with proper care. You agree that you are responsible for any accidents or damages that you cause. You also agree to not hold Techstars Startup Weekend, your local volunteer team, or any of the event supporters liable for any loss, damage, injury, or any other unforeseeable incident.
By Participating at the event, you grant Techstars Startup Weekend permission to capture photo/video of the event. You can find the exact legal terms on our FAQ Page but to summarize, we want to share your success with the world.
By submitting your information above you agree to the Techstars website's Privacy Policy, and you consent to receive email communication from Techstars and its programs about events and updates that may interest you.
FAQs
How can I contact the organizer with any questions?
For all event details, please visit http://communities.techstars.com/events/12607
Any questions, please email the team at: lille@startupweekend.org
What's the refund policy?
Refund Policy: No refunds will be granted within 7 days of the event if food and drink have already been ordered. Apologies for any inconvenience this may cause.