Startup Weekend Asturias OCT/17

Friday, October 27, 2017 at 4:00 PM

-

Sunday, October 29, 2017 at 8:00 PM (CEST)
Event Details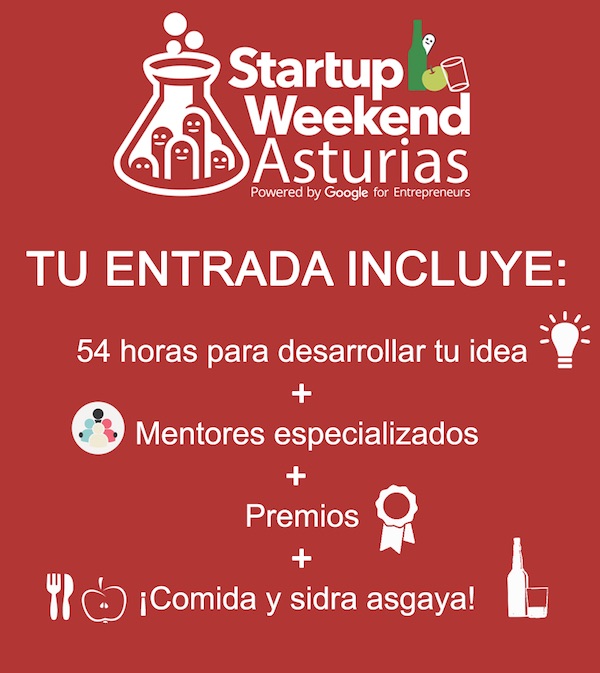 Para más información, visita la web http://communities.techstars.com/events/11272.
¡La primera edición de Startup Weekend Asturias!
¡Startup Weekend aterriza en Asturias el 27-29 de octubre! Para este estreno nos lanzamos a por evento temático sobre salud, alimentación y deporte. ¡Prepara tus ideas y ven a ponerlas en marcha a SWAsturias!  
¡Prepara tus ideas!
La charla de inauguración del evento contará la hará Isabel Llano, más conocida como Isasaweis, una de las blogueras en habla hispana más seguidas en redes sociales, con más de 250 mil seguidores en Instagram, casi medio millón en Facebook y más de 425 mil en YouTube. Todo un fenómeno en redes sociales que realiza su actividad desde Gijón. Llano hablará de su faceta emprendedora y dará consejos a los asistentes para que que sepan moverse con éxito en redes sociales.
ALIMENTACIÓN, SALUD Y DEPORTE: Una temática triple para un Startup Weekend especial
La Antigua Escuela Superior de Comercio de Gijón será un lugar perfecto para pasar 54 horas de trabajo continuo para desarrollar las ideas de los grupos. 
Y por si el estreno del Startup Weekend Asturias no fuera suficientemente apasionante de por sí, está enmarcado dentro del gran evento kick-off que pone el colofón al Movimiento Equilibria Gijón.  
El talento y las grandes ideas de los asturianos quedarán plasmados en este evento concebido como un impresionante brainstorming sobre las temáticas elegidas.
¿A quién está dirigido?
En esta ocasión Startup Weekend quiere contar con toda la ciudadanía. El objetivo principal es convertir a Gijón en una ciudad saludable, por eso queremos conocer las inquietudes de la ciudadanía y ayudar a proponer soluciones para los retos que se plantean relacionados con la salud, el deporte y la alimentación en la ciudad.
El evento está dirigido a gente de todos los perfiles, desde los que tienen solo una idea, hasta los profesionales de las tres áreas (salud, alimentación y deporte), pasando por expertos en marketing o negocio, desarrollo de aplicaciones y diseñadores. El propósito es reunir a personas son diferentes especialidades para que trabajen juntos en la resolución de retos que ayuden a Gijón a convertirse en una ciudad más saludable.
Si no estoy implicado en los sectores de referencia, ¿cómo puedo contribuir?
La innovación, y más en las áreas de alimentación, salud y deporte, necesita de diferentes tipos de perfiles, para conquistar nuevas metas y afrontar retos. Así que si eres un artista, comercial, planificador, programador, comunicador, abogado, economista o educador, también tienes que estar aquí. ¡Únete!
¡Suena genial! ¿Por qué no he oído hablar de esto antes?
Este Startup Weekend es el primero de Asturias, y el primero de España centrado en las temáticas de alimentación, salud y deporte. Creemos que hay muchas oportunidades en estos sectores y ¡vamos a aportar nuestro granito de arena para darle un empujón!
Me gusta, pero ¿puedo participar si no tengo una idea?
No se trata sólo de la idea, ¡se trata del equipo! Los equipos se forman en torno a las ideas más votadas en el primer día, por lo que puedes contribuir a la idea de negocio que más te inspire con tus conocimientos y experiencia. Todos son importante en Startup Weekend.
¿Cómo funciona?
Empezando el viernes con el turno de "micro abierto", los asistentes están invitados a presentar sus mejores ideas… en un intenso minuto, y seducir a otros participantes a unirse a su equipo. No tienes por qué presentar idea, pero es una gran oportunidad para trabajar en algo que piensas que tendrá un alto impacto, pero recuerda, las ideas no pueden venir muy trabajadas de casa.
Tras escuchar todas las ideas se realiza una votación entre los participantes para elegir las ideas más populares, y las personas que hayan presentado estas ideas tendrán la responsabilidad de formar un equipo con otros participantes dependiendo de las necesidades de su idea.
 Durante el sábado y el domingo, los equipos diseñan y dan forma a su startup con la ayuda de mentores y facilitadores hasta desarrollar finalmente el plan de negocio.
 El domingo por la tarde los equipos presentan sus prototipos ante un panel de jueces, en un pitch de 5 minutos, que les acabaran de enriquecer sus ideas y además elegirán al ganador del evento y el mejor proyecto de innovación social.
 No olvides que Startup Weekend Asturias es la oportunidad perfecta para hacer realidad tu idea con presencia en internet, aprender en tiempo récord sobre las etapas necesarias para formar una empresa y establecer contactos fundamentales con otros profesionales de la industria.
 Y lo más importante, no necesitas traer una idea. Puedes unirte al equipo que encuentres más atractivo para trabajar en ese proyecto.
La cena del viernes, y los desayunos y comidas del sábado y domingo están incluidos. Y claro, estamos en Asturias..., la sidra también!!
Y... ¡una sorpresa especial!
Los equipos seleccionados podrán acceder a un programa de aceleración ofrecido por Impulsa Gijón.
¿Quiénes pueden participar?
Estos eventos están especialmente enfocados a interesados en recibir feedback y sugerencias acerca de su idea, en buscar un co-fundador o simplemente para aprender una nueva habilidad. Pero esto no cierra las puertas a quienes quieran probar las aguas empresariales para ser emprendedores o intraemprendedores. Los Startup Weekend son "aguas internacionales" libres de riesgo: sumérgete en el emocionante mundo de los startups.
Para conocer todos los detalles entra en la web oficial.
Si tienes alguna duda, puedes escribir un mail al equipo en la dirección asturias@startupweekend.org
When & Where

Antigua Escuela Superior de Comercio

33201 Gijón
Spain


Friday, October 27, 2017 at 4:00 PM

-

Sunday, October 29, 2017 at 8:00 PM (CEST)
Add to my calendar
Organizer
Techstars is a global ecosystem that empowers entrepreneurs to bring new technologies to market wherever they choose to live. With dozens of mentorship-driven accelerator programs and thousands of community programs worldwide, Techstars exists to support the world's most promising entrepreneurs throughout their lifelong journey, from inspiration to IPO. Techstars provides access to tens of thousands of community leaders, founders, mentors, investors, and corporate partners, allowing entrepreneurs to accelerate the pace of innovation and do more faster. Techstars supports every stage of the entrepreneurial journey – from early stage grassroots community development to more formal opportunities that provide education, experience, acceleration, funding, and beyond. Techstars Startup Programs include Startup Weekend, Startup Digest, and Startup Week. By purchasing a Ticket you agree to the Terms and Conditions.