Description


Let's make the FUTURE of AI in 3 days !

From November 4th to 6th 2016, Paris hosted the 1st Startup Weekend dedicated to artificial intelligence. Last year in October, more than 11 cities around the world joined forces to draw the future of AI for the first ever Global Startup Weekend Artificial Edition.

Global SWAI is back again in 2018, and Paris edition is gonna be LEGEN - wait for it - DARY ♥


Data scientist, robotics specialists, developers, marketers, business developpers, AI fans or just curious and eager to learn ? Come test your ideas or join a team and participate in creating the future of the French artificial intelligence at the Startup Weekend Artificial Intelligence - Paris Edition!

Code is the limit. #SWAI

WHAT IS STARTUP WEEKEND?

Startup Weekends are 54-hour events* designed to provide superior experiential education for technical and non-technical entrepreneurs. Participants create working startups during the event and are able to collaborate with like-minded individuals outside of their daily networks. All teams get the chance to get coached by entrepreneurs and industry experts. The weekend is centered around action, innovation, and education.

With more than 4,000 events held in 150 countries since 2009 and a global community, Startup Weekend is often considered as the largest incubator in the world!

IS STARTUP WEEKEND FOR ME?

Whether you are looking for feedback on a idea, a co-founder, a team, or simply to experience the exciting entrepreneurial adventure for a weekend, Startup Weekends are the perfect environment!

Don't get shy if you do not have technical expertise if you think you don't have enough skills, your ideas and motivation are worth gold!

For more information: https://www.youtube.com/watch?v=aX3eLEFVHZ4


WHAT WILL I DO DURING THE WEEKEND?

► Build a viable business model around a startup idea
► Meet your future partner / team
► Receive feedback from other participants, mentors and jury
► Get the chance to win prizes to boost the launch of your startup!
► Grow your network & discover AI
► HAVE FUN

AMAZING MENTORS, JURYS, PARTNERS?

Here are some amazing mentors you will get the chance to be coached by during the weekend :
Emmanuel Obadia - Vice President Marketing @Oracle
Jean Lebret - Responsable d'activité Smart Survey @Bouygues Energies & Services
Abdoulaye Sy - CEO & Founder @Obconnect
Kossi Folly - Data Science Project Manager @Groupama
Roberto Bolelli - Digital Transformation Project Director @Groupama
Juliette de Maupeou - Digital Transformation Consultant & Co-founder of SIBLINGS
Vincent Vantilcke - Global Marketing Director @Parrot
Charles Dacquay - Co-Founder & COO @The Hacking Project
Pierre Saurel - Cognitive sciences and Mathematics Assistant Professor (HDR in AI) @Sorbonne Université
Aleksander Callebat - Data Scientist @Microsoft
Wafae Bakkali - Data & Machine Learning Scientist @Orange Lab
Taieb Badis - Founder & CEO @The Hackademy
Mohsen Karimi - Head of Innovation & Design @Spie


Your project will be evaluated and you will get tips from some wonderful jurys :
Sébastien Durand - CEO & Co-founder @Bengs & Bengs Lab
Myriam El Harraq - Vice President Innovation @AccorHotels Digital Products & Innovation department
Sylvain Theveniaud - Founder & Managing Director @Allianz Accelerator
Clotilde Voizard - Artificial Intelligence Project Manager @Groupama Assurances Mutuelles
Benoit Raphael - Chief Robot Officer & Co-Founder @Flint


Some kick-ass sponsors are supporting the event :
Bengs
Blue Shaker
SPIE
Bouygues Energies & Services
Groupama
Oracle
Accor Hotels
Allianz Accélérateur
And a lot more great partners...
Discover every one of them on the Techstars Startup Weekend Artificial Intelligence Paris : http://communities.techstars.com/france/paris---global-france/startup-weekend/13594

More about Global SWAI :
https://www.globalswai.co/

Any questions, please email the team at paris-ai@startupweekend.org

* No accommodation on site during the weekend.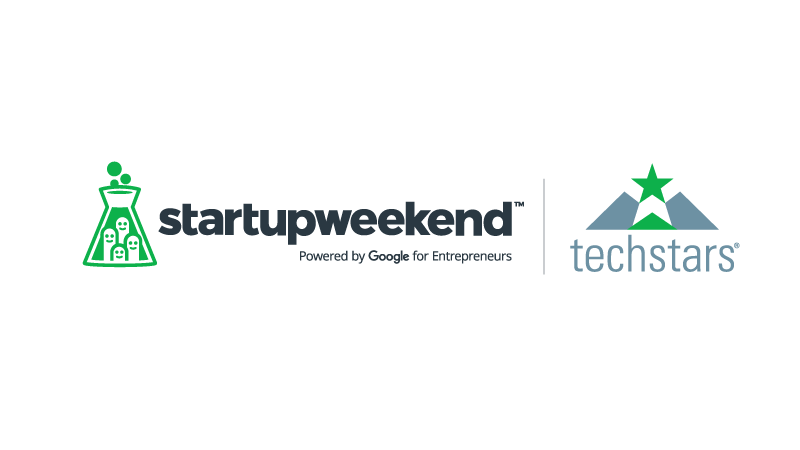 Pour plus de détails sur l'événement, merci de visiter http://communities.techstars.com/events/13594
A propos des évènements Techstars Startup Weekend: Les sessions Techstars Startup Weekend sont des événements de 54-heures spécialement conçues pour fournir des outils pratiques aux entrepreneurs techniques et non-techniques. Tout commence le vendredi soir par l'audition de pitch d'idées et continue par des sessions de brainstorming, de développement de business plans et de création de prototypes ou de pilotes. Les Techstars Startup Weekend culminent le dimanche par des démonstrations et des présentations. Les participants simulent la création d'une startup durant l'événement et ont l'opportunité de collaborer avec des pairs en dehors de leurs réseaux traditionnels. Les équipes participent à des conférences données par des professionnels reconnus et reçoivent des conseils de nombreux entrepreneurs locaux. Le weekend est centré autour de la prise d'action, de l'innovation et de la formation. Si vous cherchez du feedback sur une idée, sur des compétences techniques spécifiques ou si vous voulez trouver un nouvel associé ou une équipe pour vous aider à passer à l'action, les "évènements Techstars Startup Weekend sont l'environnement parfait pour tester votre idée et entreprendre les premiers pas vers le lancement de votre propre entreprise.
Politique de Remboursement : Aucun remboursement ne sera accordé 30 jours avant l'événement, si la nourriture et les boissons ont déjà été commandées. Toutes nos excuses pour la gène causée.
Les conditions de participation : C'est notre travail de vous fournir une opportunité de networking et d'apprentissage incroyable. Notre intention est que vous puissiez rencontrer des personnes étonnantes, avec lesquelles vous pourriez commencer une entreprise, nouer des liens avec des mentors et apprendre de vos pairs. L'événement se veut un forum collaboratif avec du partage, de l'apprentissage, des progrès et du plaisir. Ainsi, en vous inscrivant en tant que participant, vous reconnaissez que toutes idées partagées durant le weekend, que ce soit par vous ou par une autre personne seront des contributions données à la communauté à une l'expérience globale. Si en tant que participant, vous craignez que quelqu'un ne vous "vole" vos idées, nous vous invitons à reconsidérer votre participation ou, pour le moins, à restreindre les détails que vous partagerez.
En tant que membre de cette communauté de startups, vous consentez à être inclusif envers tout le monde et toutes leurs idées. Vous consentez à agir professionnellement et traiter chaque personne avec respect ainsi que les installations de l'événement. Vous reconnaissez que vous êtes responsables pour tous accidents ou dégâts que vous causez. Vous consentez aussi à ne pas tenir Techstars Startup Weekend, votre équipe locale de volontaires et toutes autres personnes impliquées dans l'organisation de l'évènement comme responsable d'éventuels pertes, dégâts, blessures ou tous autres incidents imprévisibles.
En participant à l'événement, vous accordez à Techstars Startup Weekend la permission de prendre des photos ou vidéos de vous durant l'événement. Vous pouvez trouvez les termes légaux sur notre page FAQ, mais en résumé, nous voulons partager votre succès avec le reste du monde.
En soumettant vos informations, vous acceptez la Politique de Confidentialité du site de Techstars et vous consentez à recevoir des communications par courriel de Techstars et de ses programmes et autres événements pouvant vous intéresser.