Description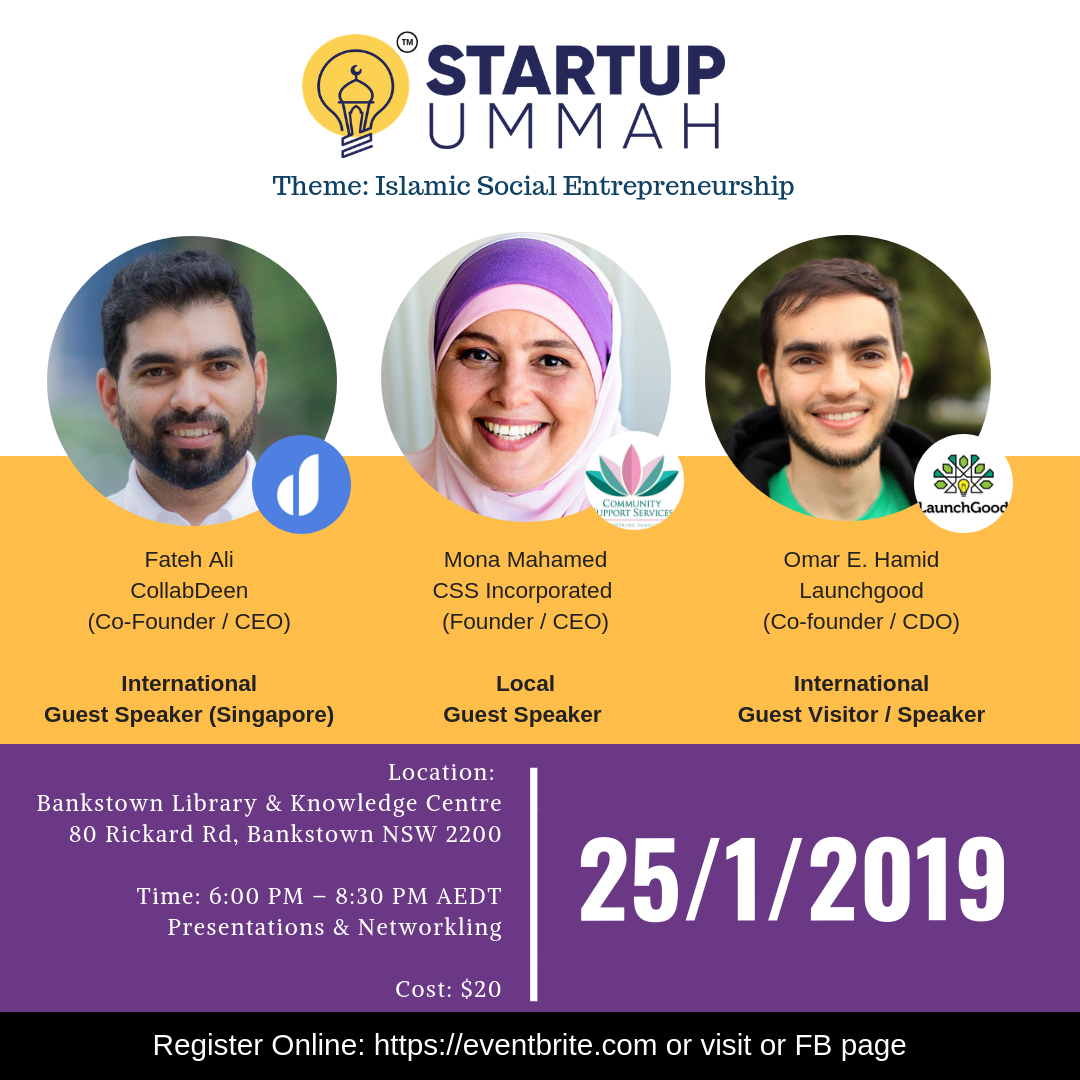 Welcome to the first Startup Ummah meetup for 2019. The theme for our first meeting will focus on "Islamic Social Entrepreneurship" and we will be joined internationally (online) by Bro. Fateh Ali from Singapore and locally by Sis. Mona Mahamed from Sydney to share their experiences and perspectives on social technology platforms / entrepreneurship and social enterprises.
Fateh Ali


C

o

-

F

o

u

n

d

e

r

/

C

E

O

, CollabDeen

Fateh Ali is the co-founder and CEO of Collabu Technologies, the company behind CollabDeen - the world's first AI-Powered Social Technology Platform for Muslim communities with strong technology expertise in Islamic Digital Economy
Fateh is passionate about solving complex real-world problems in Halal ways, who thrive on bringing multidisciplinary teams together across core research and application development to work in tight iterative loops to build solutions globally.
Speaking about

Fateh will be sharing his entrepreneurship experiences and hustle of balancing between a full-time corporate job and his own entrepreneur journey for 12 years, and sharing how he quit J.P.Morgan to achieve his 8 years old dream of CollabDeen
Talking about Social Technology Platform and how it's going to be a sustainable model in itself
A bit about CollabDeen
Mosque tech still is in the 80s and does not use modern connected tech stack to tackle one of the most important problems of our generation. Our Smart Mosque App is going to be autonomous and for the first time leverage on the potential of this digital landscape
With CollabDeen Muslims Around the World Centralize, Collaborate and Connect with their favourite Mosques, and Community Centres Anywhere, Anytime - Easily! CollabDeen will be the technology engine to connect global brands and products to consumers in the Global Islamic Economy to make the most of the global platform as one ecosystem.
Mona Mahamed
Founder / CEO, CSS
Mona's passions for making a difference and helping people locally led her to found Community Support Services Incorporated in January 2018. Community Support Services is a social enterprise aiming to help vulnerable individuals from low socio-economic backgrounds, providing engaging programs and a platform for social cohesion, particularly for those from CALD nationalities.
With over 30 volunteers contributing to Community Support Services Incorporated initiatives, Mona says "We hope to open avenues to train women and youth alike to become financially independent by providing pathways to get them into the workforce and to grow nationally or even internationally, touching as many people as possible, creating a positive ripple effect – thriving, not just surviving!".
Omar E. Hamid
Co-founder and CDO, LaunchGood
Omar E. Hamid is a designer who uses entrepreneurship for social good. His focus is reviving a legacy of innovation and contribution in the global Muslim community to build an inspired future. Growing up in Atlanta, Georgia, USA, Omar founded a successful branding and web design agency in high school. Not long after, he helped launch two community-based startups, including the world's largest faith-based crowdfunding platform, LaunchGood.com. During this time, Omar won an award, through the Stars of Science innovation program, for the design of the world's first chair specifically designed for the Mosque, MySanda.com.
Not one to take the conventional route, Omar decided to put his university studies aside to work for his growing businesses full time. An innovator with an infectious spirit, Omar is always thinking of creative solutions to have a positive impact on the Muslim community and beyond.
Supported by: #GIESeries #StartupUmmah