Startup Tram - powered by SoftLayer Catalyst

Friday, July 31, 2015 from 7:00 PM to 9:00 PM (HKT)
Event Details
UPDATE:
SEE THE TOP 35 STARTUPS THAT WILL JOIN US ON THE STARTUP TRAM BELOW: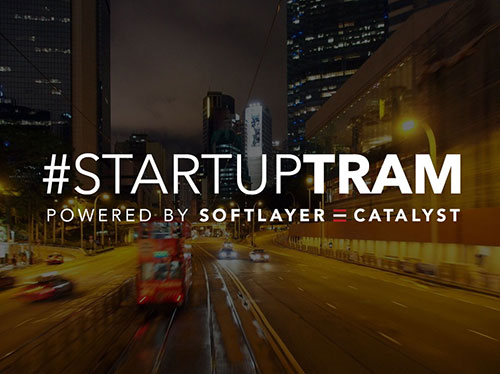 The very first Startup Tram in Hong Kong sponsored by SoftLayer Catalyst and part of Rise Week and the RISE Conference!
Get on the tram and pitch investors and media while you network with other startups and enjoy an amazing view of Hong Kong Island from Sheung Wan to Causeway Bay. Bring your camera, your iPad and your best elevator pitch!
This is a very limited event with room for only 35 startups!
We're super excited to have these aweosme investors from around the world on the Startup Tram:
Simon Squibb, Nest VC
As an angel investor for over 18 years, Simon is dedicated to bringing ideas to life and helping the next generation of entrepreneurs in Hong Kong achieve their dreams. As founder of multi award-winning, globally respected creative agency, Fluid, Simon worked with an impressive list of clients and partner brands including Estée Lauder China, Fortune, CNN, Wall Street Journal Asia, Li & Fung, Citibank China and Starbucks. As CEO of Nest Investments, Simon leverages his extensive network and experience to mentor and develop Hong Kong based start-ups and entrepreneurs.
Mike Prasad, VentureLab
Mike leads the thesis and programs at ventureLab, a cross-market hands-on VC focused on investing and building early-stage startups. Prior to ventureLab, he has played key roles in various startup ecosystems around the world as both an entrepreneur and investor. Mike has worked with startups from Y Combinator, Idealab, 500 Startups, Yetizen, Raptor Group, HAXLR8R, SOSventures and more. In 2008, as the digital strategist on the founding team at Kogi BBQ, he started the worldwide twittering food truck trend that is now a billion dollar industry. In 2003, he was one of the youngest CTO's of a publicly traded company which paved the way for wireless and digital technologies in Las Vegas. With his diverse background, Mike has spoken around the world on digital strategy, startups, and investing in emerging global ecosystems and his work has been covered by most major news outlets. For more information on Mike, visit goventurelab.com or fb.com/mikeprasad.
Tak Lo, Techstars UK
Tak Lo is a Director at Techstars. Previously, he spent over 5 years in the London and NYC startup communities, having founded and mentored several startups on both sides of the Atlantic. He's had an entrepreneurial career – a management consultant at Booz Allen Hamilton, an investment banker at Nomura, and an US Army veteran. Tak did some studying a long time ago at London Business School and the University of Chicago. He writes regularly at taklo.co.
Fred Saurat, Eastfounders
Frederick is a tech entrepreneur, Based in HK since 2009 , that brings 15 years of Internet business development expertise. Frederick has developed Tech companies in Europe and Asia. he has accumulated a large experience about the Eastern Tech Startups ecosystem and the relation entrepreneurs - Investors. Frederick is now on the Investors side with his 'EastFounder' venture, a platform that associate fundraising to big data analytics and intelligence technologies for the benefit of both Eastern based startups and worldwide investors interested by the ecosystem rapid growth in the APAC and MENA regions. Frederick is also regularly invited to Tech conferences around the world to speak about Mobile disruption, Real time economy, Future of Money and about the Asia Tech scene.
Chi Tran, Rockstart
Rockstart Founding Partner in Singapore, Chi Tran is passionate about all things technology, innovation and startup related. As a strategist Tran delivered Technology, Media, eCRM, e-Commerce, Strategy, Digital and Innovative solutions for global, regional and local brands for over 18 years.Working across Asia Pacific and Europe in his previous role as Regional Chief Technology Officer at OgilvyOne, he has a great understanding and insights into brand and the customer experience. Chi loves startups and contributes to the community by mentoring and investing in companies such as Restart group, Locofama.com and Sohofama.com.
Kuan Hsu, GREE Ventures
Kuanhua Hsu joined GREE Ventures in 2012 and serves as Principal of GREE Ventures Asia. Based in Singapore, Kuanhua oversees GREE Ventures' overall Southeast Asia operations as well as advising portfolio companies. Kuanhua has led GREE Venture's rapid expansion in Southeast Asia, leveraging his expertise in the TMT sector, investment experience, and wide network. Kuanhua started his career as a consultant with McKinsey & Company before moving on to work in supply change management at technology manufacturer Solectron Corporation. He received his MBA from the Wharton School, University of Pennsylvania, remaining in the U.S. to enter investment banking at Goldman Sachs, where he specialized in the TMT sector. After that and prior to joining GREE, he moved to Singapore to serve as an associate director at Temasek Holdings, driving investments in the FIG sector.
JUST ADDED:
Markus Gnirck
Co-founder & Global COO Startupbootcamp FinTech
Michael Blakey
Angel investor in GroupSpaces, Tagman, OC Robotics and more.
From the media side:
Iris Leung, Senior Editor, e2
David Corbin, Director of Content Strategy, Tech in Asia
James Griffiths, Assistant Editor, SCMP.com, International Edition
The 35 startup founders joining us are:
Spacious
Skyer
Huk
Plus86
Ambi
Uspace
Hackertrail
Plusmargin
PSTakeCare
Tofupay
Gormei
Votee
Apparatus
Dragonlaw
Soundbrenner
Jumparound
Next Chapter
Tutorspotter
PlanDo
AdCoin
SparkUp
Beenger
Sense
StayAngel
SphereMall
Simply
Screemo
Vendorable
Hiring Screen
Chizel
Goxip
Movables
Homies
Cashyou
Pearcomms
When & Where

Hong Kong Tramways Ltd


Hong Kong SAR China

Friday, July 31, 2015 from 7:00 PM to 9:00 PM (HKT)
Add to my calendar
Organizer
Empowering startups to fuel the next generation of innovation.
IBM Global Entrepreneur is a unique program designed to connect startups to IBM's global ecosystem of clients, partners, business leaders, and enterprise-grade technology.
Industry-leading program benefits include:
Up to $120K USD of IBM Cloud credits
Extensive global network of solutions architects
A leading vendor to offer go-to-market and mentor advice to entrepreneurs
Program currently includes the following IBM Cloud services:
SoftLayer bare Metal, Virtual, and Hybrid Cloud servers
GPUs, CPUs, Bandwidth, storage, and more
Watson on Bluemix
Performance Management on Bluemix