Description
Thank you to everyone who attended Startup Summit's "Learn and Network Night" in January. Every other month we're going to have a feature during our "Learn and Network" series called the "Startup Showcase"
This is where we invite a growing hot startup to share their success story with you along with practical advice on what it takes to start and grow a startup in our region. This February we are excited to feature the top growing sports tech company: TeamWorks with featured speaker, Larry Long Jr, Director of Collegiate Sales.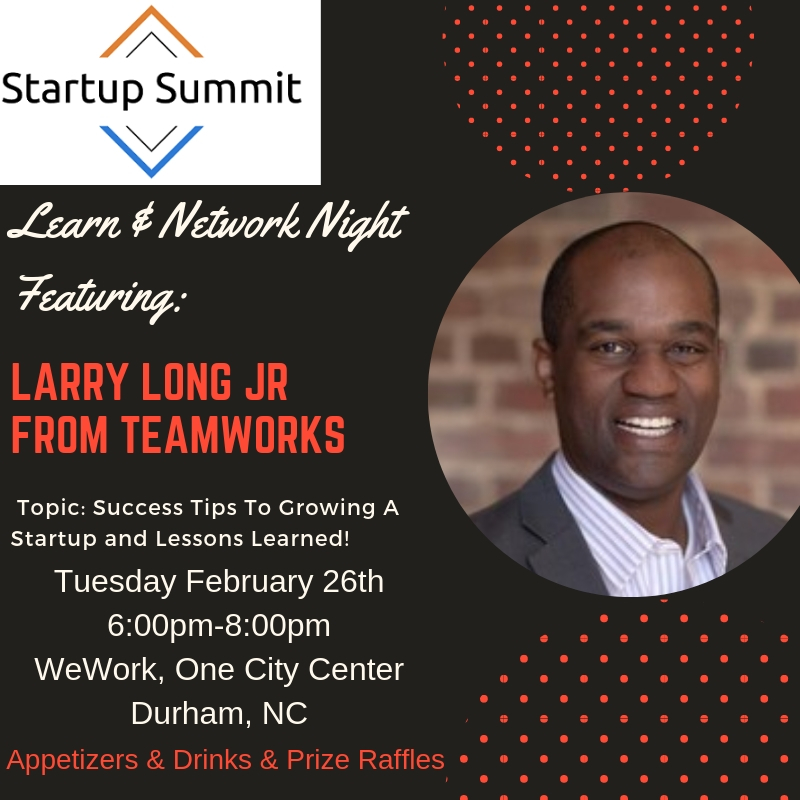 Come enjoy delicious local food, drinks from local Apex brewer BruePrint Brewery and live entertainment from top performing artist Kerry Long while you meet new people and learn wisdom to support your personal & professional growth. Plus raffle prizes with chance to win the innovative headphones Purebuds Earphones and collectors edition Startup Summit T-Shirt!
The happy hour from 6-7pm will feature fresh local beers from premiere brewery BruePrint from Apex,NC. Good food from Big Als BBQ, and live music featuring Kerry Long

Also check out our sponsor demo tables to learn about new innovative products. This month we are featuring:
EX-IQ:

EX-IQ's revolutionary mobile and desktop applications empower life-long learners and leaders to make the most out of every moment.

https://ex-iq.com/

Huntsboro Hemp Company:

Huntsboro Hemp

Company

was founded to combine small-town service and family strengths to bring high-quality, locally-sourced industrial hemp products to North Carolina and beyond.

https://huntsborohempco.com/''

JAN-PRO (Raleigh, NC): Commercial cleaning company culture built on trust, reliability and excellence in cleaning. Offering customized commercial cleaning plans and dedicated support from janitorial cleaners who are franchise owners, not hourly employees. https://janproraleigh.com/

Date: Tuesday, February 26th 2019
Location: WeWork One City Center in Durham: 110 Corcoran Street, 5th Floor
Topic: Learn about the success attributes of the hot growing sports tech company, TeamWorks.

Agenda:
6:00 pm- Welcome, Networking, Food/Drink featuring BruePrint Brewery, Demo Tables, and Live music from Kerry Long
7:00 pm- Startup Showcase: TeamWorks, Speaker: Larry Long Jr
7:45 pm- Networking
8:00 pm- Wrap up, Meet and Greet, prize giveaway.
A great night you don't want to miss. Learn, Network, Apply, Grow, and have fun!
Startup Summit Mission:
Helping people and startups learn, network, and apply their way to the top of the business summit. Our goal is to be the number one startup learning platform in the region.
If you have any questions or need anything contact Directors Mark Bavisotto & Keith Washo, www.StartupSummitNC.com
Thank You Sponsors: