About this event
Der Startup Spritzer wird 5 Jahre alt! Kaum zu glauben: Vor genau fünf Jahren hat der erste Startup Spritzer stattgefunden und ist seitdem aus der Grazer Startup-Szene nicht mehr wegzudenken.
Und wo lässt sich der erste Spritzer des neuen Jahres 2020 besser einleiten als in einer noch nie dagewesenen Location? Für den Spritzer #63 laden wir euch erstmals ins Schubertkino - Gänsehautfeeling und Popcorn inklusive! Versprochen: Wenn die Startup Pitches beginnen, wird nicht nur bei Filmfans die Spannung steigen.
*******
Der Startup Spritzer
Bei diesem Event des Ideentriebwerk Graz pitchen Startups und ein bereits gegründetes Unternehmen gibt mit seiner Success Story Einblicke in gewonnene Erkenntnisse und Erfolgsgeheimnisse. Das Publikum kann über die App Feedbackr live den Vortrag und die Geschäftsidee der Startups bewerten. Zudem stellen sich verschiedene Organisationen aus dem Startup-Ökosystem den Zuhörern vor. Anschließend kann in gemütlicher Atmosphäre bei Spritzer und Co. genetzwerkt werden.
Das Publikum
Der Startup Spritzer ist besonders geeignet für:
Startups und Gründungsinteressierte, die sich mit erfahrenen EntrepreneurInnen austauschen wollen. InvestorInnen, die Ausschau nach neuen Investments halten. GründerInnen, die in ein unverbindliches Vier-Augen-Gespräch mit GründungsberaterInnen und unseren NetzwerkpartnerInnen treten möchten. Interessierte, die gerne mehr über die Grazer Startup-Szene erfahren möchten.
*******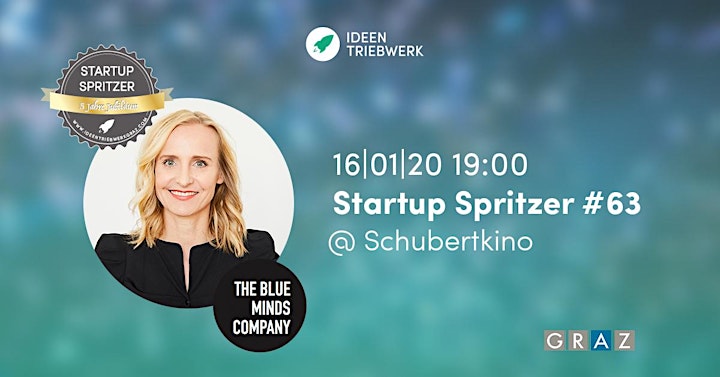 Success Story am Startup Spritzer #63: Eveline Steinberger-Kern
Eveline Steinberger-Kern ist Unternehmerin in neuen Technologiefeldern (Künstliche Intelligenz, Big Data, Augmented Reality, 3D, Robotics etc,). Im Jahr 2014 gründete sie die The Blue Minds Company, die sich mit Fragen der globalen Energiewende, der Entwicklung von Geschäftsmodellen auf Basis der Digitalisierung und Investitionen in Startups beschäftigt. Seit 2014 hat sie vier eigene Unternehmen (FSight, Digital Hero, 12energy, Techhouse) im Bereich der digitalen Services in Wien und Tel Aviv gegründet und entwickelt. Neben ihren eigenen Unternehmensgründungen engagiert sich Eveline Steinberger-Kern als Investorin und Beraterin in den Regionen DACH, CEE, Israel und in den USA/Kanada und unterstützt die Go-to-Market Anstrengungen und Fundraising-Runden von Startups.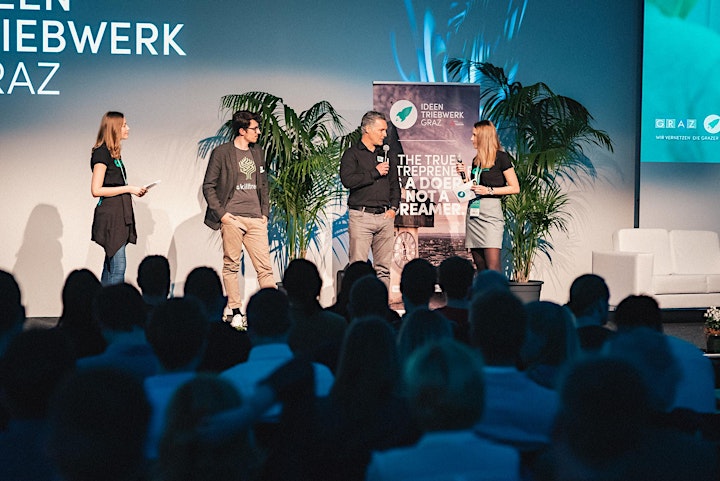 Location
Schubertkino
Mehlplatz 2, 8010 Graz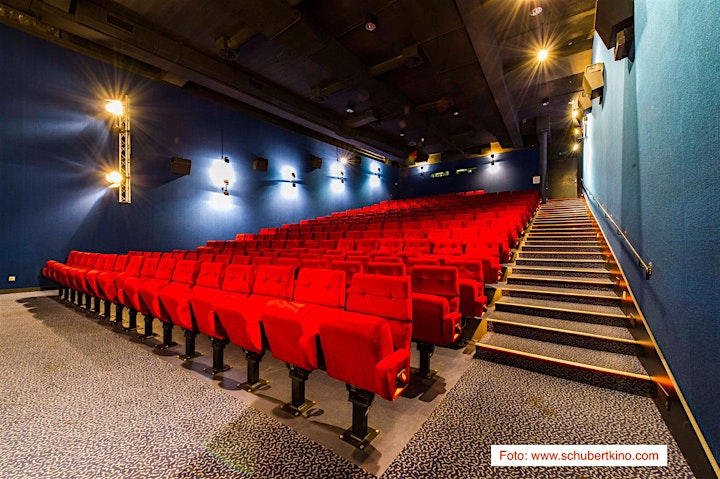 Organizer of Startup Spritzer #63 - 5-Jahre Jubiläum
Das Ideentriebwerk ist ein ehrenamtlicher Verein und die erste Anlaufstelle für alle GründerInnen, StartupenthusiastInnen und ExpertInnen. Seit 2012 fördern und formen wir die Grazer Startup Szene und geben mit Leidenschaft und ehrenamtlichem Engagement Know-How über das Gründen weiter. Mit unseren Events haben wir uns als Fixpunkt der Szene etabliert und vernetzen damit Industrie und Startups. Der Startup Playground ist dabei unser größtes, einmal im Jahr stattfindendes Event.
Proud Local Representative of AustrianStartups.