Startup Sistas is a community for women of color startup founders, mentors, investors and allies building multi-million dollar businesses.
About this event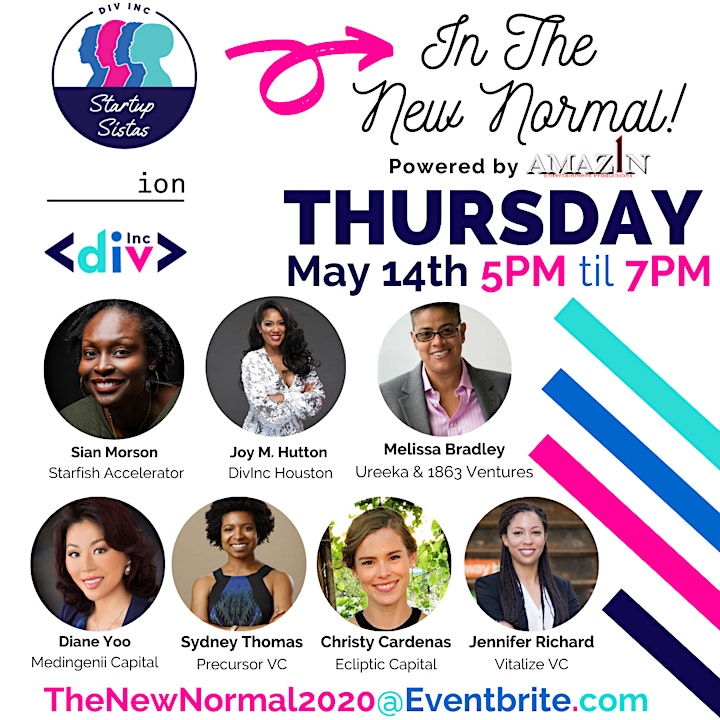 Unprecedented times, but we can't stop! We still have to build and grow our businesses! The new normal! We are going to discuss how to overcome the obstacles we face. Getting to a "successful" pivot!!! Our fireside chat will address resources you should be tapping into? How do we build our pipeline of women of color startups that get funded equitably? Our investor panel will provide insights as to what we can expect from the investor community like what is the pathway to raising capital successfully for women of color.
SPONSORED by The Ion
POWERED by Amaz1n Entertainment Productions
Join us for a highly interactive session with our special guests:
5:15pm- 6:00pm Fireside Chat with Melissa Bradley
6:05pm - 6:50pm Panel Discussion with Women Investors of Color:
Sian Morson (Starfish Accelerator))
Jennifer Richard ( Vitalize VC)
Diane Yoo ( Medingeni Capital)
Sydney Thomas ( Precursor Ventures)
Christy Cardenas ( Ecliptic Capital)
Organizer of Startup Sistas: In The New Normal
Our vision is a world that is authentically diverse, equitable and inclusive, where social and economic disparities no longer exist.
DivInc removes barriers to essential resources and opportunities for the often underestimated startup founders. We mobilize communities, execute programs and establish partnerships that foster diverse, equitable, and inclusive cultures. Through our efforts, we inspire, empower and enable?underrepresented founders to build successful high growth businesses.
Join our journey to transorm the innovation economy by making it more diverse, equitable and inclusive.