Location
Projective Space
72 Allen St., 3rd Floor
New York, NY 10002
Description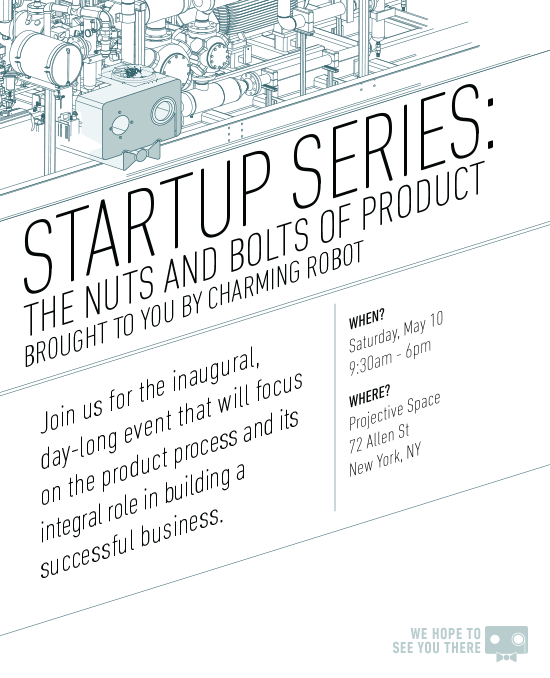 THIS EVENT IS FOR YOU IF:
You have a product idea and are not sure where to start.
You have a small team assembled and are working toward your MVP.

Your MVP or v.1 product is doing well and you want to take it to the next level.
You're interested in meeting fellow entrepreneurs working through similar challenges.

You want to avoid product mistakes that many new companies make.

You've done this before and want to add something to the conversation.
YOU WILL LEARN:
What it takes to get your idea out of your head and into an actual product.
How to find, work with, and talk to developers.
The best way to connect and communicate with investors about your product: understand what they are looking for and how much money to raise.
An understanding of the user experience design process and how it can help you save time and money during product development.
How to know when to hire internally vs. working with external teams.

How to identify and overcome common product challenges.

You are not alone. The challenges you face have been faced before and we're all here to help each other.
EVENT PROGRAM:
Investor Panel
An hour long Q&A about the different ways investors want to hear pitches, the mistakes that founders generally make, what everyone wants to know, how much money should you raise and how to know what type of investor to talk to. By the end of this panel, teams will understand when to pitch, how to talk about their product, and what kinds of results the investors want to see at each stage.
Current Participants:
Chris Paik, Thrive Capital
Pedro Torres Picón, Quotidian Ventures
Eliot Durbin, Boldstart Ventures
Moderator: Rishi Khanna, Founder, Launching Tomorrow
The Product & Experience Design Process
Gain hands-on training with best practices and easy-to-implement procedures for achieving good design, understanding the different types of design: product, graphic, and interaction; defining the roles involved in creating a product, establishing your brand; and working well with a designer. Above all, teams will learn how good design is good business.
Speaker: Dan Maccarone, CEO & Co-Founder of Charming Robot
Branding & Visual Design
Branding and visual design are more important than ever. Starting with the basics, teams will learn what components make up a brand and how to effectively define, create, and communicate those components to give companies an edge. This will include a primer on visual design and how to blend and balance great brand-supporting aesthetics with user needs and market trends. Teams will gain an ability to understand how to judge a useable design and to escape the pitfalls of chasing trends and design for design's sake.
Speaker: Chris Pace, Chief Creative Officer & Co-Founder of Charming Robot
How to Use Social Media to Gain Traction
When you're a startup, your most important and easily accessible marketing avenues are social media channels. Understanding how each social network should be leveraged to grow your business is critical to creating an effective marketing strategy. With a plan in place, you can easily begin measuring the effectiveness and return-on-investment within each network and evolve accordingly. This module will introduce participants to the way that startups should think about social media and how/why to quantify social progress.
Speaker: Meghan Myszkowski, Director of Digital at Geometry Global
Developer Panel
Technical development is critical to any product from day one. Finding and involving your tech team as early as possible will make your product the best it can be. Teams will learn from a mix of experienced developers who have built a variety of products, from simple web experiences to complex enterprise applications. This Q&A session will help non-developers understand when to hire and what to look for in a CTO and how to communicate effectively with a development team.
Current Participants:
Austin Smith, Co-Founder Alley Interactive
Dave Small, CTO Fieldlens
John Cihocki, CTO, Startup Giraffe
Moderator: Steve Martocci, Co-Founder GroupMe
Founders Panel
It's important to hear about all facets of the product process, but it's even more important to talk to the people who've been through it. This panel will allow founders at different stages of the startup process to discuss what they did right and what they did wrong, give context to the earlier talks/panels, and answer questions from the audience.
Current Participants:
Amanda Peyton, Grand St.
Kellee Khalil, Loverly
Tom Clifton, Animoto
Moderator: Jonathan Basker, BarkBox
Cocktail Hour & Networking
If you can't connect with other participants to talk about what you've learned, why bother? And don't we all need a drink after a day-long event?