Description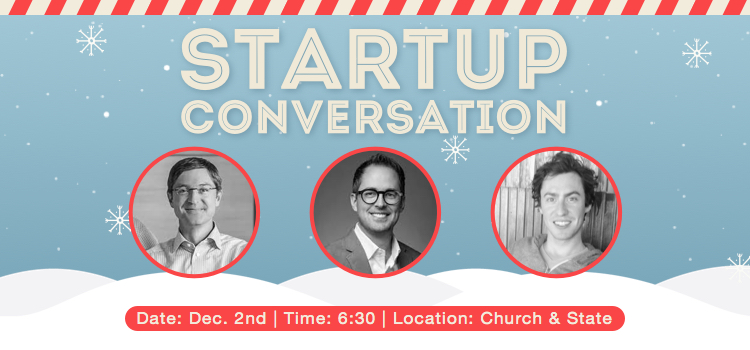 We'll be kicking off the Startup Santa book drive and celebrating the launch of Start Foundation at this month's Startup Conversation at Church & State in Salt Lake City on Dec. 2nd at 6:30pm. Pluralsight CEO Aaron Skonnard will be speaking, we'll have a startup conversation with some prominent venture capitalists, food and drinks will be provided by TechStars, and the Start Foundation board will be in attendance.
Beehive Startups, Start Foundation, and UVEF are proud to present December's Startup Conversation featuring Pluralsight CEO Aaron Skonnard, TechStars Boulder Managing Director Natty Zola, and Signal Peak Ventures Managing Director Brandon Tidwell.
Founded by Beehive Startups, the Startup Conversation Series brings Utah's startup community together once a month to participate in a casual conversation between Utah's most prominent entreprneurs to educate and inspire, as well as learn about their succeses, failures, and founding stories behind their companies.
About Aaron Skonnard
Aaron Skonnard is the president and CEO of Pluralsight, the leader in hardcore developer training. With Aaron's help, Pluralsight launched in 2004 with a small team of world-renowned software development authorities to provide professional training for developers throughout the world. The company launched a proprietary process whereby it publishes high-quality training videos through an unmatched online learning experience.
As CEO, Aaron focuses on Pluralsight's business strategy, future direction, product development, and strategic partnerships. On a day-to-day basis, Aaron works closely with the entire Pluralsight management team in a variety of capacities, including recruiting, brand management, marketing, sales, feature planning, and content acquisition.
Aaron comes from a strong technical background, and will always be a developer at heart, which helps keep him in tune with the Pluralsight community. Throughout his career, he's written hundreds of articles, several books, and was a long-time contributing editor to MSDN Magazine where he authored some popular technical columns for years. Aaron is a thought-leader in the industry and frequently speaks at industry events around the world.
Aaron earned his degree in computer science at Brigham Young University. Aaron's passion and curiosity for technology began as a child when his father purchased him an early Apple Macintosh and one of the first Compaq PCs. His father made it clear that programming was going to be the future. This passion fueled Aaron's interest in the business side of programming after college and soon developed into a stronger mission of improving the profession of software development, which ultimately led to the founding of Pluralsight and Aaron's role as CEO. Aaron is on a mission to "change the way software developers learn".
About Natty Zola
Natty Zola is a Managing Director for Techstars Boulder. Previously Natty was Head of Consumer Products for MapQuest, where he helped MapQuest return to profitability and year-over-year growth for the first time since 2007. Before MapQuest, he was a founder of Everlater.com, a travel blogging platform and CRM system for tour operators, that participated in Techstars in 2009 and was acquired by AOL in 2012. He also graduated from GE's Financial Management Program and worked with Jim Collins on the best selling books "Great by Choice" and "How the Mighty Fall." Natty is passionate about helping startups find product market fit, accelerate their growth, and develop company culture. His hobbies include mountain biking, reading business books, testing new apps, anything design related and gardening. He welcomed his first son into the world in May.
About Brandon Tidwell
Brandon is a founding managing director at Signal Peak Ventures and has an extensive background working with innovative software and technology companies. Brandon has made, or managed, multiple investments spanning the enterprise software, SaaS, Internet, and technology-enabled services markets. Brandon currently serves on the boards of Degreed, True Fit, WildWorks (AnimalJam.com), C7 Data Centers, iTOK, and Verismic. Previously, he was involved with SPV investments in Footnote.com (acquired by Ancestry.com), Solutionreach (acquired by Summit Partners), and Solera Networks (acquired by Blue Coat Systems).
Prior to Signal Peak, Brandon was a managing director at Canopy Ventures. Earlier in his career, he practiced law in Silicon Valley where he advised numerous entrepreneurs and companies on the path from start-up to successful exit. He has a B.S. and Master's degree in accounting from Brigham Young University and a JD from Columbia University. Brandon enjoys living in the scenic surroundings of Utah where he has many opportunities to engage in outdoor activities with his family. He is particularly fond of skiing, running, and exploring the mountainous terrain in Utah and Idaho.