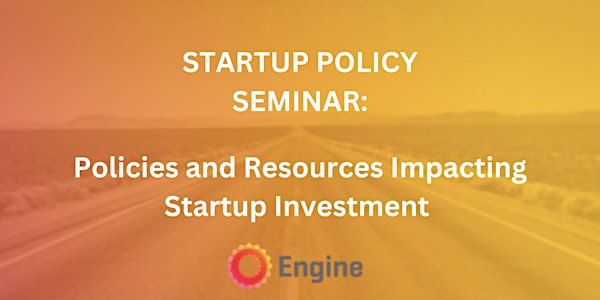 Startup Policy Seminar: Policies and Resources Impacting Startup Investment
Join Engine's Jennifer Weinhart to discuss the ways in which policymakers can support startups in their fundraising journeys.
About this event
It is essential that founders be well informed and up-to-date on policy developments, government resources, and the importance of startup advocacy in the capital formation space. On Oct. 24 at 4pm, join Engine to explore challenges faced by founders and the ways policymakers and government officials can better enable startup founders to raise capital.
Our panel, ranging from startup ecosystem members to federal policymakers, will include:
Renee King, Founder & CEO of Fund Black Founders
John G. Crews, Policy Director for the United States Senate Committee on Banking, Housing, and Urban Affairs
Holli Pandol, Public Policy Counsel for Carta
Jennifer Riegel, Policy Manager for the Office of the Advocate for Small Business Capital Formation at the U.S. Securities and Exchange Commission