Startup of the Year Summit 2020 | Global Virtual Event
Startup of the Year Summit is a competition and event for entrepreneurs, investors, and corporate leads to connect and support startups.
About this event
First Virtual Startup of the Year® Summit Ever - Join Us!
For the first time in its eight year history, the Startup of the Year Summit will be held online, allowing a global audience to participate from afar in the annual conference and have a behind-the-scenes experience for the 2020 competition.
Who Should Register: Emerging Founders, Seasoned Entrepreneurs, Startup Teams, Mentors, Corporate Innovators, Partners, Accelerators, Investors, Ecosystem Builders and Enthusiasts - anyone who loves startups!
Date: November 16 - 18, 2020
Time: 11 AM - 6 PM ET (program elements are offered throughout the day)
Cost: We are waiving all fees this year. We want you to join us.
What to Expect:
100 diverse, early-stage startups compete for the 2020 Startup of the Year championship title - Summit 2020 is the first time the public can watch the pitches and Q&A with expert judges
$20K in potential investment for one of the semifinalists from Established Ventures
$10K non-dilutive cash prize for a U.S. Veteran-led company from sponsor .US
Curated Office Hours between the Top 100, investors, corporate leads, and mentors
Keynote speakers, such as Tim Draper (Draper University), Kara Goldin (Hint Water), Mike Evans (GrubHub, Fixer.com), and more (see below)
"Ask Me Anything" sessions with VCs, seasoned entrepreneurs, and innovation leaders
Ongoing networking opportunities for all attendees
Meet (just a few) of our Speakers, Judges, and Mentors
Startup of the Year Summit 2020 welcomes experts from Rise of the Rest Seed Fund, Draper Associates, Plexo Capital, Bread & Butter Ventures, Exposition Ventures, NextGen Venture Partners, Hint Water, GrubHub, WLJ Advisors, Non-Obvious Company, Reign Ventures, Republic, Backstage Capital, MaC Venture Capital, Firebrand Ventures, NASA iTech, AFWERX, TechCrunch, Techstars, Forefront Venture Partners, Mucker Capital, W Fund, 1863 Ventures, MATH Venture Partners, Greater Colorado Venture Fund, Tampa Bay Wave, TechNexus Venture Collaborative, Start Co.,E*TRADE Venture and Labs, Veterans Venture Capital, Johnson Outdoors, EVERFI, Goldman Sachs, Google, Embarc Collective, Twilio, and many more.
Visit our site to see who will be there: https://est.us/Summit2020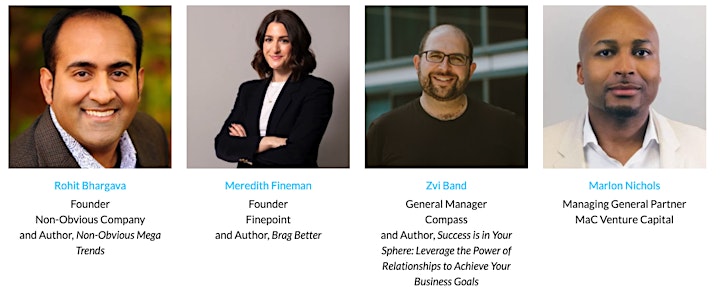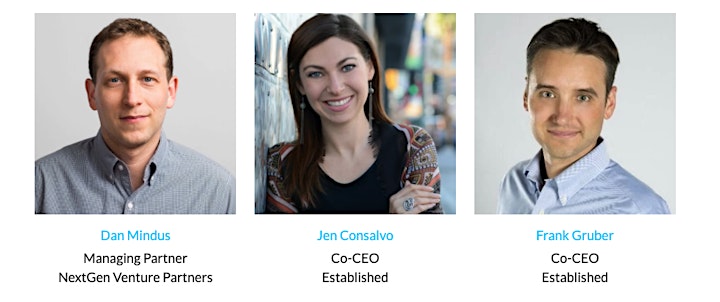 Top 100 Startups Need Your Vote
Congrats to all Top 100 Semifinalists that will compete for the 2020 Startup of the Year Championship Title, $20K in potential investment from Established Ventures, and more.
Learn about each of them, then cast your vote in the People's Choice Award Poll! https://est.us/poll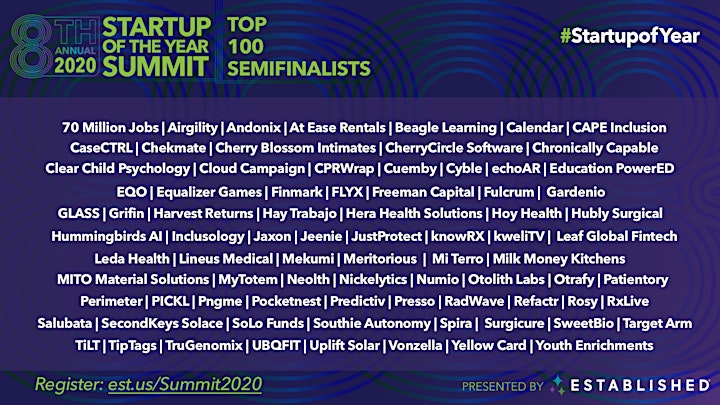 Check out the Agenda, Meet the Startups & Experts, and Vote in the People's Choice Award Poll
Head over to: est.us/Summit2020
Thank you to our Summit Sponsors, Partners & Prize Providers
Sponsors
Community Partner Startup & Investment Ambassadors
HelloAlice
American Inno
Backstage Capital
Bunker Labs
Centrepolis Accelerator
Founders First Capital Partners
Grind Capital
Halcyon
NextGen Venture Partners
Pledge 1%
Springtime Ventures
Startup Grind
Tampa Bay Wave
Techstars
Prize Providers
Startup of the Year
Established Ventures
.US
Covalent Logic
Fluent
Ross & Snow
Cloud303
AWS
Twilio
FoundersCard
Gather Voices
Havoc Shield
URLpurchasing.com
Interested in sponsorship opportunities to get your brand in front of our global community? Email Sponsor@est.us to learn more.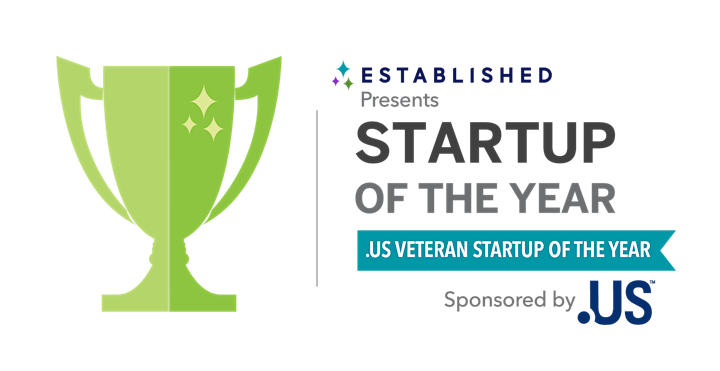 Organizer of Startup of the Year Summit 2020 | Global Virtual Event
Established is a consultancy focused on helping organizations with their innovation, startup, and communication strategies.
Created by the talent responsible for building the Tech.Co brand (acquired by an international publishing company), Established leverages decades of experience to help collaborators further (or create) their brand & accomplish their most important goals.
Startup of the Year is a global competition seeking emerging, diverse startups that are conquering, solving, and evolving problems that we experience in our day-to-day lives. Startup of the Year also connects small and large companies to startups, presenting new opportunities to partner, invest, collaborate or launch new products.