Startup of the Year Online Pitch Event | Honoring U.S. Veteran Founders
Sales Have Ended
Registrations are closed
How to watch: https://est.us/live
Sales Have Ended
Registrations are closed
How to watch: https://est.us/live
Register today for our next Startup of the Year Pitch Event on 7/23 honoring U.S. Veteran Founders and their impactful innovations.
About this event
Come support U.S. Veteran Founders with us today!
Join fellow entrepreneurs, investors, and startup ecosystem builders on Thursday, July 23, 2020 (1 - 2:30 PM EDT) as Established presents a Startup of the Year Pitch event that highlights U.S. Veteran/Veteran Spouse-owned early-stage startups and gives them a place to shine.
Presented by Established; Sponsored by .US.

MEET THE PITCHING STARTUPS

These incredible experts will spend time with each startup via an engaging Q&A session. Learn from the best, hear valuable tips, and take away best practices to grow your own company.
Kim Folsom - Co-Founder and CEO, Founders First Capital Partners, LLC, and Founder, LIFT Development Enterprises
Derren Burrell- President and Founder, Veteran Ventures Capital
Jennifer O'Daniel - Investment Director, CIT GAP Funds
Burunda Prince - Chief Innovation Officer, B6 LLC
Jason Rathje - Partner, AF Ventures, AFWERX
WHAT TO EXPECT
Pitches from five U.S. Veteran-led startups.
Q&A interaction between the companies and the panel of judges.
Winner Announcement! The winner automatically advances to the 8th Annual Startup of the Year Summit (November 9 -10, 2020; virtual) and will enjoy special mentor hours.
Winning startup also becomes an automatic candidate for the .US Veteran Startup of the Year and its $10K non-dilutive cash prize (*Separate. The cash prize is NOT a part of the July 23 event).
People's Choice Award (VOTE HERE). The winner will be announced on July 23, so register today!
The 8th Annual Startup of the Year Summit, produced by Established, will take place online November 9 - 10, 2020.
At least ten of the 100 Semifinalists at the 8th Annual Summit will have the special opportunity to compete for both the general 2020 Award and the .US Veteran Startup of the Year. One of the ten eligible Veteran applications will take home a $10K non-dilutive cash prize from .US.
There is only one 2020 Startup of the Year application. The U.S. Veteran conditional questions are within the regular application.
Application questions, email Lori@est.us!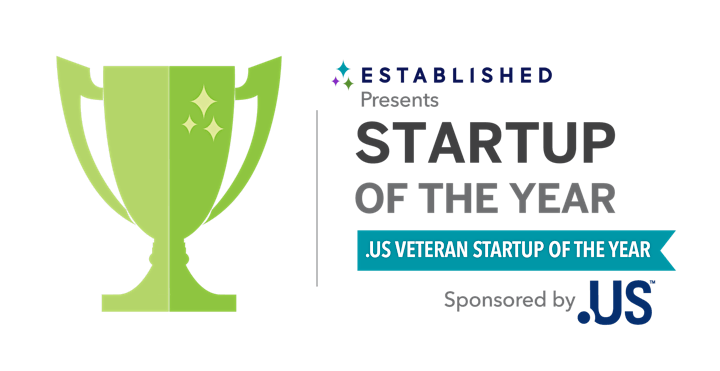 THANK YOU TO OUR SPONSOR .US
.US is offering our Established (the team behind Startup of the Year) community a special offer for a FREE .US Domain + Website Builder.
Get your idea, your business, your blog, your dream online! No coding required!
Organizer of Startup of the Year Online Pitch Event | Honoring U.S. Veteran Founders
Established is a consultancy focused on helping organizations with their innovation, startup, and communication strategies.
Created by the talent responsible for building the Tech.Co brand (acquired by an international publishing company), Established leverages decades of experience to help collaborators further (or create) their brand & accomplish their most important goals.
Startup of the Year is a global competition seeking emerging, diverse startups that are conquering, solving, and evolving problems that we experience in our day-to-day lives. Startup of the Year also connects small and large companies to startups, presenting new opportunities to partner, invest, collaborate or launch new products.