Startup Marketing from Bootstrapped to Funded

Tuesday, February 19, 2013 from 7:00 PM to 8:30 PM (PST)
Event Details
Startup Marketing from Bootstrapped to Funded
"$41 million can't buy success as Color app finally gives up."
The founding team that built this ill-fated, overhyped app forgot a key aphorism about startups: When you close your first round of funding, you've reached the starting point of a marathon, not the finish line of a sprint.
Generally, startup founders enter a mad frenzy to set up new processes and make their startup into the semblance of a "real company," which may involve hiring more engineers and sales people, developing and implementing more structured management processes, dealing with a slew of new legal and financial systems, and even moving into a new office.
But as you prepare your organization to make the most efficient use of the infusion of capital at your disposal, it's essential to keep in mind the public facing aspects of the company to ensure its success. This course wil cover:
How do you ensure your funding announcement keeps the focus on the product, not the money?
The difference between press for business development and press for recruiting, and how to get both.
Your social media plan before and after funding, including how to set up a social media policy that respects your employees and protects the company.
Developing your brand to maintain continuity with your vision, internally with culture and externally with content marketing.
Startup marketing consultant and two-time startup co-founder Gaia Dempsey will share her experience marketing startups in all phases of development, with hands-on examples, best practices, and lessong learned.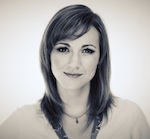 Instructor Bio: Gaia Dempsey
Gaia Dempsey is a founding team member and Director of PR/Markeitng at Los Angeles-based augmented reality startup daqri. She began her startup career at Idealab before co-founding the interactive and digital marketing firm Demeter Interactive. In February 2011, Gaia joined daqri to help create the world's first-of-its-kind enterprise-class augmented reality publishing platform. As Director of PR/Marketing, she develops and executes brand strategy to communicate with brands large and small, championing a design-led ethos. Gaia also serves as the liaison for global educational and art-related partnerships.
About Coloft Academy
Coloft Academy offers classes, workshops and courses for tech entrepreneurs in Los Angeles. Topics offered include web/mobile development, user experience, marketing, finance, legal and more. For a list of upcoming classes, visit http://coloft.com/academy. To automatically get updates, join the mailing list.
Have questions about Startup Marketing from Bootstrapped to Funded?
Contact Coloft
When & Where

Coloft
920 Santa Monica Blvd
Santa Monica, CA 90401


Tuesday, February 19, 2013 from 7:00 PM to 8:30 PM (PST)
Add to my calendar
Startup Marketing from Bootstrapped to Funded