Description
Welcome to STARTUP LAUNCHPAD 2019 Spring, which is specialized in all areas of distribution and retail between global retailers and suppliers, helping connect businesses across borders.


FOR STARTUPS
Access To 32,000+ Global Buyers
80% of startup exhibitors used Startup Launchpad to get access to over 32,000 global retailers from 127 markets. With the greatest variety of hardware to date, Startup Launchpad attracts quality buyers, distributors, and retailers to Hong Kong and offers unparalleled opportunities to break into an international market.
Find The Right Manufacturing Partner
With its close proximity to Shenzhen, the manufacturing hub of the world, Startup Launchpad has a database of up to 3600+ manufacturers. Looking to reduce your manufacturing costs? There is no better place to identify, vet and establish new relationships with manufacturers who are eager to do business with hardware startups.
Asia's Leading And Only Event Geared Forwards Startup Investors

FOR INVESTOR
Asia's Leading And Only Event Geared Forwards Startup Investors
The startup investor focused conference brings together investors of all sizes (angels, VC's, PE's, business owners, etc) with experience in the startup ecosystem with regulators and policymakers to share insights on investing in startups and to connect capital with investment opportunities. Investors will:
● Meet with 300+ startups and investors to find promising startups with big-time potential and new collaboration partners;
● Obtain a better understanding of startup investment structures available, and how to access them and deliver the right level of exposure as well as acceptable returns;
● Get to know the investment community, to learn how other investors work and get inspired, share ideas, and meet with the region's most experienced investors and industry experts;
● Expand your connections with more than 250 investors, VCs, professionals, business owners, and policymakers, who provide ultimate and powerful network opportunities.
FOR BUYERS
Your Source For Shelf-Ready Innovation
Startup Launchpad brings together the hottest new IoT, AI, smart home, robotics, 3D printing, wearables, VR/AR and other high-growth hardware startups. If you're looking for the latest shelf-ready innovations, Startup Launchpad is the show for you.
Get To Know Distribution-Ready Startups
We connect you to startups who have products ready to be distributed. Our approach to focusing on startups in the manufacturing and distribution phase means you get access to startups you know will be around for years to come.

Event Highlights
Startup Launchpad Future of Retail Conference (April 19th)
The Startup Launchpad Conference returns in April 2019 with a focus on the Future of Retail. The talks at the event will cover several industry verticals and revolve around two main topics: SCM Innovation: Blockchain Explored and Investment Outlook in Retail Sector. Retail is changing fast and with technological advancements and changing consumer demands, retailers need to innovate to stay alive and relevant. The Future of Retail conference invites 30+ pioneering retailers, 50+ speakers and 300+ startups driving innovation in creating consumer experiences to share their knowledge of how to navigate the future of retail
Startup Launchpad Workshop (April 20 - 21)
Startup Launchpad has partner with CollabCentral to create a full-blown workshop, taking early stage startups or fresh entrepreneurs to go thru the starting, product making and selling stages before they start and hit the unnecessary speed bumps. Our partnership brings experts from big corporates and mentors who had launched not just one successful startup. The workshop is split into 3 segments:
START (April 20)
Steve Jobs once said, "You've got to start with the customer experience and work back toward the technology – not the other way around". You need to push it worldwide market and fast. Not only for the cash flow but for making you next product the MVP. Let our expert tell you how step-by-step.
MAKE (April 20)
China is probably the best top option as a manufacturing hub, but have you found a prototyping factory? Or know which manufacturer to trust? How should you be doing your inspection? We are the experts! And we are going you tell you step-by-step the 'how-to' from prototyping to production.
SELL (April 21)
Get well prepared before you scale your startup. Make sure to validate your idea, find the right partners, get into an ecosystem that suits your startup...Do the right things to get well prepared for series A investments! Learn from us if you consider starting in China and guide you thru things correctly
The 3rd Startup Launchpad Investment Competition (SLIC) (April 18th)
Meet with potential investors and ally partners and consumers, and win up to HK $650,000 worth of prizes and even possible investment.
VIP Show Tour

Get a guided tour around the exhibition floor and meet the people working on the latest innovative tech and retail solutions at Asia's largest startup tradeshow.

Networking Event

Startup Launchpad organizes a networking dinner after the tradeshow. The dinner attracts a large number of industry leaders, investors, and outstanding startup groups. During the dinner, they further strengthen communication with each other and establish effective contacts and business cooperation.
South China Startup Ecosystem Tour
Hong Kong + Shen Zhen Startup Ecosystem Tour is initiated by Startup Launchpad. It aims to help startups, investors and exhibitors better understand the development of smart innovation in the Guangdong, Hong Kong, and Macao Bay Area to obtain better investment and development opportunities.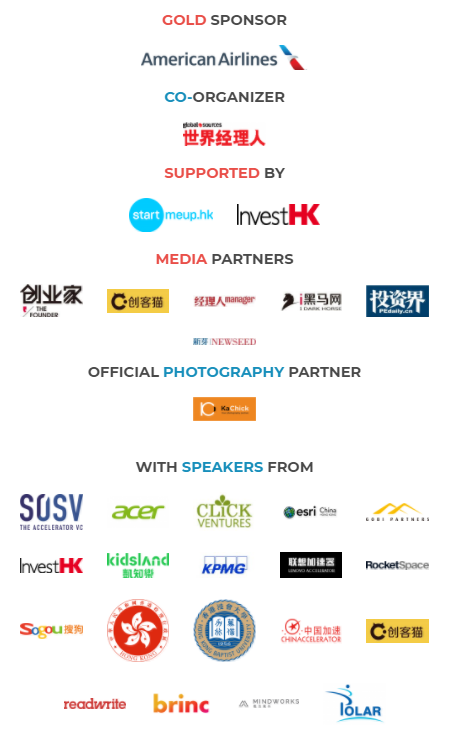 If you are inquiring about the booth, please send email to launchpadhk@globalsources.com.